---
Up In Smoke: OK Voters Crush Pot Legalization Proposal
A dearth of polling had left the outcome of an Oklahoma marijuana legalization referendum in doubt -- until Tuesday, when opponents positively crushed the measure, 63% to 38%. Remarkably, it failed in every single county.  
State Question 820 offered Okies a chance to legalize consumption by adults 21 and older, along with possession of up to an ounce, and the growing of six mature plants and six seedlings.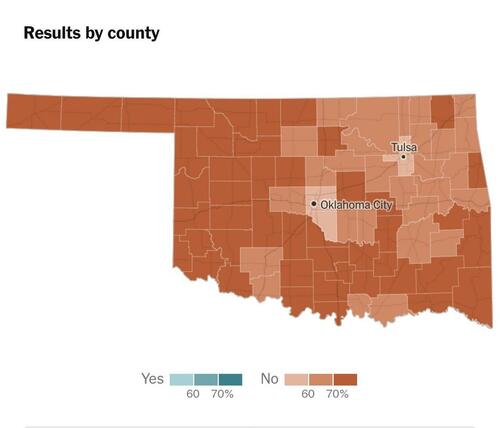 Proponents of legalization had understandably high hopes: The conservative state already boasts one of America's most easy-going medical marijuana regimes, and a poll from October had likely voters backing recreational legalization 49% to 38%.
However, between the staleness of that poll and the fact this was a stand-alone vote rather than being part of a general election, prospects were far from certain. Conservatives tend to outperform when turnout is lower, and that seemed to be a major factor in this vote, which saw turnout of just 25.3%, compared to 40.1% in the midterms. 
Oklahoma's rejection continues a string of rejections of legalization drives in conservative states, as Arkansas, North Dakota and South Dakota voters shot down similar proposals in the November midterm election.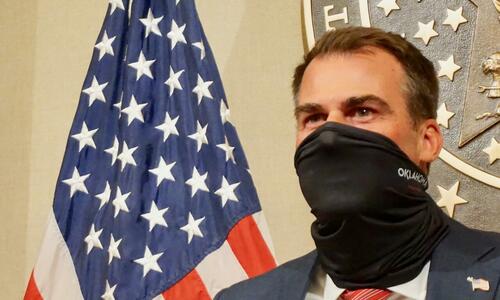 Republican Oklahoma Governor Kevin Stitt opposed the legalization. In February, Stitt provided a pathetic rationale for his position that was an affront to the principles that animated the American Constitution: 
 "There shouldn't be a patchwork of states doing different things. We need to let the feds tell us if it's legal or illegal, we shouldn't let the states tell us that."
That proclamation would be cringeworthy no matter who uttered it, but the fact that those words came from a supposed "conservative" makes them all the more exasperating. 
The 10th Amendment provides that "the powers not delegated to the United States by the Constitution, nor prohibited by it to the States, are reserved to the States respectively, or to the people." Despite profoundly flawed Supreme Court opinions to the contrary, the federal government has no constitutional authority whatsoever to declare marijuana or any other drug illegal.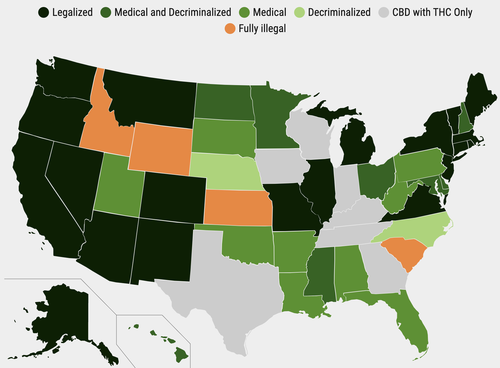 Despite the Oklahoma setback, the trend toward individual marijuana liberty is overwhelming: Twenty-one states have now legalized recreational use, and a 41% plurality of Republicans back recreational pot freedom. 
"We didn't get State Question 820 across the finish line tonight, but the fact remains that marijuana legalization is not a question of 'if,' it's a question of 'when'," said Yes On 820 campaign director Michelle Tilley on Tuesday evening. 
Meanwhile, Oklahomans who want to use the plant can try to do so within the state's medical cannabis regime. About one in ten Oklahoma adults holds a medical license. Unlike most states that allow medical use, Oklahoma has no list of qualifying conditions and patients can receive a doctor's recommendation over the internet. 
Loading...