---
SoCal Sweatshop Workers Make As Little As $1.58 Per Hour
A survey of garment-sewing contractors in Southern California reveals that sweatshop workers are paid as little as $1.58 per hour.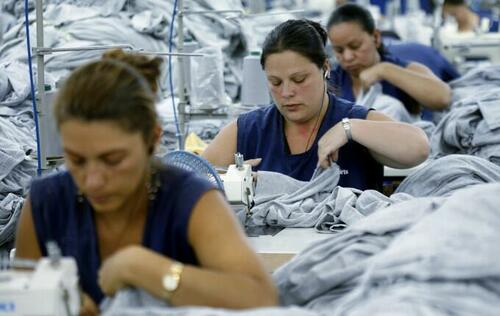 The survey, conducted by the US Department of Labor, found that workers making garments sold by some of the world's largest fashion retailers are victims of wage theft and other illegal pay practices, Fashion United reports.
Contractors and manufacturers included in the survey include Bombshell Sportswear, Dillard's, Lulus, Neiman Marcus, Nordstrom, Socialite, Stitch Fix and Von Maur.
There more more than 45,000 workers in the Los Angeles-area garment manufacturing industry, with many working an average of 55 hours per week with no overtime pay, according to the report.
Based on data from more than 50 contractors and manufacturers, the 2022 Southern California Garment Survey released by the department's Wage and Hour Division found violations of the Fair Labor Standards Act in 80 percent of its investigations. More than 50 percent of the time, the division found employers illegally paying workers part or all their wages off the books, with payroll records either deliberately forged or not provided. -Fashion United
The survey also found that 32% of contractors are paying workers piece-rate wages, which has been prohibited by the state of California since last year.
"Despite our efforts to hold Southern California's garment industry employers accountable, we continue to see people who make clothes sold by some of the nation's leading retailers working in sweatshops," said Wage and Hour Regional Administrator Ruben Rosalez in San Francisco. "Many people shopping for clothes in stores and online are likely unaware that the 'Made in the USA' merchandise they're buying was, in fact, made by people earning far less than the U.S. law requires."
According to investigators, one contractor was paying workers as little as $1.58 per hour, about what Bengladeshi workers make - which last month saw unions demand an increase in the minimum wage from US$75 dollars per month to US$215 amid crippling inflation.
The U.S. Department of Labor says it found that sewing fees paid by manufacturers to contractors were – on average – not enough for the contractors to properly pay their workers' required minimum wages. Specifically, the studies determined the average sewing fee was 2.75 dollars below the amount needed per garment for sewing contractors to comply with federal wage standards. Contractors who paid employees in compliance with the law received a higher sewing fee, ranging from 17.50 dollars to 35 dollars per garment. -Fashion United
"The findings of the Southern California Garment Survey highlight why greater outreach and stronger enforcement are needed to combat the inequities that exist in the garment and fashion industries," said Rosalez. "The Wage and Hour Division will continue to work and meet with advocates and industry stakeholders, and remain focused on holding accountable the manufacturers and retailers who reap significant profits while the people who did the hard work are too often not paid their rightful wages."
Loading...