---
Social Media Companies Under Fire For Not Banning Hate Videos Resulting In Islamist Killing
Major social media platforms such as Facebook and Twitter are under pressure after a French schoolteacher named Samuel Paty was brutally decapitated by an 18-year-old assailant outside his workplace.
The uproar with the grisly attack stems from social media platforms not censoring or banning hate videos calling for people in the Muslim community to take action against Paty for disrespecting Islam, according to FT.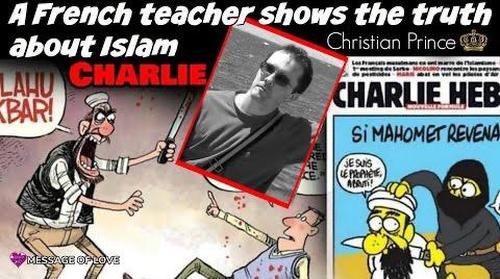 Paty was beheaded last week by an 18-year-old Chechen refugee, triggered by Islamic extremism on social media that outlined how the teacher showed his class a cartoon of the Prophet Mohammed as part of a lesson on freedom of speech. 
French authorities allege social media platforms accelerated Paty's killing by allowing a couple of videos filled with hate to circulate the internet with limited censorship. 
Brahim Chnina, the father of a student who produced three highly critical videos of Paty, called the teacher a "thug" and requested people to take action. The videos spread like wildfire in the country's Muslim community, and a local mosque, called Grand Mosque of Panin, shared one of them.
As of Monday, one of the videos was still visible on Chnina's Facebook account. 
According to FT, Chnina made one of the videos denouncing Paty with help from Abdelhakim Sefrioui, an Islamist militant classified as a security risk by the French government. Since the killing, both men have been arrested.
The rector of the Grand Mosque of Panin, Mohammed Henniche, said he ultimately "regrets" sharing the video but insists the teacher was never identified, nor was there a call to violence. 
"There is no call to hate, and no call against this teacher," Henniche told Franceinfo. 
Immediately after last week's incident, President Emmanuel Macron called for new plans to tighten social media controls on these platforms to mitigate the spread of hate videos online. 
"Things began on social media, and they ended on social media," said Gabriel Attal, the French government spokesman. "We have to do better at bringing them under control."
French Interior Minister Gerald Darmanin said the mosque that shared the video should be shuttered for spreading a message of "hate." He vowed to crack down on "enemy" Muslim groups and extremism on social media to make sure incidents like these don't happen again.
Over the years, Facebook, Twitter and, Youtube have been criticized for helping extremist groups recruit and organize. As to why Facebook's algorithms or personnel failed to censor Chnina's hate video before the killing, which resulted in an angry campaign of people to flourish against the teacher is beyond anyone's guess. Maybe Facebook was too busy banning QAnon accounts. 
Should social media companies be held partially accountable for contributing to Paty's slaying?