---
Soros Infuses $116K Into McCloskey Prosecutor's PAC Days After Charges Filed
Just eight days after St. Louis Circuit Attorney Kim Gardner filed charges against a wealthy couple who defended their home against trespassing protesters, George Soros donated $116,000 to a Political Action Committee (PAC) established for the activist prosecutor, according to JustTheNews.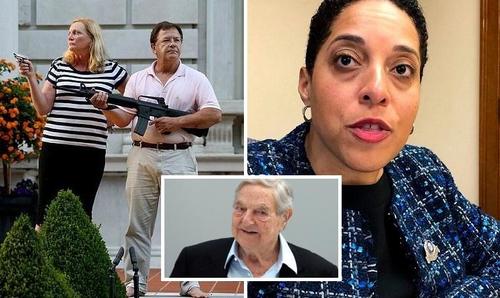 A Saturday filing with the Missouri Ethics Commission revealed the donation made directly from Soros to the Missouri Justice and Public Safety PAC - for which Soros is the only donor so far. The PAC has already spent at least $104,393 - including $77,804 directly on Gardner, and a payoff of accumulated debt. Of note, Gardner has a primary this Tuesday.
Soros spokesman Michael Vachon told Just The News that Soros has made no secret that he supports prosecutors like Gardner for criminal justice reform.
Gardner slapped charges on personal injury lawyers Mark McCloskey, 63, and his wife Patricia, 61, who armed themselves and stood outside their mansion as a group of roughly 100 protesters broke down a gate to march down their private road.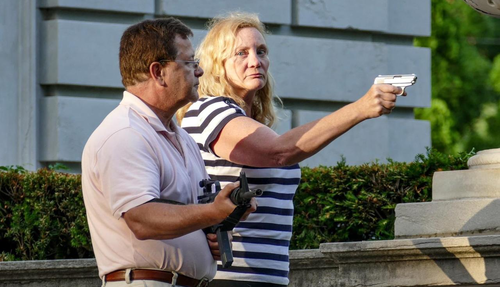 For defending their property, the McCloskeys were each charged with a felony count of unlawful use of a weapon. Days after the charges were filed, it emerged that Gardner's staff ordered a crime lab to tamper with evidence, by reassembling the 'prop' pistol Patricia was waving in order to make it "capable of lethal use."
This isn't the first brush with shoddy evidence for Gardner's office;
Gardner, a Democrat, was elected in 2016 and supported by Soros-funded PACs, which financially back several prosecutors across America on a progressive criminal justice reform platform. 

She drew national attention when she filed criminal charges against then-Republican Missouri Gov. Eric Greitens, forcing him to resign, only to reveal later she did not have evidence to substantiate her allegations. She is facing investigation for her conduct in the Greitens case, and her former chief investigator is awaiting trial on tampering charges. -JustTheNews
Gardner's decision to prosecute the McCloskeys ignited a controversy over Second Amendment rights, a well as Missouri's "Castle Doctrine" which governs use of firearms to defend one's home. Those defending the couple include President Trump, Missouri GOP Senator Josh Hawley, Missouri AG Eric Schmitt, and Gov. Michael Parson (R) who says he'll pardon the McCloskeys.
Their attorney, Joel Schwartz, has filed a motion to dismiss both Gardner and her office from moving forward with their prosecution - claiming a conflict of interest, as "that Gardner's campaign has used the McCloskeys' incident to further her own financial, personal, and professional gain because Gardner sent out campaign solicitations for her re-election mentioning the McCloskeys," according to the report.