---
South Dakota Senate Passes Ban On Puberty Blockers, Trans Surgery
Authored by Caden Pearson via The Epoch Times (emphasis ours),
The South Dakota Senate approved a bill on Thursday that would ban the provision of hormone treatment, puberty blockers, and genital surgery for trans youth.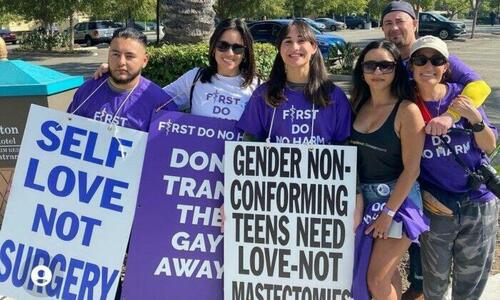 The bill, which was passed in a vote of 30–4, would also force health care professionals who violate it to lose their licenses and be sued. The measure will now go to the desk of Gov. Kristi Noem, a Republican, who has indicated she will sign the bill into law.
House Bill 1080 aims to restrict medical professionals from providing certain medical interventions to minors if the aim is to alter the appearance or validate the perception of the minor's gender identity when it is inconsistent with their biological sex.
The bill defines "sex" as the biological indicators of male and female as determined by chromosomes, hormones, gonads, and genitalia present at birth.
The bill prohibits medical professionals from prescribing or administering drugs to delay normal puberty, prescribing hormones (testosterone, estrogen, or progesterone) in amounts greater than those normally produced, performing surgeries to alter the appearance of genitalia, or removing healthy body parts or tissues.
Minors born with a medically proven disorder of sexual development, diagnosed with a disorder of sexual development, or who require treatment for infections, injuries, diseases, or disorders caused by banned medical treatments are exempt from the bill.
A medical professional found to have violated the provisions of the bill can have their medical license or certification revoked.
If a medical professional has initiated treatment for a minor before July 1, 2023, and immediately terminating the treatment would cause harm to the minor, the treatment can continue for a period during which the minor's use of the drug or hormone is reduced. This period cannot extend beyond Dec. 31, 2023.
Read more here...
Loading...