---
South Georgia Prison Riot Erupts Amid COVID-19 Flareup
As crime on the streets of American cities surges as Democratic mayors shift funds way from police departments and officers fear a dangerous confrontation with the public every time they try to enforce the law, a brutal prison riot broke out Saturday night inside the Ware State Prison near Waycross, Georgia.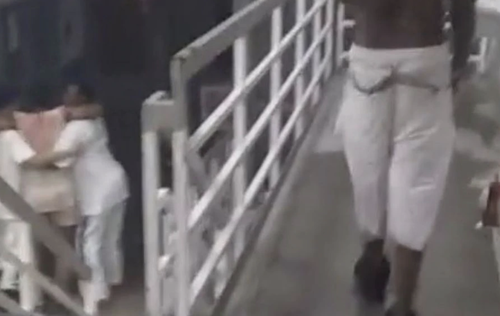 Two guards were stabbed, forcing officers to deploy "non-lethal ammunition" while firing on inmates.
The situation erupted around 2240ET, and was under control with the facility on lockdown by 0100ET Sunday morning. The Department of Corrections of the state gave a statement to the AJC.
"Two staff members received minor, non life-threatening injuries," the Georgia Department of Corrections said in a statement Sunday morning. "A golf cart was set on fire and several windows were broken, but no major damage to the facility has been reported. Officers deployed non-lethal ammunition, and the incident was brought under control."

Three inmates received non life-threatening injuries during the incident," according to the statement.
Two weeks ago, a Ware State inmate was killed during a fight with another inmate, authorities said.
Multiple inmates at the prison have recently told the AJC that tensions inside the prison have been running high due to the outbreaks of COVID-19 - particularly the outbreaks at California's San Quentin and prisons in Louisiana and across the country. At least 2 inmates at the prison have succumbed to the disease, while 22 inmates and 32 employees have tested positive.
Late Saturday night, multiple Facebook Live videos went out from men purporting to be inmates at the prison. One video shows inmates covered in blood.
Prison riot In South Georgia HAPPING NOW! pic.twitter.com/F2TCOkPf0V

— KEEM 🍿 (@KEEMSTAR) August 2, 2020
Other grainy videos show inmates walking freely.
Ware Prison Riot Waycross Georgia

Violent riot reported at South Georgia prisonhttps://t.co/4GEAf7PkVyhttps://t.co/iWRqG5zUiV @YouTube

— fabriq (@LISTEN_NEW_YORK) August 2, 2020
Prison riots have erupted around the world, from South America to Italy to China, as wardens crack down on discipline amid the outbreak.
We suspect this won't be the last we read about in the US.