---
"Space Bubbles" Line The Street At This NYC Restaurant 
"With everything going on in this world, eating in a bubble is about one of the best experiences we can have," Valerie Worthy, a customer who ate a meal in what is being called a "space bubble" at French restaurant Cafe du Soleil, on Broadway and 104th Street, told Reuters. 
Cafe du Soleil's Facebook page uploaded a video in early September, showing these protected domes lining the sidewalk in front of the eatery.  
Another video shows patrons enjoying live jazz in their bubbles on a rainy night. 
Cafe du Soleil owner Alain Chevreux told Reuters the bubbles caught his eye in July. He paid upwards of $400 per bubble, purchasing fifteen bubbles in total.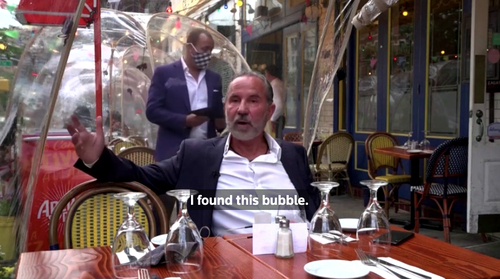 Chevreux said, "families love it. Kids love it. Friends who want to get together love it... It was raining a couple of weeks ago, midweek, pouring, raining. Everybody that was inside those bubbles were having a blast."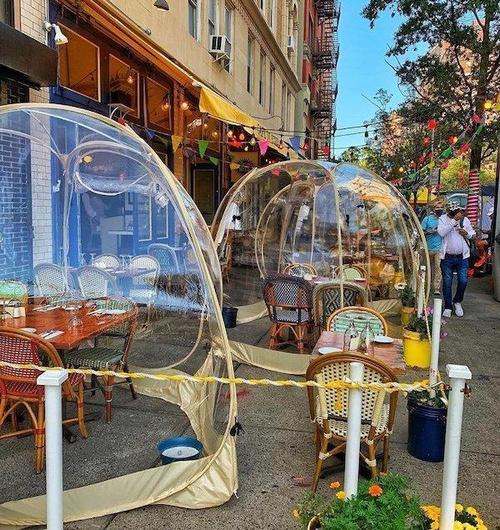 The bubbles could come in handy for the fall time when eateries across Manhattan's Upper West Side; nevertheless, the entire city, will be at the mercy of Mother Nature. Readers may recall, the seasonal shift to much colder temperatures could make outside dining challenging for some eateries. 
We noted Monday, a cold airmass will encompass all U.S. Plains, Midwest, Southeast, and Northeast, where temperatures could hover 8 to 15 degrees below normal through the first week of October. 
At limited indoor capacity, Chevreux said the bubbles had worked well, though he still isn't generating enough revenue to cover his chef, cooks, and other staff salaries. 
Chevreux made no mention if the bubbles would be heated come fall/winter.