---
Speaker Mike Johnson Pumps The Brakes On Biden Impeachment
While the Democrats impeached Donald Trump twice for optics - once because he asked Ukraine for evidence of the Biden family's obvious corruption, and a second time for 'incitement of insurrection' related to January 6th, newly minted House Speaker Mike Johnson (R-LA) is a no-go on a Biden impeachment despite ample evidence that the Bidens received and distributed large sums of money from foreign sources - which raises obvious questions over foreign influence and pay-for-play.
"We'll just go where the evidence goes and we're not there yet," Rep. Don Bacon (R-NE) said, paraphrasing Johnson's comments on the inquiry from the Republican Governance Group's weekly lunch on Tuesday. "Most of us are saying, look, we can't even get a single Democratic vote on this right now. I think the voters will reject what they are seeing when it comes to Biden [policies] — but high crimes and misdemeanors? I don't think we've seen that or enough data to really make a good case and I feel like [Johnson] really agreed with us on that," the Washington Post reports.
The Post feigns ignorance of how money laundering works, claiming "House Republicans have not put forth any direct evidence that Biden profited from his son Hunter Biden's work in Ukraine and elsewhere, nor has the president been linked to any potential wrongdoing in the probe of the Justice Department's investigation of his son," despite the fact that Joe Biden was paid at least $240,000 from his brother via checks indicating a loan repayment - shortly after China wired money to the Bidens in connection to international dealings.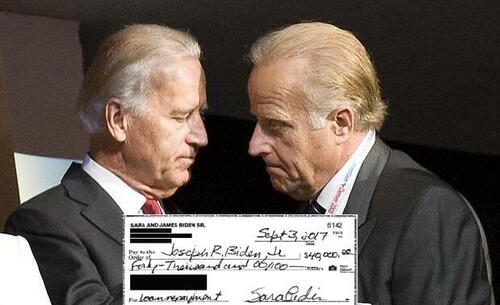 Further:
Entities controlled by James and Hunter Biden ended up receiving nearly $5 million in legal and consulting fees from the Chinese energy company and its executives when his father was out of office, according to a Washington Post analysis published last year. At a plea deal hearing this July, Hunter Biden acknowledged receiving income from CEFC.

...

Former business contacts of James Biden alleged in a lawsuit in 2019 that he promised that Joe Biden would incorporate their business model in his presidential campaign in order to entice them into a partnership. "All the promises were on the Biden name," one of the executives involved in the suit told the Knoxville News Sentinel at the time. James Biden has denied the allegations. -Politico
And then there's a text message between Biden associates James Gilliar and Tony Bobulinski which reads: "Don't mention Joe being involved, it's only when u are face to face[.] I know u know that but they are paranoid[.]"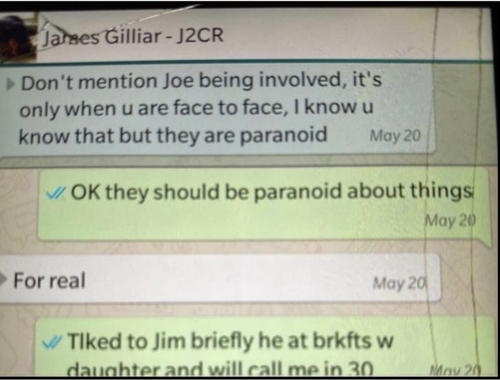 And of course, On July 30, 2017, Hunter Biden demanded money from Chinese business associates and threatened that Joe Biden was sitting next to him: "if I get a call or text from anyone involved in this other than you….I will make certain that between the man sitting next to me and every person he knows and my ability to forever hold a grudge that you will regret not following my direct."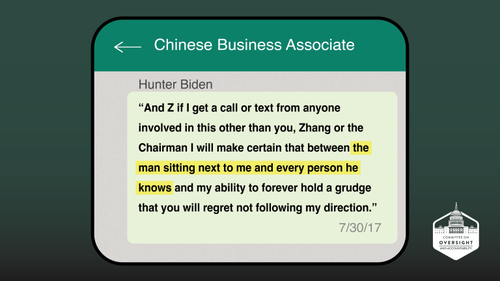 What's more, business associate Devon Archer in July described how Joe Biden was "The Brand," and was used to send "signals" of power, access, and influence to enrich the Biden family from foreign sources (via the House Oversight committee).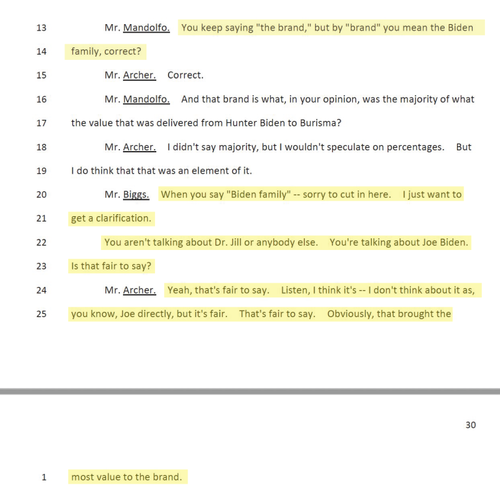 Joe Biden also spoke at least 20 times on speakerphone with Hunter Biden's foreign business associates, according to Archer's testimony.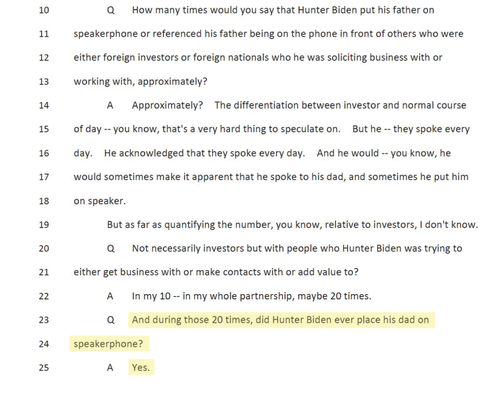 And in February of 2014, then-Vice President Joe Biden dined with oligarchs from Russia and Kazakhstan who then funneled millions of dollars to Hunter and pals.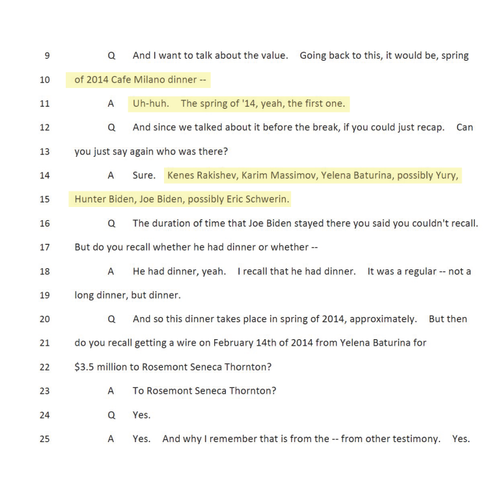 In April 2015, then-Vice President Biden dined with Hunter Biden's foreign business associates, including Ukrainian Burisma executive Vadym Pozharsky. Burisma was then being investigated by Ukrainian Prosecutor General Viktor Shokin for corruption.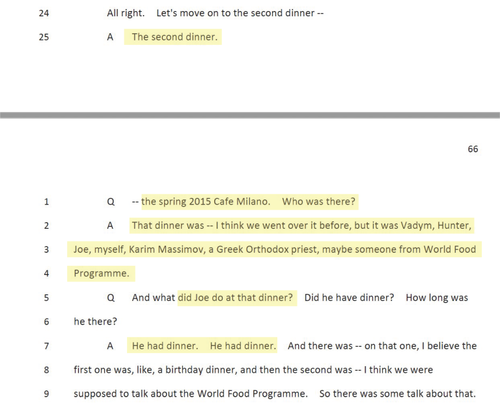 Hunter Biden was also CC'd on an email to Biden's "Robert L. Peters" email account regarding a 2016 call with then-President of Ukraine Petro Poroshenko.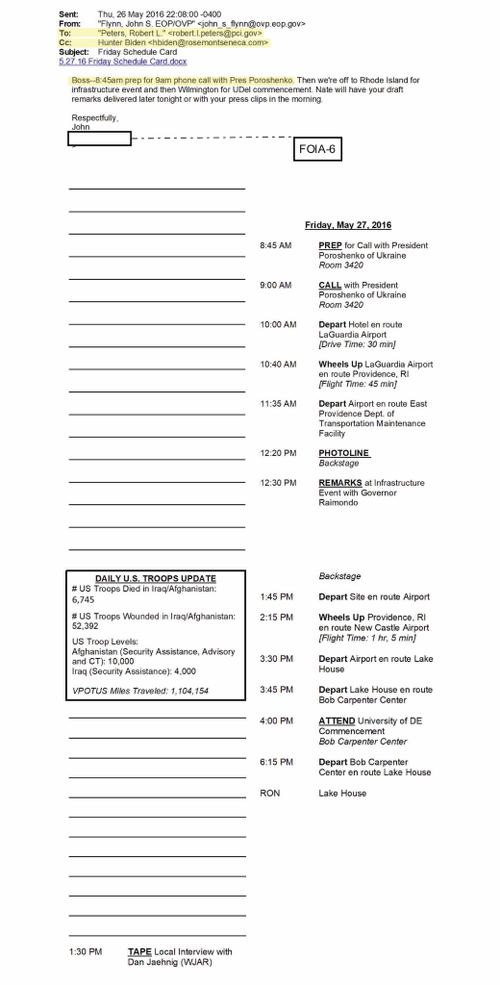 On December 4, 2015, Biden business associate Eric Schwerin wrote to Kate Bedingfield in the Office of the Vice President providing quotes to use in response to media outreach regarding Hunter Biden's role in Burisma, a Ukrainian energy company. Later that day, Ms. Bedingfield responded to Mr. Schwerin saying, "VP signed off on this[.]" According to Devon Archer, after a Burisma board of directors meeting in Dubai on the evening of December 4, 2015, Hunter Biden "called D.C." to discuss pressure that Burisma asked him to relieve.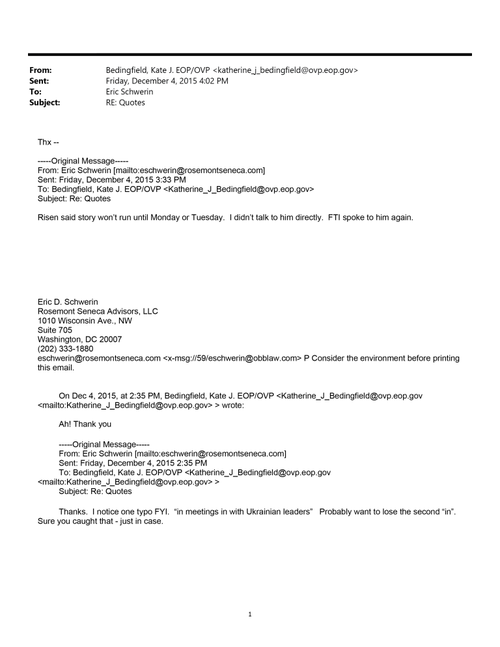 The list goes on and on...
If only Trump's brother had repaid 'loans' directly after receiving wire transfers from China, after using the family brand to ink deals with companies linked to US adversaries.
Speaker Mike Johnson: "There is insufficient evidence at the moment to initiate formal impeachment proceedings."

Congratulations everyone!

— Cernovich (@Cernovich) November 10, 2023
Loading...