---
State-Dept-Funded Censorship-Group Punished Conservative Websites For Circulating Lab-Leak Theory
Authored by Paul Joseph Watson via Summit News,
The US State Department-funded Global Disinformation Index punished conservative websites by throttling their advertising revenue if they gave credence to the COVID-19 lab leak theory, despite it subsequently proving likely true.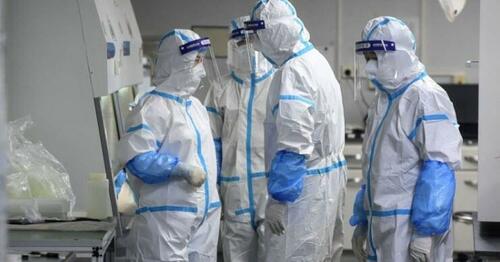 The Global Disinformation Index is a British-based non-profit group that previously received $665,000 from the Global Engagement Center and National Endowment for Democracy (NED), a State Department-backed group, while it was overseeing censorship of "conspiracy theories" about COVID-19.
One of these conspiracy theories was the notion that COVID-19 originated from a lab leak in Wuhan, which GDI claimed had "been fact-checked and proven untrue."
GDI abused its influence to pressure Big Tech firms like Google to cut advertising from conservative websites that pushed the lab leak theory, placing them on a secret blacklist called a "dynamic exclusion list" in an effort to put them out of business.
The group targeted firms that were "providing ad revenue streams to known disinformation sites peddling coronavirus conspiracies."
Microsoft later had to suspend its partnership with the group after the GDI had been using the company's Xandr advertising and analytics subsidiary to freeze out conservative sites.
From 2021 onwards, the lab leak theory was no longer being treated as a "conspiracy theory," and both the Department of Energy and the FBI recently came out and asserted it was likely true.
"GDI is part of [a] disturbing constellation of pop-up censorship organizations that all descended on stifling COVID origins discourse online simultaneously," Mike Benz, a former State Department official told the Washington Examiner.
This once again underscores how hysteria over 'fake news' and 'disinformation' has been weaponized to justify the censorship of awkward stories and even facilitate actual cover-ups.
As we highlighted yesterday, the Chinese Communist Party threatened Elon Musk to stop sharing stories about the Wuhan lab leak, suggesting Tesla's business interests in China would be at risk if he kept amplifying the issue.
*  *  *
Brand new merch now available! Get it at https://www.pjwshop.com/
In the age of mass Silicon Valley censorship It is crucial that we stay in touch. I need you to sign up for my free newsletter here. Support my sponsor – Turbo Force – a supercharged boost of clean energy without the comedown. Get early access, exclusive content and behind the scenes stuff by following me on Locals.
Loading...