---
Still No Official Date For Biden To Address Joint Session of Congress: Pelosi
Authored by Zachary Stieber via The Epoch Times,
There's still no official date for President Joe Biden to give his first address to a joint session of Congress, House Speaker Nancy Pelosi (D-Calif.) said on Sunday.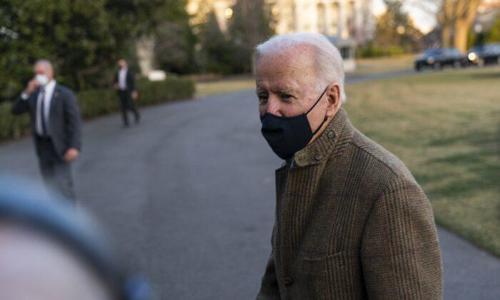 Asked if there's been an update since Congress passed Biden's COVID-19 relief package, Pelosi told reporters on Capitol Hill that "we'll see."
And she answered in the negative when queried on whether there's an official date yet.
Biden's chief of staff said last week that the joint session address, sometimes described as a State of the Union speech, would likely be scheduled "shortly after" the president signed the relief package.
Biden signed the bill on Thursday.
Biden originally said he would address Congress in February, but White House Jen Psaki later claimed ignorance when questioned when the month was nearly over where that idea had come from.
"I've not Nancy Drewed that one out today, but it was never planned to be in February, and we don't have a date for a joint session at this point," she told reporters.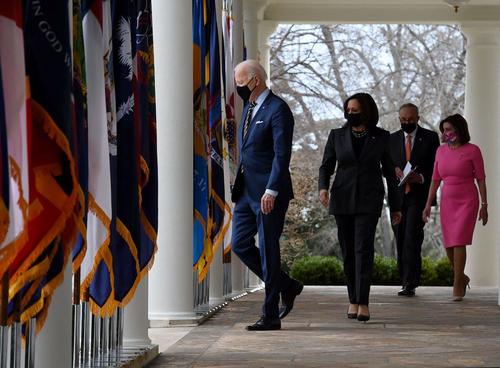 President Joe Biden, with (L-R) Vice President Kamala Harris, Senate Majority Leader Chuck Schumer (D-N.Y.), and House Speaker Nancy Pelosi (D-Calif.), arrives to speak about the American Rescue Plan in the Rose Garden of the White House in Washington on March 12, 2021. (Olivier Douliery/AFP via Getty Images)
The delay, coupled with the fact that Biden hasn't held a formal press conference since being sworn in over two months ago, is increasing criticism of his early governing style.
"Joe Biden ran on healing the nation but hasn't scheduled a traditional Address to a Joint Session of Congress to explain what that looks like or a single formal press conference to explain how he plans to do it. I wonder why?" Charlie Kirk, founder and president of the conservative Turning Point USA group, wrote in a recent tweet.
Biden gave his first primetime address on March 11, but took no questions afterward. The president championed his administration's approach to combating the COVID-19 pandemic.