---
Republicans Want An End To Fed Emergency Lending As Part Of Stimulus Deal
Update (1320ET): In a new demand, Republican Sen. Pat Toomey is pushing to include language in the pandemic relief bill which would "explicitly terminate the Federal Reserve's emergency lending program" by the end of the year, according to Bloomberg, which notes that the move would "ultimately limit the Biden administration's flexibility in addressing the economic crisis."
The issue is holding up the relief talks and the timeline for stimulus to reach millions of jobless Americans, because it puts Republicans at odds with Democrats who want to keep the programs running. The Fed facilities program was created in the CARES Act, passed in March. -Bloomberg
According to Toomey, his provision would "end these programs exactly as the statute intended to do and it would preclude the replication of them. So you wouldn't be able to just create a carbon copy and call it a new one, and call it a different thing."
*  *  *
Stimulus negotiations are set to spill over into the weekend, as Capitol Hill negotiations continue to hit last-minute stumbling blocks over a nearly $1 trillion coronavirus relief package ahead of a Friday deadline, according to Politico. Top congressional aides and White House officials add that if a deal isn't reached, they will need to pass another short-term (24-48 hour) spending measure to avoid another government shutdown on Friday evening.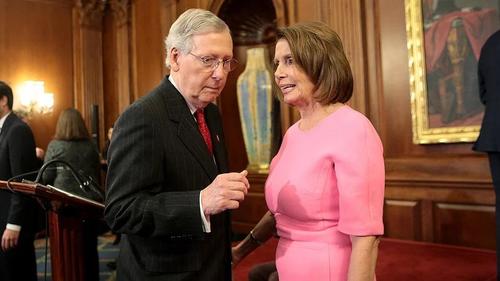 While Congressional leaders continue to talk about 'progress', they have not publicly announced an impending deal - which, if isn't announced on Thursday - allowing a day to draft - won't get passed by the Friday deadline.
"I'm hopeful, and I talked to the speaker this morning. She thinks we're making real progress," said House Majority Leader Steny Hoyer (D-MD) in a Thursday morning appearance on MSNBC. "Hopefully, we will get to an agreement today."
The House and Senate would both need to approve the year-end funding bill and the coronavirus package, and in the Senate any one member can delay passage. Even if a deal is reached Thursday, it could take a day to draft the legislation.

The coronavirus package will include a new round of roughly $600 stimulus checks, beefed up unemployment benefits of $300 a week, about $325 billion for small businesses and money for transportation, vaccine distribution and schools, according to lawmakers and aides. Leaders are hopeful it will be married with a $1.4 trillion omnibus spending bill funding the government through September.
 Meanwhile, Senate Majority Leader Mitch McConnell (R-KY) said late Wednesday that Congress is "gonna get there," while House Speaker Nancy Pelosi says they're making "progress" - expressing hope that they won't need another short-term spending bill.
GOP leadership is pressing back against several Democratic requests in the rescue package - including as much as $90 billion slated for governors to spend on heath-care related concerns which Republicans have called an unnecessary slush fund. Republicans have also opposed a $1 billion pot of money to help FEMA deal with pandemic-related emergencies.