Sanders holds the advantage in key contests – including delegate-rich states like Texas and California – and former New York Mayor Michael Bloomberg threatens to play spoiler. So the risk for moderate Democrats is that the exit of Pete Buttigieg and Amy Klobuchar is too little, too late.

...

Sanders – a self-described democratic socialist who many in the party fear would return President Donald Trump to the White House – seems certain to emerge with the most delegates. Biden's task is to win enough support to stand as a credible challenger to Sanders as the primary calendar moves to frequent contests that stretch through June, a task that would be made easier by the growing support he's received just since Saturday night. -Bloomberg
Meanwhile, Bloomberg - the candidate, not the news outlet, threatens to carve delegates away from the moderate Biden after pouring unprecedented personal resources into advertising his way into the nomination. If Biden is to stand any chance going forward, it's clear that he needs to finish ahead of the former New York City mayor.
Bloomberg, if he wants to remain a contender, must blow past Biden today despite terrible debate performances and a slew of controversial past comments which have emerged to hurt the billionaire Democrat - who ran for NYC mayor as a Republican, and allegedly told a pregnant woman to 'just kill' her baby.
According to 11 polls released on Sunday and Monday, Bloomberg never placed higher than second place - and led Biden in just three of the 11 polls, according to The Hill.
Here are the candidates' various positions. One point of agreement is that corporate tax rates will go up - effectively unraveling the 2017 Tax Act on businesses.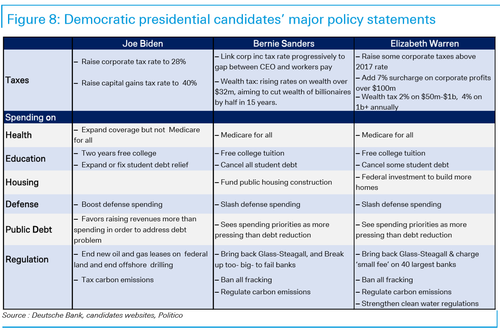 Still, as Deutsche Bank notes, "The most important takeaway from these policies for markets would be to measure what could they get done without a friendly Senate, given they could hold the House. We will have a much better idea of the probabilities later this summer as the Senate and White House races are decided and really start."
Past the primaries
Once primaries are over by the end of the summer, the focus will shift to the Presidency and winning the Electoral College. There are 538 electors, for which a candidate requires an absolute majority of 270 electors to win the race.
In 2016, Trump won 306 electors in 30 states vs. Hillary Clinton at 232 in the other 20 states. Trump's biggest electoral college victories were scored in the upper Midwest - Michigan, Wisconsin and Pennsylvania to the east - which he won by less than 100,000 votes combined, or roughly 1% in each state according to DB. Due to the slim margin, these will be important regions for Trump to win again in 2020, along with the "Sun Belt" swing states of Florida, New Mexico and possibly Arizona which has turned more blue in recent cycles (perhaps due to California transplants).
The map below shows the states that may be 'solidly' Democratic and Republican, having voted along those party lines over the last 5 elections. That is not to say they will all vote along the same lines in 2020 - as already mentioned, the vote spread in states like Arizona have been tightening. The final electoral college projection will need to be made in the summer after voters decide on who the Democratic contender is - a more moderate voter may be able to have better chances in southern swing states like North Carolina and Florida, while Sanders's strength with young voters and independents may help him in states like Arizona and Colorado. -Deutsche Bank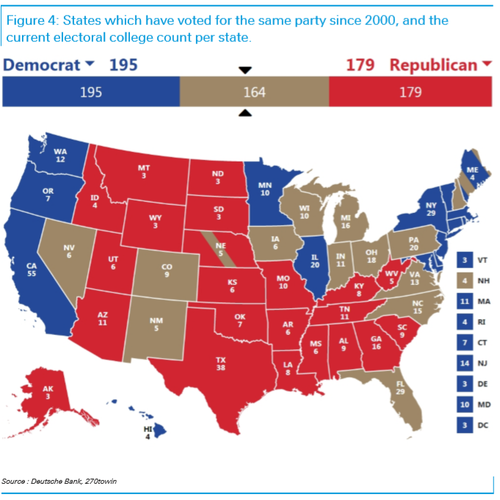 Coronavirus curveball
While 95% of respondents in Deutsche Bank's monthly survey believe that President Trump will likely win a 2nd term - with 60% thinking it's "very likely," the research note mentions the potential impact of exogenous events such as the new coronavirus which has achieved 'community spread' in the United States (just two weeks after the CDC director said it would happen later this year, or next year).
The report notes that just 3 out of the 11 incumbents have been voted out of office since WWII - George H.W. Bush, Jimmy Carter, and Gerald Ford, all of whom were impacted by rising unemployment going into November - which suggests that "an economic slump would damage Trump's chance."
 President Trump is right to focus on the economy in his re-election bid, with historically low unemployment and strong consumer sentiment numbers. Nearly 7 months from the election, it looks like he should be in good shape on these metrics, outside of a large shock causing an inflection that we have yet to see. How Covid-19 develops over the spring and possibly into the summer could be key to this.
Also - consider that if coronavirus has gripped the country by November, the disease which is deadliest in older individuals may have an effect on who comes out to the polls.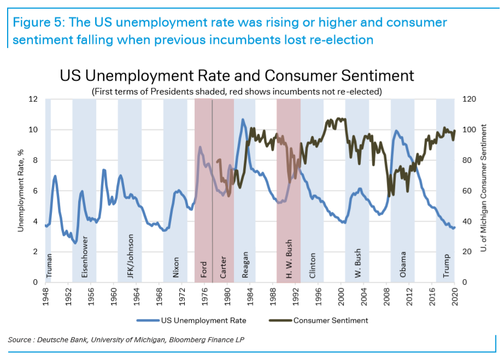 Helping Trump is his strong approval rating, though he will likely need them to rise further in order to feel comfortable about his chances of re-election. Gallup has Trump's approval rating at the highs of his presidency - right around 50%, which is in-line with all of the other previous 7 presidents at the same point in their presidencies, according to DB.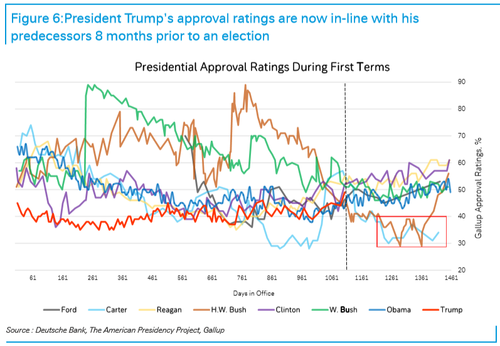 So we're looking at either Sanders or Biden vs. Trump, amid the potential backdrop of an exponentially worsening pandemic and its effects on people and the economy.