---
Supreme Court Agrees To Hear Case That Could End Use Of Race In College Admissions
Following a handful of landmark cases brought by the DoJ accusing colleges of unfairly disadvantaging Asian and White applicants, the Supreme Court has just decided to hear arguments that could result in it radically breaking with precedent to ban the consideration of race in college applications.
The AP reported that SCOTUS had agreed to hear the challenge to the status quo, which could result in the biggest change to the legal framework surrounding college admissions - seen as a key gateway to the meritocratic American dream - since 2003, when Grutter v. Bollinger reasserted that universities may take race into account to create a "racially diverse" student body, to the benefit of all students. But the precedents go back decades, all the way to the 1964 Civil Rights Act.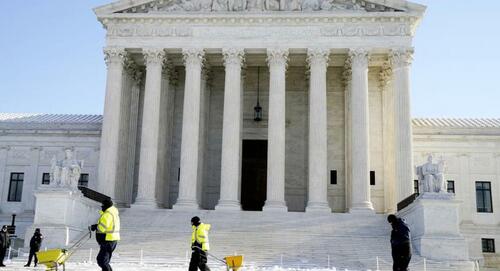 The court has chosen to hear an appeal from Students for Fair Admissions, an activist group working to end bias against Asian applicants at top universities, It has also opted to hear appeals from Harvard and other prestigious universities urging that the precedent be upheld.
"Grutter is wrong, immoral, and unpersuasive, and has not aged well," argued the group, Students for Fair Admissions, run by longtime preferences opponent Edward Blum.
Unfortunately for Students for Fair Admissions, the Biden Administration is taking the other side, with the administration's lawyers filing appeals alongside Harvard and its coterie of elite schools.
In her landmark opinion for the majority, Justice Sandra Day O'Connor, a Republican appointed by President Ronald Reagan, predicted that racial preferences would no longer be necessary in 25 years. However, Harvard insists that these methods are still absolutely necessary.
"Universities across the country have followed this precedent in structuring their admissions processes," Harvard argued. "And the American public has looked to this precedent for assurance that the nation recognizes and values the benefits of diversity and that the path to leadership is open to all."
Many lower courts have rejected SFA's challenge, including the Boston-based 1st U.S. Circuit Court of Appeals, which upheld the Harvard policy in a 2-0 ruling. The case will turn on the Court's interpretation - or reinterpretation - of the 1964 Civil Rights Act's Title VI, which bars racial discrimination by universities that receive federal funding.
The case will likely be heard during the Court session beginning in October.