---
Supreme Court Temporarily Blocks Biden Admin's Lifting Of Trump-Era Border Policy
With Title 42 - the Trump-er border policy, set to expire on Wednesday, and numerous border towns panicking ahead of what is expected to be an even greater influx of immigrants at the southern border than is already being experienced, Chief Justice John Roberts temporarily blocked the scheduled ending while the US Supreme Court considers a bid by Republican state officials to keep the rules in place during a legal fight.
Title 42, a pandemic-related public-health measure allowing migrants to be quickly expelled back to Mexico after crossing the border illegally, is believed to have acted as a deterrent for some migrants seeking asylum because they could be turned back even if they asked for protection.
As JustTheNews reports, an estimated 2.5 million migrants have been removed under the order since its implementation.
Meanwhile, border officials have had to combat already record-high migration numbers, with 2.4 million migrants crossing in fiscal year 2022 alone and roughly 4 million doing so since President Joe Biden took office in January of 2021. Those figures are expected to rise further should the Title 42 border enforcement mechanic render authorities unable to swiftly remove border crossers.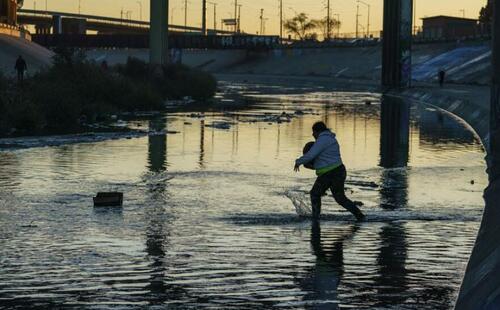 As The Wall Street Journal reports, Chief Justice Roberts, who oversees emergency matters from the District of Columbia, gave the Biden administration until 5 p.m. Tuesday to file its legal response.
The temporary order is to remain in effect until the court decides the emergency request, led by the Republican attorneys general of Arizona and Louisiana.
The order doesn't indicate the court's view of the legal issues, but the court's conservative majority has in other cases issued emergency orders that blocked Biden administration priorities.
Loading...