---
Trump Blasts SCOTUS Decision On Pennsylvania Ballots As "A Disaster For Our Nation"
Update 1315ET: While it took a little time, President Trump has chimed ion on SCOTUS' decision on Pennsylvania ballots.
A 3 day extension for Pennsylvania is a disaster for our Nation, and for Pennsylvania itself. The Democrats are trying to steal this Election. We have to get out and VOTE in even larger numbers. The Great Red Wave is coming!!!

— Donald J. Trump (@realDonaldTrump) October 29, 2020
How long until this tweet is banned by Twitter?
*  *  *
With freshly-confirmed Amy Coney Barrett standing ready on the sidelines, the already-supposedly-conservative-leaning Supreme Court dealt a double-blow to Republicans tonight over mail-in-ballot cases in two key states.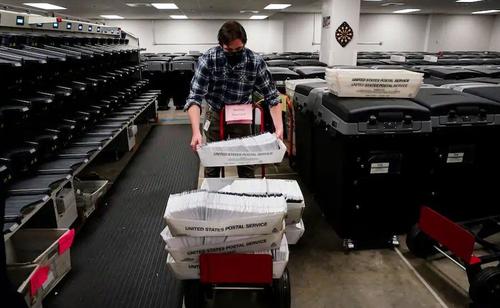 First, the Supreme Court said that it will not intervene before the election to stop Pennsylvania officials from receiving mail-in ballots up to three days after Election Day, refusing a Republican request that the high court expedite review of the issue.
While this is a "loss", WaPo reports that there is a modest silver-lining in that three conservative justices indicated the votes ultimately might not be counted and signaled they would like to revisit the issue after the election.
"There is a strong likelihood that the State Supreme Court decision violates the Federal Constitution," wrote Justice Samuel A. Alito Jr., who was joined by Justices Clarence Thomas and Neil M. Gorsuch.

"The provisions of the Federal Constitution conferring on state legislatures, not state courts, the authority to make rules governing federal elections would be meaningless if a state court could override the rules adopted by the legislature simply by claiming that a state constitutional provision gave the courts the authority to make whatever rules it thought appropriate for the conduct of a fair election."
As a reminder, Pennsylvania was critical in President Trump's success during the election four years ago and is once again considered a key battleground state.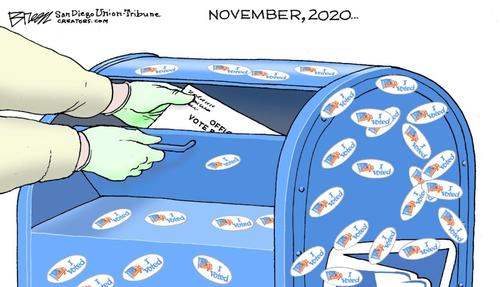 Second, as AP reports, the Supreme Court voted 5-3 to allow absentee ballots in North Carolina to be received and counted up to 9 days after Election Day, in a win for Democrats.
The justices on Wednesday refused to disturb a decision by the State Board of Elections to lengthen the period from three to nine days, pushing back the deadline to Nov. 12. The board's decision was part of a legal settlement with a union-affiliated group.

Under the Supreme Court's order, mailed ballots postmarked on or before Election Day must be received by 5 p.m. on Nov. 12 in order to be counted.

Three conservative justices, Samuel Alito, Neil Gorsuch and Clarence Thomas, dissented.
Trump said earlier that he was depending on courts to keep states from counting ballots received after Election Day.
"Hopefully the few states remaining that want to take a lot of time after Nov. 3rd to count ballots, that won't be allowed by the various courts," the president said.
So far things are not going that way.