---
Supreme Court Rejects West Virginia Ban On Transgender Athlete From Girls' Track Team
The Supreme Court on Thursday rejected West Virginia's emergency request to ban a 12-year-old transgender individual from competing in their middle school's girl's track team while the state's litigation makes its way through lower courts.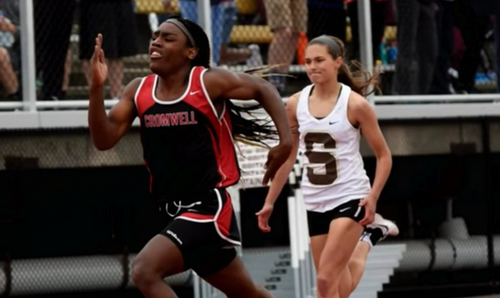 The case marks the first time the Supreme Court has reviewed the issue of biological men who routinely dominate biological women in various sports.
The order relates to a single student, Becky Pepper-Jackson, who runs on the cross-country and track teams at a middle school in Bridgeport, W.Va. 

In February, the U.S. Court of Appeals for the Fourth Circuit, in Richmond, Va., blocked a lower-court order allowing Becky to be removed from the team under West Virginia's Save Women's Sports Act while litigation over the law proceeds. 
BREAKING: SCOTUS *refuses* to allow West Virginia to enforce its sports ban on transgender girls.

Apparent vote is 7–2, with Justices Thomas and Alito in dissent pic.twitter.com/UZr4De6xEo

— Steven Mazie (@stevenmazie) April 6, 2023
Almost 20 states have passed laws restricting biological males from participating in female events, the Wall Street Journal reports.
According to court records, by fourth grade, Becky had "socially transitioned to living and presenting as a girl," and does so "with the full support of her family" while receiving puberty blockers and hormone therapy in an effort to "develop physiological characteristics consistent with hormonal puberty typical of girls."
That said, Becky hasn't been a star performer on Bridgeport's team. "Despite regularly finishing near the back of the pack, she loves to play, have fun with her friends, and try her best," reads the filing.
In April 2021, the West Virginia legislature passed the Save Sports Act, restricting transgender individuals from participating in public school girls' teams, citing concerns that transgenders could dominate female competition categories.
The lawsuit against the act was filed by Becky's mother, Heather Jackson, who argued that barring her biological male child from the girls' team violated the 14th Amendment's equal-protection clause and the federal law discriminating against sex in education, known as Title IX.
While initially siding with the family, a judge in Charleston, WV, Joseph Goodwin, eventually issued an order reluctantly upholding the state law.
"Not one child has been or is likely to be harmed by [Becky's] continued participation," he wrote. "Moreover, there is a public interest in celebrating not only the unique differences of those who fit into society's binary world but also those who fall outside that box."
That Goodwin noted that segregating sports by sex is a 'long-established practice.'
While the legislature could have used "less rigid definitions which would allow transgender individuals to play on the athletic team consistent with their gender identity," he wrote, drawing "the line at biological sex determined at birth" comported with "the state's important interest in providing equal athletic opportunities to females, who would otherwise be displaced if required to compete with males."

Becky appealed to the Fourth Circuit, which in a brief order temporarily blocked Judge Goodwin's decision by a 2-1 vote. West Virginia's Republican attorney general, Patrick Morrisey, asked the Supreme Court in early March to set aside that order. -WSJ
"We are resolute in protecting opportunities for women and girls in sports because when biological males win in a women's event—as has happened time and again—female athletes lose their opportunity to shine," said Morrisey.
Loading...