---
SVB Donated $73.4 Million To BLM And Related Entities
Update: It appears that the argument is far more nuanced than Claremont's analysis suggests. Click into the below Twitter thread to learn more.
1. Fox News' @JesseBWatters told millions of viewers that Silicon Valley Bank "donated $74 million to Black Lives Matter."

Similar claims went viral on Twitter

Some "facts" are too good to check

The actual amount that SVB donated to BLM is ZERO

Follow along for receipts 🧾 pic.twitter.com/32FhrK3A3Y

— Judd Legum (@JuddLegum) March 16, 2023
*  *  *
While Silicon Valley Bank execs may have failed to hedge against interest rate risk, they did signal $73.45 million in virtue donating to Black Lives Matter and related entities, according to a database maintained by the Claremont Institute which lists nearly $83 billion in donations to the Marxist organization.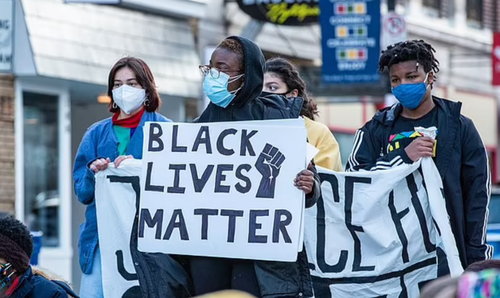 Meanwhile, New York-based Signature Bank gave a total of $850,000 to the organization.
Both woke banks had touted their efforts to improve diversity among their staff - with SVB pledging in the summer of 2020 to increase its commitment to "diversity, equity and inclusion.'
During the pandemic, CEO Greg Becker announced an employee matching program for donations which focused on "pandemic-response, social justice, sustainability and supporting women, black and Latinx emerging talent and other underrepresented groups," the Daily Mail reports.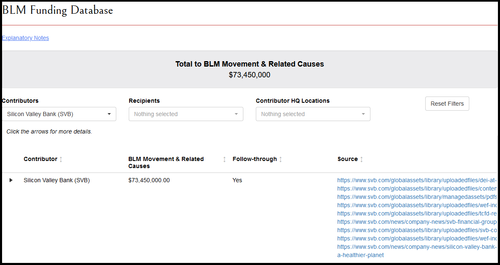 In a 2021 proxy statement to investors, the company said that "The calls to end systemic racism and social inequities following the death of George Floyd in May 2020 had a profound global impact," adding "We responded by expanding opportunities for dialogue, including hosting over 40 small group Conversation Circles in which over two-thirds of our employees participated in discussions about racial equity issues."
"Additionally, we provided opportunities for action, mobilizing our employees and clients to join in community service through Tech Gives Back, a week of volunteer events focused in part on racial equity, social justice and access to the innovation economy."
At the same time, Signature Bank executives noted in their 2021 Social Impact Report that some 2,200 employees had donated to a variety of organizations and 431 individual grants totaling $1.86 million were directed to nonprofits.

The report said 'corporate giving is an essential component of Signature Bank's corporate citizenship, and the Bank's commitment to supporting universal social causes will only grow along with the bank's size, strength and position within the corporate community, national economy and global society. -Daily Mail
"Each year, Signature makes unrestricted grants to numerous not-for-profit organizations and funds specific activities and initiatives for many others," said the bank. "With our increased focus on social impact, including practices related to human capital, diversity, equity and inclusion, along with strategies to support and cultivate community engagement, and our approach to sustainability efforts as individuals and as an institution, the Bank continues to strengthen its governance in these areas."
Maybe just focus on running a bank?
Loading...