---
Teen Who Tracked Elon Musk's Private Jet Starts Following Flights Of Russian Oligarchs
Authored by Katabella Roberts via The Epoch Times,
A teenager who was blocked on social media by Elon Musk after tracking the Tesla chief executive officer's private jet has now started following the private planes of Russian oligarchs.
Jack Sweeney, 19, created a Twitter account called "Russian Oligarch Jets" in February amid President Vladimir Putin's invasion of Ukraine.
Tracking all of the following. pic.twitter.com/cUW5rwS0el

— Russian Oligarch Jets (@RUOligarchJets) February 27, 2022
The account tracks the movements of some of Russia's wealthiest businessmen, informing account followers of when and where their aircrafts take off and land along with a short summary of flight information, such as the location and duration of each trip.
The automated feed posted its first tweet on Sunday, the same day that the United States sanctioned two of Russia's state-owned banks, the country's sovereign debt, and elites with close ties to Putin.
Prior to the Biden administration's sanctions, German Chancellor Olaf Sholz announced a freeze on the Nord Stream 2 pipeline, which would carry 55 billion cubic meters of natural gas from Russia to Germany each year.
Subsequent "massive and targeted" sanctions against Russia were also announced by the EU, which focused on the country's oil, financial, transport, and energy sector, and visa policy which targets Russian oligarchs.
Yet despite multiple sanctions from the West meant to financially cripple Russia's elite, Sweeney's account shows that many of them are still jet-setting across the globe in private planes.
So far, Sweeney's account is tracking the Russian billionaire and businessman Roman Abramovich; a former scientist turned industrial magnate, Alexander Abramov; and the president of aluminum manufacturing giant Rusal, Oleg Deripaska.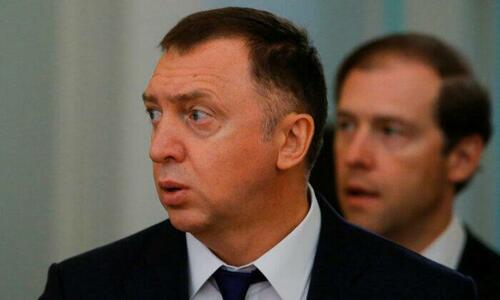 The businessmen have traveled everywhere from Germany, the United Arab Emirates, Russia, and England in recent days, despite the UK's Prime minister Boris Johnson announcing that the country has banned all Russian aircraft from entering UK airspace as part of its "largest-ever" package of sanctions against Russia in the wake of its invasion of Ukraine.
The ban pertains to aircraft on a scheduled service which is, "owned, chartered or operated by a person connected with Russia, or which is registered in Russia" according to Johnson's announcement.
Yet data from Sweeney's account shows that industrial magnate Alexander Abramov landed in London, England, on March. 1.
Alexander Abramov's Jet D-APGS Landed in London, England, GB. pic.twitter.com/t7c5jaun7O

— Russian Oligarch Jets (@RUOligarchJets) March 1, 2022
In response to the UK's ban on Russian planes entering the country, Russia's civil aviation authority, Rosaviatsiya, has banned all flights by UK airlines to the country as well as transit flights.
Sweeney has also created a second account to monitor the private jets of president Putin himself but warned on Twitter that the account, called "Russian VIP & Putin Jets," might not be as accurate because "there are a dozen VIP Russian planes and ADS-B coverage isn't great in Russia."
ADS-B stands for automatic dependent surveillance-broadcast and broadcasts information about an aircraft's GPS location and altitude, among other things, enabling it to be tracked.
Sweeney made headlines last month when he created a Twitter account called "Elon Musk's Jet" which tracked the businessman's movements in his private plane through air traffic information gathered by bots.
However, the freshman at the University of Central Florida was promptly told to take down the account by Musk due to security risks.
While Musk initially agreed to Sweeney's offer to remove the account if Musk paid him $50K, the Tesla chief later went back on the offer and allegedly blocked the teenager on social media.
Undeterred, Sweeney told The Epoch Times that he planned to launch a business called Ground Control to monitor the flight activity of private jets owned by other high-profile people, this time for a profit.