---
"Terrified Of A Bud Light Situation": Target Pulls Pride Month Products In Certain Stores Amid Boycott Calls
Update (1400 ET): Taking another page out of the Tranheuser Bush playbook, Target is already getting the blowback treatment, with the uber-woke socialist tabloid Business Insider reporting that after Target abruptly removed Pride month feature displays from dozens of stores in Southern states, has "frustrated and alienated" the company's (handful of ) LGBTQ workers who "spoke anonymously for fear of professional consequences as they are not authorized to speak to the media, but Insider verified their identities and employment."
One wonders how Target shareholders - who are vastly more numerous than the company's handful of pride-flag clad employees - will feel when Target is Budlighted and feel the full impact of the conservative boycott, sending the company's stock plunging.
* * *
One week after Target CEO Brian Cornell revealed that "woke" capitalism is "great" for their brand and "the right thing for society," the mega-retailer has been scrambling to avoid a disastrous "Bud Light moment" by forcing some stores to remove LGBTQ Pride merchandise as consumer boycott calls mount. 
BREAKING: Target just pulled their pride display from a store after parents pushed back, keep up the heat. pic.twitter.com/oCtybRceSB

— Merissa_Hansen🇺🇸🦅 (@merissahansen17) May 23, 2023
A Target insider told Fox News that South and rural America stores are removing controversial LGBT-themed products ahead of June Pride month to avoid further backlash. Some products ranged from "tuck-friendly" swimsuits for transgender people to gender-fluid coffee mugs. The insider said the reasoning behind such an abrupt move is "to avoid the kind of backlash Bud Light has received in recent weeks."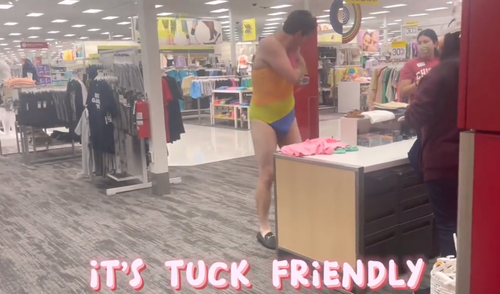 Facing a potential sales-slamming debacle akin to the 24% hit Bud Light has taken, the person said an "emergency" conference call was held with store managers and senior district directors last Friday to dismantle Pride sections on retail floors. 
"We were given 36 hours, told to take all of our Pride stuff, the entire section, and move it into a section that's a third the size. From the front of the store to the back of the store, you can't have anything on mannequins and no large signage," the insider said. 
The person who has worked for the retailer for over two decades said execs are "terrified of a Bud Light situation" as boycott calls soar on social media. 
Target is far worse than Bud Light ever was. Time to boycott!!! Not hard for me. I never shop there.

BOYCOTT TARGET 🎯

pic.twitter.com/JQJB2tXG3q

— Juanita Broaddrick (@atensnut) May 17, 2023
Target does NOT deserve our business!!!

BOYCOTT TARGET!!!!! pic.twitter.com/R2YyM62rXP

— Graham Allen (@GrahamAllen_1) May 23, 2023
BOYCOTT TARGET!!!!! pic.twitter.com/088r3tHeFc

— Graham Allen (@GrahamAllen_1) May 23, 2023
Boycott Target pic.twitter.com/CMRheXUb3S

— Randy Butler (@RandyButler62) May 16, 2023
Boycott Target. #boycotttarget

pic.twitter.com/h36jVKEb1M

— Mike Anderson (@MikeSmalltalk) May 17, 2023
Thank you so much @Target for helping me Tuck my Junk!

This is why they call me "Tucker Stein"

pic.twitter.com/H15IF1Eq4f

— Alex Stein #99 (@alexstein99) May 24, 2023
A Target spokesperson said the changes on the floor were in response to "threats impacting our team members' sense of safety and wellbeing" following the introduction of the Pride products. We were unable  to find any accounts of violence directed against Target employees or stores on social media. 
As they're prone to do, major outlets like NBC News took Target's vague reference to employees' "sense of safety and well-being" and turned them into headlines referring to "threats to employees."
Target claims customers don't love its Satanist (literally!) designed clothing pushing radical and destructive gender ideology on children. https://t.co/sGC1GPd8Lg

— Mollie (@MZHemingway) May 24, 2023
While Target didn't specify the items that are being removed for causing the greatest uproar, they surely include designs from London-based Abprallen, which "designs and sells occult- and satanic-themed LGBTQ clothing and accessories," according to Associated Press. A search for Abprallen's "Cure Transphobia Not Trans People" shirt design at target.com now yields a "product not available" page.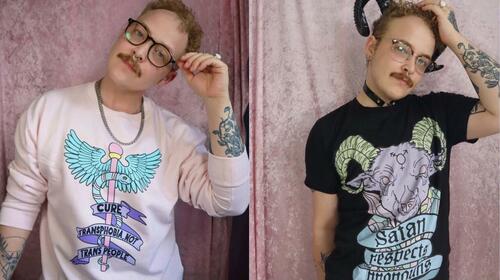 Fox confirmed several South Carolina, Arkansas, and Georgia stores had shifted Pride sections from the front to the back. 
And all of this comes after Target CEO Cornell made comments about embracing woke capitalism last Wednesday. Such a major reversal in policy likely suggests the retailer fears a "Bud Light moment" or has already seen emerging sales data of a boycott. 
Corporations have freedom of speech under the First Amendment but have to understand if their political ideologies don't align with customers, then the people also have freedom of speech to voice their opinion. That's why corporations should probably stay out of identity politics or risk pissing off both sides, because what Target did by moving pride products to the back and scaling down the section will likely spark outrage in the trans community. 
Did companies learn anything from Bud Light, or are they oblivious that their woke marketing is corporate suicide, as these ideals and beliefs don't resonate with most consumers? 
Loading...