---
Texas' Operation Lone Star Seizes 422 Million Doses Of Fentanyl, Nearly 400K Migrants Arrested
Republican Texas Gov. Gregg Abbott's operation to halt the influx of illegal immigrants, weapons and drugs into the United States has resulted in the seizure of more than 422 million lethal doses of fentanyl, and the apprehension of 394,200 illegal immigrants.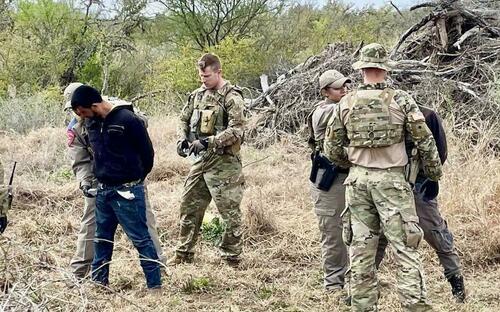 Dubbed Operation Lone Star, the mission launched in March 2021 between the Texas National Guard and the Texas Department of Public Safety.
"Since the launch of Operation Lone Star, the multi-agency effort has led to over 394,200 illegal immigrant apprehensions and more than 31,300 criminal arrests, with more than 29,100 felony charges reported. In the fight against fentanyl, Texas law enforcement has seized over 422 million lethal doses of fentanyl during this border mission," Abbott's office said in a Friday statement.
Operation Lone Star continues to fill the dangerous gaps created by the Biden Administration's refusal to secure the border. Every individual who is apprehended or arrested and every ounce of drugs seized would have otherwise made their way into communities across Texas and the nation due to President Joe Biden's open border policies.
Meanwhile, the Abbott administration has bused more than 27,260 migrants to Democrat-run sanctuary cities across the nation - with most ending up in Washington DC and New York City.
As Just the News notes, "The announcement about the operation's achievements comes as the Justice Department plans to sue Texas over the state's use of a floating barrier to stop illegal migration across the Rio Grande River, which separates Texas from Mexico. Abbott has fired back against the federal government, stating that his state has the authority to defend its border."
Loading...