---
These Are All The Investigations And Lawsuits Against Trump (For Now)...
With the indictment and booking of Donald Trump in Fulton County, Georgia, on election interference charges, a fourth criminal case against the former president is now active. Trump appeared in an Atlanta jail this week and famously had his mug shot taken.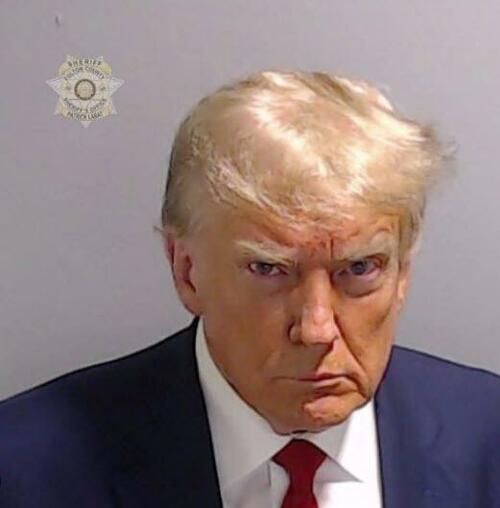 As Statista's Katharina Buchholz details below, the stream of litigation (flippant or not) just grows and grows and the Georgia case on election interference has sparked more public interest than previous ones.
As seen in Google Trends data, Trump's first criminal indictment and arraignment in late March and early April at the Manhattan Criminal Court caused the biggest public interest so far. The former president is being accused in the case brought by the state of New York of falsifying business records in order to conceal crimes. Subsequent indictments - two by the Justice Department's Special Counsel Jack Smith brought in Miami and Washington D.C. to do with Trump's handling of classified documents and the January 6 Capitol riot - sparked less interest. Google search volume only reached 51-64 percent of the week of Trump's first criminal indictment for the Miami case in early June and only 37 percent for the D.C. case in early August. As of the early morning of Aug. 25, search interest was predicted to rise sharply again this week in the aftermath of the Georgia booking.
You will find more infographics at Statista
In June and July, Special Counsel Jack Smith had in the name of the Justice Department also brought 40 felony counts against Trump and his former assistants Walt Nauta and Carlos De Oliveira in the case of classified documents found at Trump's estate Mar-a-Lago.
In early August, a second Justice Department indictment concerning Trump's conduct in relation to the January 6 Capitol riots followed.
Another criminal case against Trump is pursued by the Manhattan District Attorney's Office, which indicted and arraigned the candidate for the Republican Party's nomination in the 2024 presidential election in March and April on 30 fraud counts in connection with a hush money payment to adult film actress Stormy Daniels prior to the 2016 presidential election.
The office has been investigating Trump's finances since 2019, when three House committees had initially subpoenaed Trump's banks and accounting office.
In early 2023, Trump Organization chief financial officer Allen Weisselberg was already sentenced to five months in jail for tax fraud and grand larceny, while the organization was ordered to pay $1.6 million for tax crimes in New York courts. Trump lost a second court case in May when we was found liable of sexual abuse and defamation of columnist E. Jean Carroll and ordered to pay $5 million in damages. There have been repeated reports that the legal costs Trump is facing have diminished his campaign funds, while they don't seem to have hurt his polling.
As seen in information by the Just Security Litigation Tracker, there are currently also 12 civil suits (some of which are being argued jointly) against Trump or his organizations, alleging violations of the Voting Rights Act and of civil rights statutes as well as financial fraud, defamation, copyright infringement and once again Trump's role in January 6, among others.
You will find more infographics at Statista
Trump is currently being sued by columnist E. Jean Carroll for repeated defamation, 12 D.C. police officers, 11 Democratic Congresspeople, the Michigan Welfare rights Organization, the New York attorney general, a group of plaintiffs pursuing a class action lawsuit and his former attorney Michael Cohen, who appealed the dismissal of his case.
Loading...