---
"They Don't Care About Us" - Indian Farmers Block Roads As Demonstrations Flare-Up Over Farm Bill 
Thousands of angry farmers took to the streets and blocked roads and railways across India on Friday, in protest against new farming legislation that would halt government programs that purchase grains at fixed prices, therefore allowing big corporations to dictate market prices, reported Reuters. 
Much of the protests are centered in the states of Punjab and Haryana. The Indian government continues to reject the notion the legislation would hurt farmers; nevertheless, after Sunday (Sept. 27), farmers will no longer have the ability to sell certain grains to state-controlled markets, which would allow them to sell to private buyers. 
Prime Minister Narendra Modi said the new farm legislation would "completely transform the agriculture sector" and empower "tens of millions of farmers" while driving much-needed investments and modernization efforts in the industry.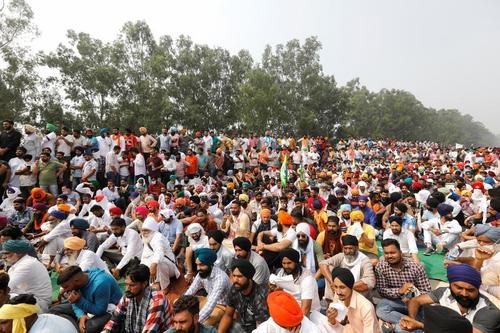 Reuters notes, as soon as next week, farmers will be able to sell grains to institutional buyers and big retailers such as Walmart. The government will still buy rice and wheat at fixed prices. 
But none of the assurances from the Modi government have calmed farmers who reside in Punjab and Haryana - India's northern farm belt. Thousands poured onto the streets Friday, blocking roads and railway tracks, shouting anti-government slogans.
Nationwide farmers protest today against #FarmBills.
(@Milan_reports)
#ITVideo #FirstUp pic.twitter.com/DqKdaH3p1T

— IndiaToday (@IndiaToday) September 25, 2020
More than 100 farmer unions took part in the demonstrations. However, many farmers did not socially distance themselves from others nor wear masks, comes when coronavirus cases and deaths are surging in the country. 
Bhupinder Singh Mann, the president of the All India Kisan Coordination Committee, told AFP, the "government is trying to exploit the farmers, they don't care about us."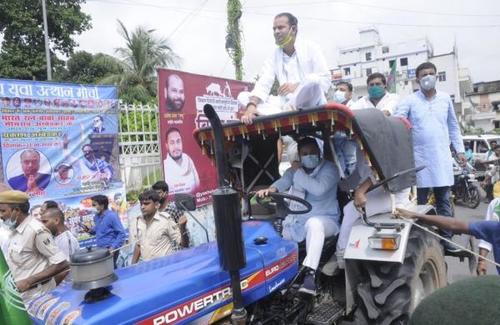 Reuters spoke with farmer Karam Singh, who accused the government of disbanding traditional wholesale markets for farm products. Other farmers, and leaders, say the nearly 7,000 regulated wholesale markets where the fixed prices are paid by the government ensure timely payments to growers. 
Singh pointed out the legislation has made India's most impoverished farmers, those who own 5 acres or less, vulnerable to price swings. 
"The private sector will give us a good price for one or two years, but what about after that?" he asked. "The government should guarantee the private sector will give us more than the government price."
Reuters says the protests have remained "peaceful." Here's what happened Friday:
Nationwide Farmer Protest Today | All India Kisan Sangharsh Coordination Committee calls for nationwide protest against the recently passed #farmbills. @Runjhunsharmas gets us a ground check from Noida pic.twitter.com/AwQRbovrPM

— CNBC-TV18 (@CNBCTV18News) September 25, 2020
More from CNBC on the protests.  
Nationwide Farmer Protest | Farmers are staging protest across the country against recently passed farm bills. P Chengal Reddy of Consortium of Indian Farmers Associations tells @Manisha3005, MSP can be made legal like the 'minimum wages act' pic.twitter.com/GE2xHgiYE8

— CNBC-TV18 (@CNBCTV18News) September 25, 2020
And while farmers are hitting the streets, India is a prolonged virus-induced economic downturn expected to roll into 2021. There's also the public health crisis, where coronavirus is spreading faster in India than anywhere else in the world. 
"Although this might be the low point in the ongoing crisis, the rapid increase in infections this quarter provides no hope of a near-term recovery," Prakash Sakpal, senior Asia economist at ING, told Reuters last month. 

"The macro policy has hit a snag amid stretched public finances and rising inflation. This means pretty much nothing can save the economy from continued deep declines for the rest of the year."
India is dealing with a host of problems, including a virus pandemic, economic downturn, border issues with China, and developing social instabilities with farmers.