---
"They're Liars" - NYC's 'Black Lives Matter' Mural Defaced For 3rd Time In Under A Week
Authored by Zachary Stieber via The Epoch Times,
Two black women were arrested Saturday for defacing New York City's "Black Lives Matter" mural, which sits just outside Trump Tower in the borough of Manhattan.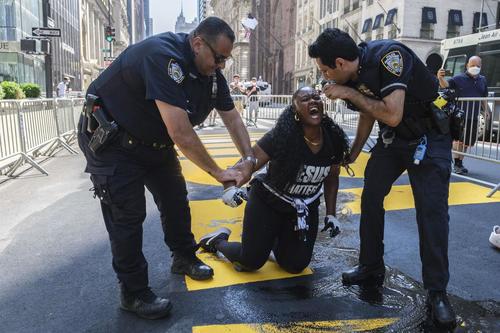 It's the third time the painted words were defaced in under a week.
Video footage showed the women dumping black paint on the yellow words before one got down on her hands and knees and spread the paint around with her hands.
"They do it for black people, right? Black lives matter. Black lives matter, but you want to defund the police for black people - you're lying. No, we're not standing for Black Lives Matter. We want our police. Refund our police," the woman said as she dumped paint on the mural.

"Ya'll don't care about black lives," she added later.
A New York Police Department (NYPD) detective told The Epoch Times that the situation took place at approximately 3 p.m.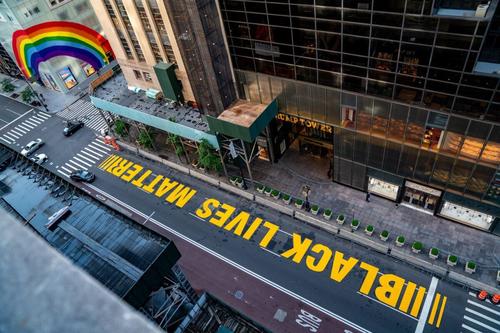 A "Black Lives Matter" mural that was painted on 5th Avenue in New York City, on July 13, 2020. (David Dee Delgado/Getty Images)
"Police observed a 39-year-old and 29-year-old females pouring black paint on the BLM painting on the roadway," the spokeswoman said in an email.

"The individuals were taken into custody and charged with criminal mischief."
The women were identified as Staten Island residents Edmee Chavannes, 39, and Bevelyn Beatty, 29.
Both women wore shirts that said "Jesus Matters."
As police officers tried arresting the women, one of the officers slipped on the paint and hit his head on the pavement. The NYPD declined to give details on his condition.
At least five officers were on the scene.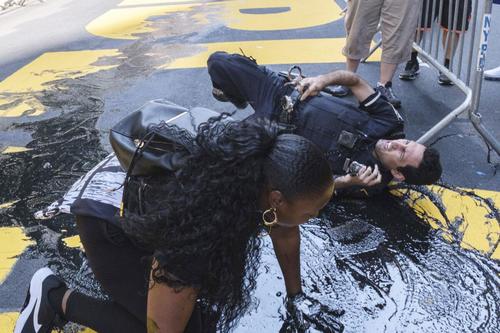 An NYPD officer falls during an attempt to detain a protester pouring black paint on the Black Lives Matter mural outside of Trump Tower on Fifth Avenue in the Manhattan borough of New York on July 18, 2020. (Yuki Iwamura/(AP Photo)
Three people were arrested Friday for dumping blue paint on the mural.
Those vandals were named as Juliet Germanotta, 39, Luis Martinez, 44, and D'Anna Morgan, 25. They were also charged with criminal mischief before being released.
A man who has yet to be arrested dumped red paint on the mural on July 13.
The mural was painted onto the city street on July 9 on orders from New York City Mayor Bill de Blasio. The Democrat participated in the painting, along with his wife, Chirlane McCray.
"When we say, 'Black Lives Matter', there is no more American statement, there is no more patriotic statement, because there is no America without black America," he said at the time.
Critics say the city should be focused on concretely improving the lives of minorities.
The "refund the police" remark by one of the women arrested Saturday was referring to the Black Lives Matter movement's efforts to defund the police.
Lawmakers in the city recently slashed $1 billion from the NYPD's budget.