---
Tone-Deaf MSNBC Pundit Says Musk-Run Twitter Could Be Manipulated For Political Reasons
MSNBC's Ari Melber may be the most tone-deaf pundit on the planet, after suggesting an Elon Musk-Run Twitter could be 'manipulated' to change political outcomes in favor of Republicans by suppressing stories that might harm a conservative candidate - exactly what Twitter did to Donald Trump during the 2020 US election.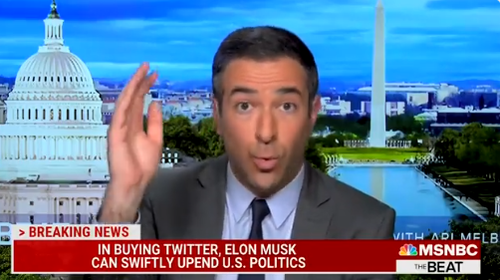 "If you own all of Twitter or Facebook or what have you, you don't have to explain yourself. You don't even have to be transparent. You could secretly ban one party's candidate or all of its candidates, all of its nominees, or you could just secretly turn down the reach of their stuff and turn up the reach of something else," said Melber. "And the rest of us might not even find out about it until after the election. Elon Musk says this is all to help people because he is just a free speech, philosophically clear, open-minded helper."
Watch what Jonathan Turley described as almost a clinical (if not comical) example of transference:
Twitter manipulating the reach of stories for political reasons during an election? Nah, that could never happen.pic.twitter.com/fkls7RzDf3

— Jerry Dunleavy (@JerryDunleavy) April 26, 2022
To review, Twitter suppressed perhaps the biggest bombshell in US politics in October 2020 when it banned the New York Post for truthfully reporting on Hunter Biden's laptop - which contained revelations of shady Biden family business dealings involving Joe Biden.
Yes, agreed.

Thank you. https://t.co/zEGZ3RBEiw

— Emma-Jo Morris (@EmmaJoNYC) April 26, 2022
In addition to damning emails, the laptop also contained a cache of text messages, photos and financial documents which revealed that Joe Biden absolutely lied when he said he had no knowledge of Hunter's dealings - and may have been collecting 10% of Hunter's income.
I fear Elon Musk could undermine the ideological diversity, equity and inclusion at Twitter which currently maintains a careful balance of 98.7% for one side. pic.twitter.com/I6JeTuTx9k

— Hillel Neuer (@HillelNeuer) April 25, 2022
More via The Post Millennial: