---
Trump And "J6 Prison Choir" Song Hits #1 On iTunes
A song recorded by former President Donald Trump and the "J6 Prison Choir" hit the #1 spot on iTunes over the weekend.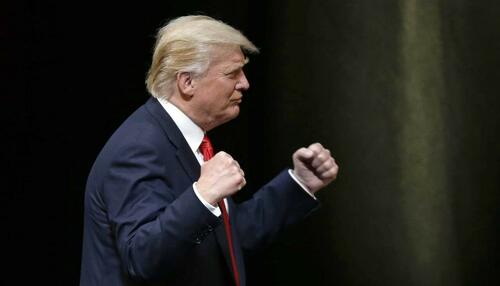 The "J6 Prison Choir" is a group of men jailed for their involvement in the Jan. 6 2021 breach of the US Capitol.
The two-minute song, "Justice for All," was released on March 3, surpassing "Flowers" by Miley Cyrus to reach the #1 spot on March 11. While the Choir sings the Star Spangled Banner, Trump recites the Pledge of Allegiance.
"J6 Prison Choir consists of individuals who have been incarcerated as a result of their involvement in the January 6, 2021 protest for election integrity after President Donald J. Trump stated 'I know that everyone here will soon be marching over to the Capitol building to peacefully and patriotically make your voices heard," reads the choir's website. "The J6PC continues to make their voices heard through the power of music and sings 'The Star Spangled Banner' every evening before bed."
One can even purchase Justice for All in Vinyl if so inclined (45 on a 45!).
According to Forbes, Trump recorded his portion of the song from his Mar-a-Lago home in Florida, while the J6 Prison Choir recorded their part using a jailhouse phone. The song was released the day before Trump appeared at CPAC.
Just days later, Fox News host Tucker Carlson began airing segments of newly released security footage recorded in and around the U.S. Capitol on Jan. 6, arguing that the footage contradicts predominant political and media narratives about the severity of some defendant's actions that day.

Carlson showed footage of Jan. 6 defendant Jacob Chansley, otherwise known as the "Q-Anon Shaman," being led around the Capitol by police officers who did not appear threatened by Chansley's actions that day. Carlson argued the footage showed Chansley was a minimal security threat, even though he later pleaded guilty and received a sentence of more than three years in prison for his actions. -Epoch Times
On its website, the J6 Prison Choir said that proceeds from the vinyl copies of the song would be used for "certain prisoners denied their constitutional rights."
Loading...