---
Trump Attorney Announces Plans To File Motions To Dismiss, Alleging Prosecutorial Misconduct
Authored by Gary Bai via The Epoch Times,
Joseph Tacopina, a lawyer defending former president Donald Trump in Manhattan District Attorney Alvin Bragg's hush money case, announced late Monday his plans to file "a host of" motions to dismiss, including one based on prosecutorial misconduct and selective prosecution."
"There will be a host of motions we're going to make, including … a motion to dismiss based on selective prosecution and prosecutorial misconduct," Tacopina told Fox News's Hannity program late Monday, adding that the defense team will consider other motions after seeing the indictment, such as a venue change or statute of limitations considerations.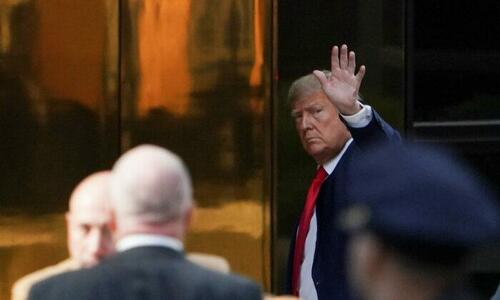 Trump's arraignment hearing is set to begin at 2:15 p.m. ET on Tuesday, April 4, Lucian Chalfen, director of Public Information for the New York Court System, told The Epoch Times in a statement. Charges are expected to be revealed during this indictment.
The announcement revealed the first move made by Trump's defense attorney in a historic case where a former president faces criminal charges. Though the exact charges are under seal, Bragg's criminal case appears to be centered on whether Trump made a $130,000 payment to Stormy Daniels and documented the payment as false business records—thereby committing a state offense—to cover up or commit violations of federal campaign finance laws.
Legal experts have been skeptical of Bragg's indictment, combining federal and state laws to bring forward felony charges.
"Of course, that is why it is selective prosecution. Again, if the was not named Donald Trump, there would be no indictment. That's a fact … There would not be a case if this wasn't Donald Trump," the attorney told Hannity when asked to elaborate on his reasons for filing a motion to dismiss based on these grounds.

"And so that's where you … we're really gone amok here. You select the person you don't like, Donald Trump, and you try to find a crime. So it is mind-boggling to me that we're here. We are here. But it's just not going to hold up," Tacopina added.
That was shared by Harvard Law School professor emeritus Alan Dershowitz, who said that Bragg is stretching the law to get Trump.
"They're searching for crimes to get him. They're just rummaging through the law books and doing everything they can to get him, but I don't think they've succeeded," he told The Epoch Times in an interview earlier in March.
"It's not a righteous prosecution. It's not a just prosecution. And I think every libertarian, whether you're conservative or liberal, should be opposed to it," he said.

"I can't imagine that an appellate court would ever hold this, but I don't think Bragg cares about this. He wants the publicity of a perp walk and an arrest."
In the interview with Hannity on Monday, Tacopina gave hints of the facets of the case that Trump's defense team will challenge, including an attempt to convince the Manhattan-based jury that the trial should not be based on politics, but is about blind justice and a man's life.
In a previous interview, Tacopina told The Epoch Times that he filed a formal ethics complaint earlier in March (pdf) alleging that Bragg violated prosecutorial conduct by pursuing a case with a clear personal and political animus against Trump. That complaint was filed with the New York City Department of Investigation (DOI), the city government's watchdog. The scope of the DOI's investigations includes misconduct, waste, fraud, abuse of authority, and unethical conduct, and its investigations are confidential.
"The Department of Investigation is looking into Mr. Bragg," Tacopina said in an interview on March 22.
In his complaint to DOI Commissioner Jocelyn Strauber, Tacopina called for the DOI to investigate allegations of prosecutorial misconduct of current and former lead prosecutors of the New York district attorney's office, who he said had a "personal and political animus" against Trump that motivated their decision to begin investigating the former president.
He named Bragg, former District Attorney Cyrus Vance, former New York District Attorney's Office General Counsel Carey Dunne, and former Special Assistant District Attorney Mark Pomerantz, who have at some point been involved in investigating Trump.
"Plainly, their own actions and/or words establish that Cyrus Vance, Carey Dunne, and Mark Pomerantz picked a person they hated for political reasons and targeted him for prosecution to harm his ability to run for national office," Tacopina wrote in the letter.
As an example of this alleged animus toward Trump, Tacopina cited Pomerantz's account in his book "People vs. Donald Trump: An Inside Account."
"I saw him as a malignant narcissist, and perhaps a megalomaniac who posed a real danger to the country and to the ideas that mattered to me," the book reads.

"His behavior made me angry, sad, and even disgusted."
In the letter, Tacopina also alleged that the prosecutors' animus had been obvious considering that the investigation of Trump was based on novel legal theories, their repeated dismissal of the concerns of experienced senior prosecutors, and their resurrection of Daniels's case—which he called a "zombie case"—despite it previously having been thrown out for lack of merit.
The Manhattan District Attorney's office didn't respond by press time to a request by The Epoch Times for comment.
Loading...