---
Trump Campaign Files Lawsuit In Nevada, Claims 1000s Of Ballots Cast By Non-Residents
Update (1215ET): President Trump's reelection campaign said they are filing a lawsuit in Nevada, alleging there were more than 10,000 ballots that were cast in the state by voters who don't live in the state.
The Epoch Times' Jack Phillips reports that the campaign, in a Thursday news conference, comes as Democratic presidential challenger Joe Biden has an approximately 8,000-vote lead over the president in Nevada. The state, which has 6 Electoral College votes, could be a key in the outcome of the presidential race.
Trump campaign Nevada chairman Adam Laxalt said there were "examples of ballots mailed across this valley … in trash cans… people getting as many as 18 ballots" in the mail, saying that it is evidence of voter irregularity.

"We still have not been able to observe these signatures or meaningfully examine mail-in ballots out of hundreds of thousands of ballots cast," Laxalt, the former Nevada attorney general, said in the news conference. He added there were "dead voters that have been counted."

Meanwhile, he claimed, "thousands of people who have been counted … have moved out of Clark County during the pandemic." Clark County includes Las Vegas, the state's largest city.

As a result, he said Trump's team is seeking emergency relief and is "stop the county of all these votes."
Ric Grenell, Trump's former acting director of national intelligence, told the conference:
"If you haven't been in the state for 30 days it is illegal to vote … we are filing this lawsuit to protect legal voters."
Clark County hasn't responded to a request for comment.
*  *  *
Update (1042ET): During a conference call with reporters, Trump campaign manager Bill Stepien told reporters during a conference call that Trump was winning by roughly 200k votes in the Keystone State.
Jason Miller, a top campaign spokesman, said during a call that it will be "clear as soon as end of Friday that Trump will serve another four years as President." Miller added that he expects "additional legal action" to "ensure visibility" on previously counted ballots. Miller also claimed that "Trump is o pace to win Arizona" and that "even Nate Silver says" Fox News and AP should rescind their call for Biden. Miller said additional "legal moves" involving Nevada might come "later on today."
At the very least, Trump's GOP observers will be able to observe the counting of the ballots, thanks to a decision from an appellate court in Pennsylvania.
Georgia Secretary of the State Raffensburger is holding a briefing about Georgia's count right about now.
* * *
President Trump's team will hold a press briefing in Philadelphia at 1015 to outline its plans to file a lawsuit and stop the count, while the president rages on twitter that no votes coming after election day being counted.
ANY VOTE THAT CAME IN AFTER ELECTION DAY WILL NOT BE COUNTED!

— Donald J. Trump (@realDonaldTrump) November 5, 2020
Trump needs Pennsylvania if he wants to secure another term in the White House, and at last check he was ahead in the vote count. The briefings come as state officials in Georgia warn that the count will be finished by noon.
A live feed for the Philly briefing appears to have been shared on Vimeo. Readers can watch live below:
LIVE: Trump Campaign holds a news conference in Philadelphia from NTD on Vimeo.
As a reminder, the Trump Campaign has filed lawsuits in three states, and Republica party officials have filed lawsuits in two others, according to the AP:
Democrats scoffed at the legal challenges the president's campaign filed Wednesday in Pennsylvania, Michigan and Georgia. In spite of the aggressive move, the flurry of court action did not seem obviously destined to impact the election's outcome.

The new filings, joining existing Republican legal challenges in Pennsylvania and Nevada, demand better access for campaign observers to locations where ballots are being processed and counted, and raised absentee ballot concerns, the campaign said.
* * *
Not long after the Philadelphia press conference, the focus will shift to Nevada, a state where Democratic presidential nominee Joe Biden has been favored to win, and where the Democratic contender is still leading President Trump by a thin margin.
State officials are preparing to release election results on Thursday at noon (ET) but the Trump administration is planning to hold a press conference that's slated to start 30 minutes earlier at 1130ET likely announcing a lawsuit alleging fraud and malfeasance by the Democrats.
The presser in Las Vegas is expected to start at 1130ET and will host various individuals, including former intelligence official Richard Grenell, former Nevada Attorney General Adam Laxalt, Chairman of the American Conservative Union Matt Schlapp, and Nevada GOP Chair Michael McDonald. 
Fox News notes the Trump campaign will announce a lawsuit of voter fraud:
Ric Grenell, the former acting Director of National Intelligence, is slated to hold a Thursday morning press conference in Las Vegas to announce the Trump campaign is filing a lawsuit that seeks to count every "legal" vote. The Trump campaign is alleging that at least 10,000 people voted in the state, despite no longer living there.
Nevada's six electoral votes could be crucial for a Biden victory, currently at 264 electoral votes, with another six needed to secure the 270 win. Pennsylvania was thought to be the must-have battleground ground state, where lawsuits would fly, and who thought it would all come down to Nevada?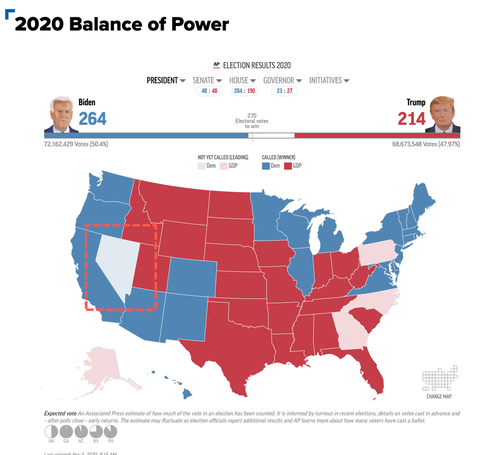 As explained recently by constitutional law expert Jonathan Turley, on Fox News, the Trump administration's strategy is to file lawsuits in states, such as Pennsylvania, Michigan, and Georgia, where there are legitimate objections to voter fraud.
Tensions are running high across the nation as the election outcome remains uncertain.
Though there could be a major announcement early afternoon from Biden from Wilmington, Delaware, tweeted VOA's Steve Herman. 
There are indications @JoeBiden could be making a public statement from Wilmington, #Delaware in the early afternoon. #Election2020

— Steve Herman (@W7VOA) November 5, 2020