---
Trump Demands Supreme Court 'Intercede' In Legal Battles
Former President Donald J. Trump has called on the Supreme Court to step in and 'intercede' in his various legal battles."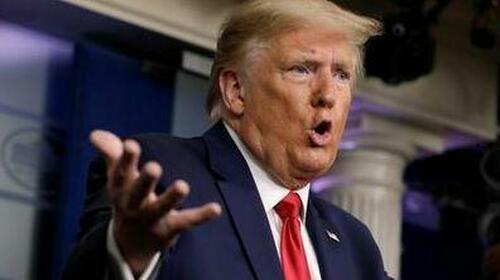 "My political opponent has hit me with a barrage of weak lawsuits, including D.A., A.G., and others, which require massive amounts of my time & money to adjudicate," Trump said in a Friday post to Truth Social.
"I am leading in all Polls, including against Crooked Joe, but this is not a level playing field," he continued "It is Election Interference, & the Supreme Court must intercede. MAGA!"
The former president is currently President Joe Biden's #1 political opponent, and has been charged by Biden's DOJ with conspiracy to defraud the United States, conspiracy to obstruct an official proceeding, obstruction of and attempting to obstruct an official proceeding and conspiracy against rights.
He was arraigned on Thursday in a Washington DC courtroom, where he entered a 'not guilty' plea on the four charges above.
The indictment is the third filed against the former president in the past few months - as opposed to the entire time he's been out of office. Trump is already facing charges linked to porn-star payoffs and keeping classified documents at his Mar-a-Lago property in Florida, in a locked safe, as opposed to a garage where his crackhead son doing business with the Chinese and the Ukrainians had full access to them.
Trump has pleaded not guilty to all charges and maintained that he is being prosecuted for political purposes because of position as the front-runner for the GOP nomination for president in 2024.

All three of Trump's criminal cases remain in early stages. Although the disputes could eventually end up at the Supreme Court, such an appeal would not take place until further down the road.

In his hush money case, Trump has begun the appeal process over a ruling that denied Trump's attempt to move the case to federal court. That dispute is now in the hands of the 2nd U.S. Circuit Court of Appeals. -The Hill
Meanwhile, President Biden - who lied about his level of knowledge and involvement in Hunter Biden's business dealings - says his DOJ is apolitical and makes its own decisions.
Loading...