---
Trump Faking Covid? Michael Moore, Other Leftists Peddle New Conspiracy Theory
Filmmaker Michael Moore peddled a conspiracy theory on Thursday night, suggesting that President Trump might be "lying about having COVID-19" in order to "gain sympathy."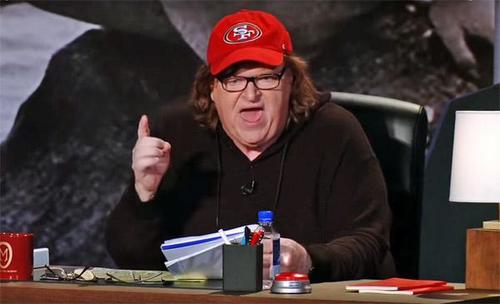 "He's an evil genius and I raise the possibility of him lying about having COVID-19 to prepare us and counteract his game," Moore posted to Facebook, just hours after President Trump announced his positive test result "He knows being sick tends to gain one sympathy. He's not above weaponizing this."
"Democrats, liberals, the media and others have always been wrong to simply treat him as a buffoon and a dummy and a jackass. Yes, he is all those things. But he's also canny. He's clever. He outfoxed Comey. He outfoxed Mueller. He outfoxed 20 Republicans in the GOP primary and then did the same to the Democrats, winning the White House despite receiving fewer votes than his opponent," Moore continued.
Moore also suggested (in all caps): "HE MAY USE THIS TO PUSH FOR DELAYING/POSTPONING THE ELECTION."
And "He may use his Covid as a pretext to drop out of the race and move Pence to the top of the ticket. Pence would temporarily become President, and then Pence could pre-emptively pardon Trump for all of his crimes."
Meanwhile, as Summit News notes, the 'Trump faking it' conspiracy theory is gaining steam.
I am making a list of possible reasons why setting up a fake illness and recovery right before the election could help Trump's reelection campaign. Can anyone add anything?#TrumpHasCovid #TrumpVirus pic.twitter.com/EVKzXG771u

— Mitch Clark 🌹🍞☮️ #AnarchoCommunism (@dboon2024) October 2, 2020
And now, the hashtags #TrumpIsFaking and #TrumpIsFakingCovid are trending...
Well, well, well. Isn't this convenient? Thirteen days till your next debate. Quarantine is 14 days. Seems like @realDonaldTrump is attempting an easy way out of second debate.

Who agrees? #TrumpIsFakingCovid

— ML Smith (@maria48308) October 2, 2020
#TrumpIsFaking
He doesn't want to debate.
His fortune is faked.
He owes 400+ million.
He needs to get so many things out of the news.
Then get over it miraculously and call it a hoax. Never mind the 206K+ dead.

— Proud_Never_trumper_v3 (@V3Proud) October 2, 2020
I am a billionty percent sure Trump is lying about having COVID. It is a GOP-orchestrated hoax to distract, deflect, gain sympathy, avoid the next debate. I guess the only thing that could convince me I'm wrong is if he actually died.#TrumpHasCovid #SureJan#TrumpIsFaking

— Parsley 🇨🇦#TRUMPFASCISTDICTATOR🌈🌊 (@pazesez) October 2, 2020
I have just been called 'unhinged' because I suspect Donald Trump could be telling a lie! Have I stepped through the looking glass? Are we in arse-about world.

— Jane Caro (@JaneCaro) October 2, 2020
Something smells fishy here. Maybe I'm crazy but this looks like his "out" without actually "quitting." TRUMP: "Well, for the safety of the country I had to step down." Or worse, a good excuse to postpone the election. #TrumpCovid #TrumpHasCovid #TrumpIsFaking #TrumpIsFakingCovid

— Chris Palmer X 🔞 (@ChrisPalmerx) October 2, 2020
What will they cook up next?