---
Trump To Hold Virtual Campaign Rally Friday Despite COVID-19 Diagnosis
After missing both of the two presidential events he had scheduled for Friday (VP Mike Pence filled in on both occasions), President Trump will reportedly hold a virtual campaign rally on Friday night to show America that he's still "in charge" despite embarking on a 14-day quarantine with First Lady Melania Trump.
The news was first reported by FOX35 Orlando, which added that the decision was made after Trump's planned rally in Sanford was cancelled a couple of hours ago by Trump's campaign manager, Bill Stepien. Stepien has suspended all events involving Trump and his family members.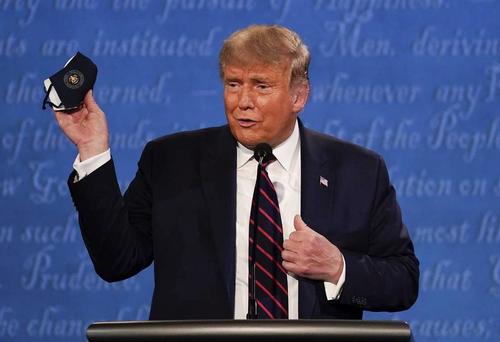 Members of the public can sign up to "attend virtually" here.
Along with Trump, Melania Trump, and Hope Hicks, GOP Chairwoman Ronna McDaniel, the president of Notre Dame University, one junior staffer, and one reporter have also tested positive.
The NYT first reported that Trump and his team were kicking around ideas, including holding a national address from the White House, to show the public that Trump is still in good shape, and that he's still leading the US.
Trump and Melania both announced their plans to quarantine via Twitter.
As too many Americans have done this year, @potus & I are quarantining at home after testing positive for COVID-19. We are feeling good & I have postponed all upcoming engagements. Please be sure you are staying safe & we will all get through this together.

— Melania Trump (@FLOTUS) October 2, 2020
Tonight, @FLOTUS and I tested positive for COVID-19. We will begin our quarantine and recovery process immediately. We will get through this TOGETHER!

— Donald J. Trump (@realDonaldTrump) October 2, 2020
Trump also tweeted a 'get well' wish to aide Hope Hicks, who was reported to have tested positive Thursday night.
Hope Hicks, who has been working so hard without even taking a small break, has just tested positive for Covid 19. Terrible! The First Lady and I are waiting for our test results. In the meantime, we will begin our quarantine process!

— Donald J. Trump (@realDonaldTrump) October 2, 2020
Trump also said he "spent a lot of time with Hope" during an interview with Sean Hannity Thursday evening, where he implied that soldiers' fondness for the former model-turned-politico may have led to her being exposed.
"I spent a lot of time with Hope and so does the first lady and she's tremendous," he said. "I was a little surprised but she's a very warm person and she has a hard time when soldiers and law enforcement comes up to her. You know she wants to treat them great, not say"
If it goes ahead, Friday night's event could be a precursor to a potentially "virtual" debate, as the next debate, set to be held in Miami on Oct. 15, likely won't be able to go ahead in person due to Trump's infection status.