---
WSB'ers Help Drive Trump's "TRUTH Social" SPAC Up Over 600% On The Day
Update (1930ET): In a stunning development after hours, DWAC just topped $70, meaning it is up over 600% on the day...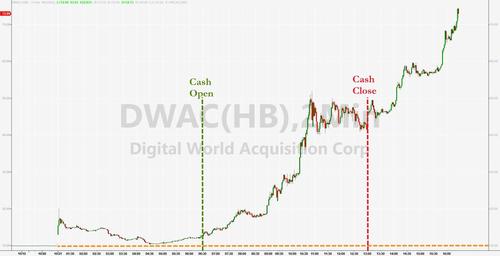 After being halted multiple times during the day...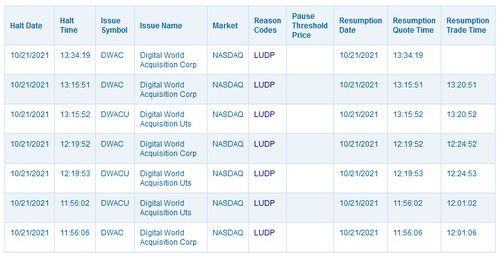 How long before Senator Warren demands this be removed from the exchange and that SPACs be immediately banned?
Dear CNBC, it won't crush your ratings if you cover this at some point pic.twitter.com/l9IeVDlTaz

— zerohedge (@zerohedge) October 21, 2021
CNBC finally mentioned it after-hours as we noted that it appears WSBers are all over this new momentum darling as it reached the Top 10 most followed tickers on the Reddit platform in the last 12 hours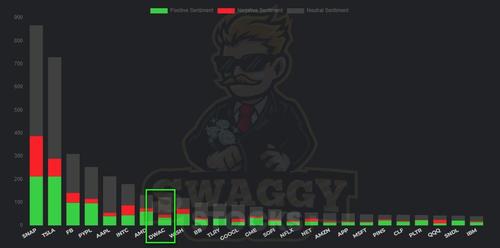 With bullish sentiment strongly outweighing bearish...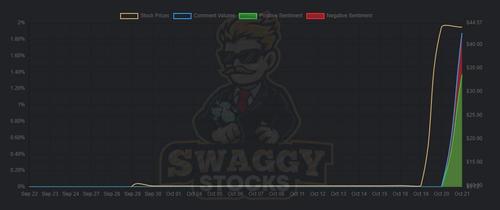 *  *  *
President Trump is taking advantage of the waning SPAC craze to finally launch the media company that he and members of his circle have been hinting about and teasing since his time in the Oval Office. But fortunately for Fox News, it's not a TV station: it's a social media platform called "TRUTH social".
The platform will be owned by Trump Media & Technology Group, a new company which will soon hit the public markets via a merger with the special purpose acquisition company Digital World Acquisition Corp. (ticker: DWAC). The statement announcing the deal said the company could be worth up to $1.7 billion. 
A firm that revived the EF Hutton brand, known for television commercials in the 1970s and '80s touting its sage advice, is acting as the sole financial and capital-markets adviser to DWAC. EF Hutton gained renown with television commercials that featured the tag line, "When EF Hutton talks, people listen."
The firm was embroiled in a bogus-deposit scandal in the mid-'80s that precipitated its eventual sale.
The SPAC is now trading up over 150%..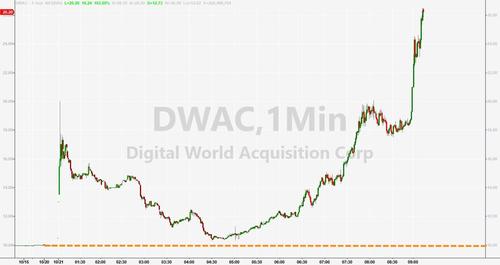 Over 236 million shares have traded hands as of 12:02 p.m. New York time, nearly 10x Digital World's float, compared to an average full-day volume of 178,000 shares a day since the SPAC went public on Sep. 30
Speaking on his reasoning in launching the network, Trump - who remains banned from Facebook, Instagram and Twitter - said "I created TRUTH Social and TMTG to stand up to the tyranny of Big Tech." He added that presently, "we live in a world where the Taliban has a huge presence on Twitter, yet your favorite American president has been silenced. This is unacceptable." Trump added that the platform is being "founded with a mission to give a voice to all."
TMTG is initially valued at $875MM, but according to the statement, but the business and its managers could earn an additional $825MM "earnout" depending on the company's performance. The new combined company will start off with the $293MM from DWAC's cash in trust that was raised during its initial SPAC offering.
Read the full statement below: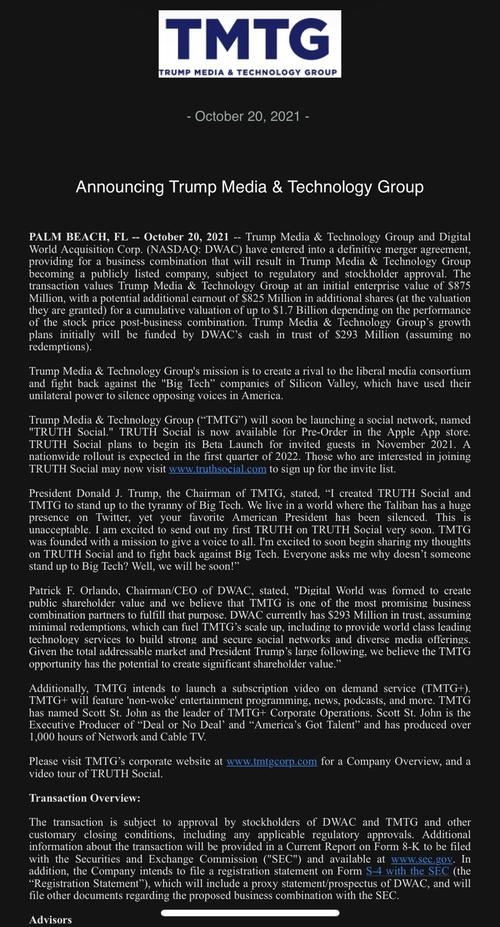 President Trump sued FB Mark Zuckerberg and Twitter CEO Jack Dorsey after their companies permanently banned President Trump from using them after the events of Jan. 6. Back in March, sources close to Trump said he would be returning to social media with his own platform.
While Twitter and Facebook have so far stood by their prohibition on Trump, Twitter CEO Dorsey was recently forced to admit that Twitter "may have crossed a line by blocking a New York Post investigation last year that revealed the potentially corrupt business dealings of Hunter Biden, the son of presidential rival (and now President) Joe Biden. Twitter even went so far as to bar users from sharing the story in direct messages while the mainstream press simply believed the Biden camp's initial claims that a laptop supposedly belonging to Hunter with thousands of incriminating videos, texts and images - revealing everything from shady business deals with CCP-tied Chinese businessmen to smoking crack naked with women who may or may not be prostitutes.
Unsurprisingly, Twitter's Dorsey has already tried to delegitimize Trump's new platform by mocking some of the promotional materials on his own platform (where Trump isn't even allowed to speak).
i guess @jack is taken pic.twitter.com/Ktz4ODsdpX

— jack⚡️ (@jack) October 21, 2021
To be sure, TRUTH Social is not Trump's first foray into independent social media. Back in May, Trump launched a platform sort of resembling Twitter called 'From the Desk of Donald Trump'. Although RT described it as "effectively just a personal blog which was supposed to allow users to re-post Trump's musings onto other mainstream platforms."
Former Trump spokesman Jason Miller also recently launched "GETTR", a twitter-like social network meant to be the latest in a long line of conservative competitors to Twitter, including Gab and others. But he told Business Insider last night, in a statement that followed the initial launch of Trump's new project, that he and Trump were "unable to agree" on GETTR.
But, despite being "for free speech", as Jonathan Turley notes, deep in the Terms of Service is some interesting restrictions:
The "Terms of Service" also include a prohibition on the "excessive use of capital letters." That rule seems a tad odd given the name of the site, which is fifty percent caps: "TRUTH Social."  Then there is President Trump's own signature use of all caps writing.
However, the loss of all caps communications is hardly a major blow against free speech. What is far more concerning is this specific term for service:
PROHIBITED ACTIVITIES

You may not access or use the Site for any purpose other than that for which we make the Site available. The Site may not be used in connection with any commercial endeavors except those that are specifically endorsed or approved by us.

As a user of the Site, you agree not to: ....disparage, tarnish, or otherwise harm, in our opinion, us and/or the Site.
While companies like Twitter have embraced biased and extensive censorship platforms, they do not (directly) censor criticism of their sites.
Per the statement, TRUTH Social will launch in beta form later this month with the first users being allowed access off a wait list. The company intends to expand the platform to all users early next year.