---
Trump: Never Doubted 2020 Election Was "Rigged", Disputes Feds' Claims
Authored by Janice Hisle via The Epoch Times,
Former President Donald Trump has declared that he absolutely believes that the 2020 election was stolen - a denial of the central allegation in his most recent federal indictment.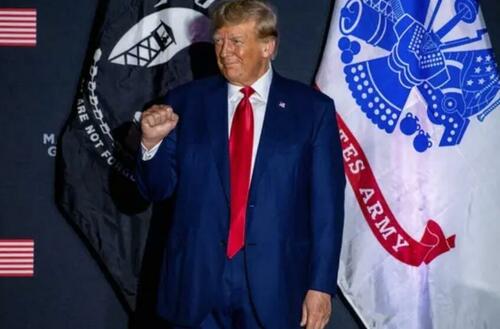 President Trump has pleaded not guilty to Washington-based charges in what he and his supporters are calling a politically motivated prosecution amid a presidential election campaign.
The Aug. 1 indictment alleges that President Trump conspired to defraud and obstruct the U.S. electoral process by spreading "knowingly false claims" of election fraud, thus eroding trust in the government.
On Aug. 8, President Trump said, "I never even thought of this one: 'Trump didn't really believe he won the election.'"
He emphatically told the audience of 2,000 at the high school in Windham, New Hampshire, "Let me tell you ... there was never a second of any day that I didn't believe that that election was rigged."
The former president raised his voice and said: "It was a rigged election, and it was a stolen, disgusting election. And this country should be ashamed ... they go after the people that want to prove that it was rigged and stolen! ... They don't go after the people that rigged it."
President Trump also decried federal prosecutors' recent request to restrict what he can say publicly as the case proceeds. A judge has set a hearing for Aug. 11.
Federal prosecutors fear that the former president, who has been outspoken on the campaign trail and social media, could release information that might have "a chilling effect" on witnesses and interfere with justice being done. Therefore, they say a protective order is needed.
The former president's lawyer, John Lauro, wrote in a court filing: "In a trial about First Amendment rights, the government seeks to restrict First Amendment rights."
And President Trump told the audience on Aug. 8: "I will talk about it. I will. They're not taking away my First Amendment right."
"I'll be the only politician in American history not allowed to speak because of our corrupt system," he said. "I'll come in, and I'll say: 'Hi everybody. Listen, uh, not allowed to speak, uh, please vote for me, New Hampshire, if you would. Bye!'"
Politics' Role
The former president said the political implications are serious and the situation is outrageous. President Trump is the frontrunner for the Republican nomination to run against the Democrats' nominee, presumably President Joe Biden.
While President Biden denies unduly influencing federal prosecutors to take action against President Trump, Mr. Lauro said the Democrat president promised that his administration would ensure that President Trump "does not become the next president again."
President Trump said, "How can my corrupt political opponent, 'Crooked Joe Biden,' put me on trial during an election campaign that I'm winning by a lot, forcing me nevertheless to spend time and money away from the campaign trail in order to fight bogus, made-up accusations and charges?"
President Trump said that because he is now indicted in three cases, he envisions having to say: "I'm sorry, I won't be able to go to Iowa today; I won't be able to go to New Hampshire today because I'm sitting in a courtroom on bull-[expletive] because his attorney general charged me with something."
For the next 30 seconds, the crowd chanted that expletive in support of President Trump.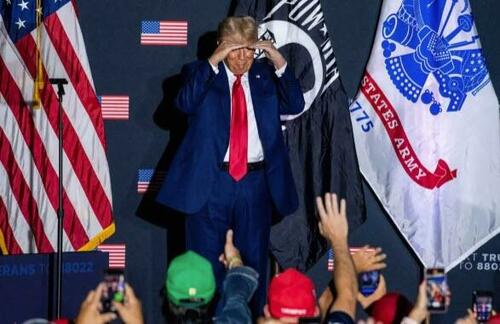 Former U.S. President Donald Trump arrives to speak during a campaign rally at Windham High School in Windham, N.H, on Aug. 8, 2023. (Joseph Prezioso/AFP via Getty Images)
'Stunning Contrast'
The former president said he's sensing more enthusiasm for his candidacy now than in 2016 or 2020. "Everyone can see the stunning contrast between our incredible success and Joe Biden's horrendous failures," President Trump said.
That's one reason for the support; another is that people see through the political persecutions and the "never-ending witch hunt," he said.
"But do not fear; we will win bigger and better than ever before," President Trump assured his supporters.
The former president called the failed impeachments of him "hoaxes." He added, "We have exposed so much."
He predicted more would be revealed as the election interference case goes to trial, revealing the roles that the Department of Justice, the FBI, and various federal officials played in influencing the election, along with decision-makers at social media giants such as Facebook and Twitter, now known as X.
Records Destroyed?
Late on Aug. 8, hours after his speech, the former president posted on his Truth Social account that he believes key documents related to the case are gone.
"So now that I have full Subpoena Power because of the Freedom of Speech Sham Indictment by Crooked Joe Biden, Deranged Jack Smith, and the DOJ, it has just been reported that the Unselect January 6th Committee of Political Hacks and Thugs has illegally destroyed their Records and Documents," he wrote.

"This is unthinkable, and the Fake Political Indictment against me must be immediately withdrawn. The system is Rigged & Corrupt, very much like the Presidential Election of 2020. We are a Nation in Decline!"
The former president didn't divulge the source of the reports.
He made those comments on the anniversary of the unprecedented raid of his home in 2022 at the Mar-a-Lago club and resort in Palm Beach, Florida. That raid later led to the former president's indictment on 40 charges alleging mishandling of documents with classified markings after he left the White House. He has pleaded not guilty.
President Trump was first indicted on New York business records charges.
A Georgia grand jury is also still investigating President Trump for his attempts to overturn the outcome of the 2020 election in that state, where President Biden was declared the winner by a margin of less than 1 percent of the total votes.
Loading...