---
Trump Org, Weisselberg Plead "Not Guilty" To Charges Of Larceny And Fraud
Update (1430ET): After being perp-walked into the courtroom, the charges facing Trump Org CFO Allen Weisselberg have just been unsealed. He is facing charges of "scheme to defraud" and "second-degree grand larceny". The Trump Org itself has also been charged with the "scheme to defraud." The indictments, which have until now been kept under seal, represent a "Sweeping and audacious payment scheme", prosecutors said.
If that sounds like a nothingburger, don't worry: prosecutors plan to keep digging, saying that the investigation isn't yet over.
Both Weisselberg and the Trump Org have pleaded not guilty.
As one reporter inside the courtroom pointed out, Weisselberg's person was devoid of "Trump Organization" apparel, which he has worn to previous hearings (and which the press has apparently latched on to as some kind of hidden signal).
Unlike in courtroom tales of yore, there is no obvious sign that Weisselberg is wearing any article of clothing intended to show loyalty to his boss.

— Michael Beschloss (@BeschlossDC) July 1, 2021
During his statement, Assistant DA Garey Dunne asked the judge to consider Weisselberg a "flight risk" (despite the fact that the CFO has cooperated with investigators and voluntarily self-surrendered). While he was eventually released on his own recognizance, he was asked to surrender his passport.
The "audacious" scheme that Dunne outlined was "a 15-year fraud scheme involving unpaid taxes on perks like cars, apartments and private-school tuition extended to CFO." Benefits like these are usually counted as compensation and an intentional failure to pay taxes on them would be illegal. People familiar with the matter said benefits totaling $1.7MM over 10 years were at issue in the case. During this time, Weisselberg was receiving "a substantial portion" of his comp "off the books", prosecutors said. The $1.7MM sum is equivalent to roughly $170K a year, a piddling sum compared with the multi-billion-dollar Trump org. All told, Weisselberg is facing separate 15 separate counts, as outlined in the 25-page indictment included below.
Prosecutors aren't planning to hold a press conference after the arraignment, perhaps because there isn't much to tell. That's unusual, since prosecutors typically jump at the chance to parade around in front of the press.
Read the indictment below:
We is Selberg Indictment by Joseph Adinolfi Jr. on Scribd
* * *
Update (0915ET): Weisselberg has pleaded not guilty to the charges, according to his attorney, who said he will "fight these charges in court". The exact nature of the charges has yet to be revealed as the indictment is still sealed.
* * *
After the (still-sealed) indictment was handed down by Manhattan prosecutor Cyrus Vance Jr. last night, long-serving Trump Organizatoin CFO Allen Weisselberg surrendered to the district attorney's office on Thursday morning.
While no photos of Weisselberg surrendering were released to the press, it's likely the public will get its first look at the senior Trump Organization executive when Weisselberg and the Trump Organization (which has also been criminally charged as a corporation and will be represented in court by a company lawyer) are arraigned by a state judge Thursday afternoon.
The tax-related charges brought against Weisselberg haven't yet been made public, and will be revealed later on Thursday. The 73-year-old Weisselberg will be arraigned alongside the Trump Organization.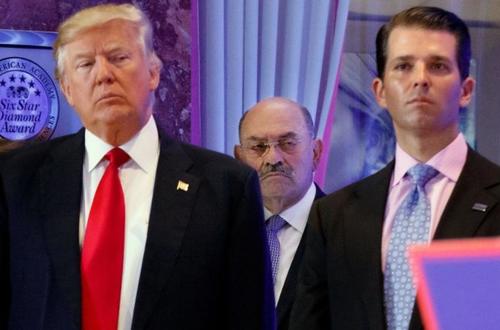 Accordng to the NYT, Weisselberg, accompanied by his lawyer, Mary Mulligan, walked into the Lower Manhattan building that houses the criminal courts and the district attorney's office at about 0620ET Thursday morning. As the NYT pointed out, President Trump once praised Weisselberg for "doing whatever was necessary to protect the bottom line."
Prosecutors from Vance's office and from the NY State Attorney General Letitia James' office are still reportedly looking into whether the Trump Organization neglected to pay payroll taxes on taxable income.
Trump himself hasn't been charged and isn't expected to be, though it's still possible that investigators might come up with something to charge him with.
According to Reuters' sources, the charges Weisselberg is facing are believed to be related to Weisselberg's acceptance of perks like rent-free apartments and leased cars, without reporting them properly on his tax returns.
Trump Org lawyer Ronald Fischetti hinted that there might be more charges to come. Prosecutors say the investigation is ongoing, and Cyrus Vance's successor, to be elected in this fall's NYC municipal elections, is expected to take over from Vance once he leaves office (he decided not to run again after his personal links to Harvey Weinstein cast doubt about a prosecution that he scuppered years ago).
The NYT, Reuters and other MSM organizations insisted that the investigation "could complicate Trump's political future" should he pursue a 2024 run.
Weisselberg's indictment and arrest followed months of intense pressure from prosecutors to "flip" on President Trump. From the looks of it, Weisselberg has so far refused to cooperate against the president and his former boss, even after prosecutors questioned his family members, including his ex-daughter in law.