---
Trump Says Officials 'Lying' About True Death Toll In Ukraine: Fox Town Hall
Authored by Peter Barry Chowka via American Thinker,
Former President Donald Trump's second televised town hall of the 2024 presidential campaign season took place yesterday, broadcast in prime time for an hour on the FOX News channel. The venue was a large facility in Clive, Iowa, with an enthusiastic crowd of Trump supporters who applauded and cheered throughout the event.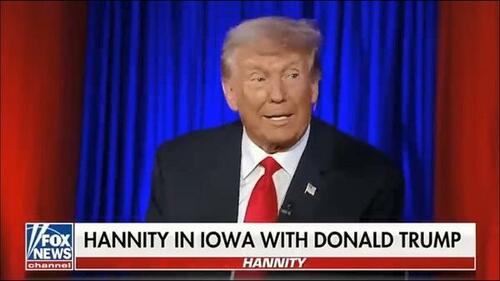 As he began the broadcast, host Sean Hannity said (according to a transcript provided by FOX News):
SEAN HANNITY: By the way, unlike fake news CNN, it's not my job to sit here and debate the candidate. We're going to ask him about the issues of the day that actually matter to the people that came out here tonight in the rain and thunder and lightning, the voters, and they will also have their questions as well. Nothing is off the table.
The program, however, which was recorded earlier in the day (and possibly subjected to content editing), featured only two questions from the audience. They occurred during the last five minutes of the show – hardly an example of a "town hall," which is defined by citizen participants' interactions with the subject.
As the program ended, Hannity announced that a second part with audience questions was being recorded and would be shown tonight, Friday, on Hannity at 9 PM ET.
A friendly crowd
Hannity also noted at one point:
HANNITY: I think everyone here tonight is likely voting for you [Donald Trump], right? So. . .

(CHEERING AND APPLAUSE)
This is from the transcript at the start of the show:
AUDIENCE:  Trump! Trump! Trump! Trump!

TRUMP:  That's a nice group. Thank you.

AUDIENCE:  Trump! Trump! Trump! Trump!

(CROSSTALK)

TRUMP:  Thank you.

AUDIENCE:  USA!

TRUMP:  Oh.

AUDIENCE:  USA! USA! USA! USA! USA!
BREAKING: Crowd chants "USA! USA! USA!" as Trump takes the stage at Iowa townhall pic.twitter.com/s2mMMUsXdh

— Jack Poso 🇺🇸 (@JackPosobiec) June 2, 2023
Another problem with the town hall yesterday was suggested by this comment by Hannity early on:
HANNITY: People know that I have interviewed you all these years. I have known you almost 30 years.
As a journalist who has interviewed several thousand people during almost six decades, my experience has been that the hardest – and the most problematic and unenlightening – interviews are with someone who is a friend. And certainly, I have never had a close friend for more than two decades who then became the president of the United States. Going from being addressed as my friend "Donald," to "Mr. President."
Understandably then, Hannity's questions to Trump were not exactly probing. In the one exception I noticed, Hannity said:
HANNITY: [The 2024 election is] going to come down to those people that maybe you're in the middle a little more. And the argument that they make to me is, if he would just tone it down a hair, stop a little of the name-calling...

(BOOING)

HANNITY:  Hang on. I said it's their question. Leave me alone. All right.

That it might help you with swing voters and that are needed for you to get over the finish line. It's already hard enough, electoral vote-wise, for a Republican to win. What do you say to them?

TRUMP: OK, you ready?

And I say this to everybody. I won an election. It was unprecedented. We beat somebody that supposedly had it made, and they probably did things in that election too. They were shocked. But I came into office. And from the day I got in, I was under siege by people that have been in Washington for many years, put in there by many different presidents, in most cases, people that were against me.

Like, they spied on my campaign. They did all sorts of things. I was under investigation and under siege, and so were my people. And if I wasn't tough, I wouldn't be here right now. I guarantee you that.

(CHEERING AND APPLAUSE)

TRUMP: If I didn't fight back, I wouldn't be here.
This Crowd Rules

Crowd Not Having It When Hannity Talks About The Need For Trump To "Tone It Down"

President Trump: "If I wasn't tough, I wouldn't be here right now. I guarantee you that. If I didn't fight back, I wouldn't be here." pic.twitter.com/BYp56sRBOC

— The Columbia Bugle 🇺🇸 (@ColumbiaBugle) June 2, 2023
OK, so Trump didn't answer the question. That's his right, and many politicians do the same thing. But there was no follow-up.
[ZH: Trump also said that officials are lying about the true death toll in Ukraine]:
BREAKING: Trump says officials are lying about the true death toll in Ukraine pic.twitter.com/pZsSl2BHlR

— Jack Poso 🇺🇸 (@JackPosobiec) June 2, 2023
After the program ended, FOX News Media Relations provided links to a limited number of video clips that comprise less than half of the 47-minute long program. A third party uploaded the complete show to YouTube here (it may be taken down soon).
The issues that did come up
Both the questions by Hannity and comments by Donald Trump avoided references to issues including the 2020 election or the fact that three weeks ago a Manhattan federal jury found that Trump sexually abused E. Jean Carroll in 1996 and awarded her $5 million for battery and defamation. Instead, the questions were soft openings for Trump to criticize President Biden and his Republican rivals, in particular Florida Gov. Ron DeSantis, who Trump now referred to as "DeSanctis." Another recent Republican entry, former Arkansas Gov. Asa Hutchinson, was referred to as "Ada," and disparaged as someone who nobody has heard of.
TRUMP: I call him Ada Hutchinson. I don't call him Asa, I call him Ada Hutchinson, for some reason for certain reasons, but this guy nobody knows who the hell he is.
By the way, these quotes are not a result of taking things out of context. A lot of the comments by Trump were like that.
The one charitable comment by Trump came near the start when he declined to take the bait that Hannity was offering as the host showed video of Biden taking a hard fall after handing out diplomas at the Air Force Academy on Thursday.
HANNITY:  Does everyone agree with me that this guy [Biden] is cognitively not there?

I doubt he knows what day of the week it is today. That's how – that's how bad I think it's gotten for him. Why are you reluctant to call that out?

TRUMP:  Well, I don't know if I'm supposed to say this. I actually called Sean and I asked Sean not to joke about it.

HANNITY:  I was joking about it.

TRUMP:  Because he used to joke about it.

And I said: "Honestly, I don't think it looks good for you or for anybody for you to joke about it, because it's a serious problem."

HANNITY:  I was talking about sippy cup and warm milky at night and bedtime stories.

(LAUGHTER)

TRUMP:  Yes.

HANNITY:  Yes.

TRUMP:  So I said: "I just don't think it's good for anybody, and it's not appropriate. You can speak about it if you want, but you – I don't think you should joke about it."
We haven't seen the last of this encounter since, according to Hannity's surprise announcement at the end of Thursday's program, more of the Trump town hall will be shown this evening – including, Hannity promised, audience questions.
A final review of the town hall in Iowa, therefore, cannot yet be offered. Stay tuned for further reporting here on Saturday.
Loading...