---
Trump Seeking Last Minute Pre-Election Nuke Deal With Putin
The clock is winding down on the last major arms control agreement between Moscow and Washington, after prior late Cold War era treaties like the INF and Open Skies faltered - or rather the US abruptly withdrew from them with Trump complaining he wants "a better deal". If an extension agreement is not reached on the New Strategic Arms Reduction Treaty (New START) during ongoing talks, the latest of which were hosted in Vienna and Helsinki within past weeks, it will expire in February of next year, or merely in less than four months. 
Russia's unwavering position has been to push for an unconditional five-year extension of the treaty, while Washington said it will only consider a short-term extension if a new agreement that brings all nuclear warheads including those possessed by China into the framework. The Kremlin has called the US plan "absolutely unrealistic," bringing talks to an impasse. 
But now it looks like President Trump wants to rapidly push out a deal ambitiously ahead of the November 3 election, as Axios reports, "President Trump is looking to Vladimir Putin to close the deal on a pre-election nuclear agreement, a timetable that's an October surprise even for senior Republicans and some in the White House."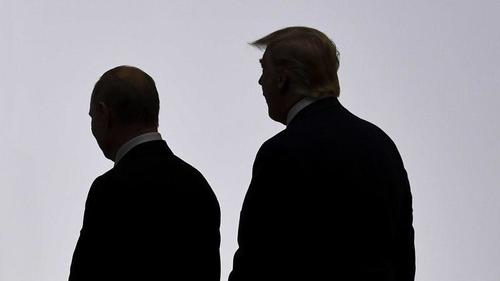 Trump and Putin over the past half-year have engaged in a series of phone calls that have reportedly focused on New START. Axios notes further that it's being handled at the highest national security levels of the administration, though there are mixed signals of just how it's actually going.
Axios writes, "On Friday, a source familiar with the discussions said the Trump administration believed it now had an agreement in principle, blessed by Putin and Patrushev, that could be finalized within a week once negotiations resume in earnest."
However, other signals especially out of Kremlin official statements suggest this is an over optimistic reading of where things actually stand. There's also the fact that Joe Biden has clearly indicated he's ready to agree to the unconditional 5-year extension of the nuclear arms reduction treaty.
All of this would make wrapping up the deal in a mere week a huge difficulty. It's likely the Russians will want to wait and see what the outcome of November is before entering into significant compromises. 
Indeed Deputy Foreign Minister Sergei Ryabkov said on Saturday that "there are still huge differences in approaches, including to the central elements of such an agreement." He also called a one week timetable "unrealistic".
"U.S., Russia Hit Impasse on New START," notes @KingstonAReif and @sbugos in the newest #ArmsControlToday. This and much more on the future of #NewSTART on our website.

Read their #ArmsControlToday analysis at https://t.co/yWaHBB4swp pic.twitter.com/ELih2iny2m

— Arms Control Assoc (@ArmsControlNow) October 8, 2020
Complicating matters is the reality that (contrary to years of 'Russiagate' and "collusion" narrative claims) the Trump presidency has sunk US-Russian relations to new lows.
Putin underscored this in an interview with a Russian TV broadcaster last week when he said: "the greatest number of various kinds of restrictions and sanctions were introduced [against Russia] during the Trump presidency."
"Decisions on imposing new sanctions or expanding previous ones were made 46 times. The incumbent's administration withdrew from the INF treaty. That was a very drastic step. After 2002, when the Bush administration withdrew from the ABM treaty, that was the second major step. And I believe it is a big danger to international stability and security," Putin explained.
So again, the Russians are more likely to wait things out a mere few weeks to see if Biden comes out on top, then all of this becomes moot.