---
Trump To Skip Second Republican Debate
Authored by Katabella Roberts via The Epoch Times,
Former President Donald Trump will not appear on stage alongside his Republican presidential primary challengers in the second GOP debate after opting instead to visit union workers in Detroit amid a major ongoing auto strike, officials have confirmed.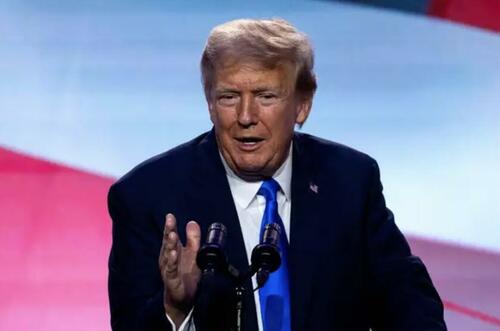 Instead, President Trump will visit Detroit where the United Auto Workers (UAW) union launched an unprecedented labor strike against against the three biggest automakers: General Motors, Ford, and Stellantis.
President Trump "will be in Michigan talking with union workers and ensuring American jobs are protected" when the debate takes place, a Trump campaign spokesperson said in a statement to Axios.
The next debate is scheduled to take place at the Ronald Reagan Presidential Library in Simi Valley, California, on Sept. 27.
In August, President Trump posted on Truth Social that he would "not be doing the debates," adding that "the public knows who I am & what a successful Presidency I had."
A total of seven Republican candidates have qualified for the second GOP presidential debate, according to the Republican National Committee (RNC): Florida's Republican Gov. Ron DeSantis, entrepreneur Vivek Ramaswamy, former South Carolina Gov. Nikki Haley, former Vice President Mike Pence, South Carolina Sen. Tim Scott, former New Jersey Gov. Chris Christie, and North Dakota Gov. Doug Burgum.
Former Arkansas Gov. Asa Hutchinson did not qualify to attend.
According to the qualification requirements, as laid out by the RNC, candidates must poll at 3 percent in two national polls or 3 percent in one national poll and 3 percent in one early state poll from two separate early-voting states—Iowa, New Hampshire, Nevada, or South Carolina—to be eligible for the upcoming debate.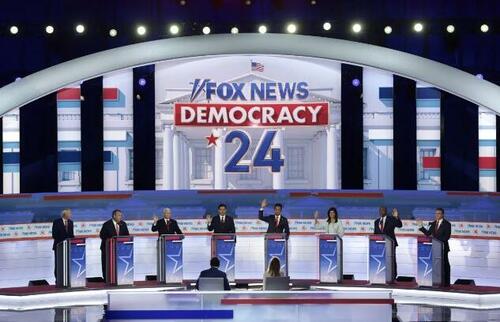 (L–R) Former Arkansas Gov. Asa Hutchinson, former New Jersey Gov. Chris Christie, former Vice President Mike Pence, Florida Gov. Ron DeSantis, Vivek Ramaswamy, former U.N. Ambassador Nikki Haley, U.S. Sen. Tim Scott (R-S.C.), and North Dakota Gov. Doug Burgum during the first debate of the GOP primary season hosted by FOX News at the Fiserv Forum in Milwaukee on Aug. 23, 2023. (Win McNamee/Getty Images)
Candidates also need to have a minimum of 50,000 unique donors to their principal presidential campaign committee or exploratory committee, including at least 200 unique donors per state or territory in more than 20 states and/or territories, CBS News reports.
Trump to Visit Auto Union Workers
President Trump's latest decision not to attend the debate marks the second time this election cycle that he has skipped a primary debate. In August he did not appear at the first Republican debate in Milwaukee, citing his clear lead in multiple polls.
Instead, President Trump opted for an interview with former Fox News host Tucker Carlson.
This time, he will be missing the debate in favor of delivering a speech to United Auto Workers (UAW) union members in Detroit. President Joe Biden is also expected to travel to Detroit to stand with auto union workers on the picket line on Tuesday, the White House has said.
Union members last week went on strike against the three biggest automakers—General Motors, Ford, and Stellantis—for the first time in history after failing to reach a deal on a new labor contract despite weeks of negotiations over pay, enhanced benefits, and pensions.
The strikes are taking place at Ford's Bronco assembly plant in Wayne, Michigan, GM's mid-sized pickup truck assembly plant in Wentzville, Missouri, and Stellantis' Jeep assembly plant in Toledo, Ohio.
The union has proposed a four-year contract with 40 percent pay increases, a reduced 32-hour work week, the elimination of compensation tiers, a restoration of cost-of-living adjustments, and the restoration of traditional pensions, among other items.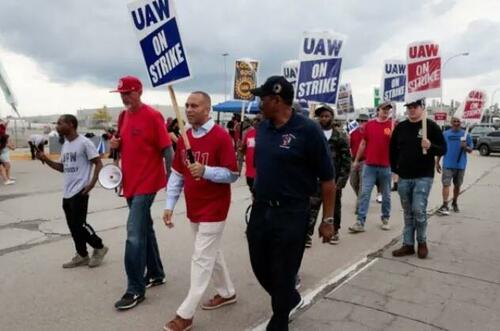 House Minority Leader Hakeem Jeffries (D-N.Y.) walks the picket line with striking United Auto Workers members outside the Ford Motor Michigan Assembly Plant in Wayne, Mich., on Sept. 17, 2023. (Rebecca Cook/Reuters)
Union Workers Being 'Sold Down the Drain'
However, the vehicle makers have declined to meet that demand, and are instead offering a 20 percent raise without key benefits demanded by the union, citing concerns that such pay hikes could effectively put them out of business.
President Trump posted on Truth Social on Sunday, claiming that UAW workers are being "sold down the drain" with the electric vehicle "scam."
"They'll be made in China, under crooked Joe's CHINA FIRST POLICY. AUTOWORKERS, VOTE FOR TRUMP - I'LL MAKE YOU VICTORIOUS & RICH. IF YOUR 'LEADERS' WON'T ENDORSE ME, VOTE THEM OUT OF OFFICE, NOW. WITH THE DEMOCRATS & CROOKED JOE CALLING THE SHOTS, YOU'LL BE JOBLESS & PENNILESS WITHIN 4 YEARS. REMEMBER, BIDEN IS A CROOK WHO HAS BEEN PAID MILLIONS OF DOLLARS BY CHINA, & OTHERS. He is a Manchurian Candidate!!!" President Trump wrote.
Responding to President Trump's decision not to attend the second Republican presidential primary debate next week in California, a spokesperson for President Joe Biden's campaign deemed his upcoming trip to Detroit a "self-serving photo op."
"Donald Trump is going to Michigan next week to lie to Michigan workers and pretend he didn't spend his entire failed presidency selling them out at every turn," Biden campaign spokesperson Ammar Moussa said in a statement to multiple media outlets.
"Instead of standing with workers, Trump cut taxes for the super-wealthy while auto companies shuttered their doors and shipped American jobs overseas. He's said he would've let auto companies go bankrupt, devastating the industry and upending millions of lives.
"That's why Trump lost Michigan in 2020 and his MAGA friends further decimated the Michigan Republican Party and cost them 2022. No self-serving photo op can erase Trump's four years of abandoning union workers and standing with his ultra-rich friends," the spokesperson said.
Loading...