---
Trump Slams "Fake News" NYT Report That Pence Said He 'Lacks Authority' To Change Election Result
President Trump claimed in a Tuesday night statement that he and Vice President Mike Pence are in "total agreement" on Pence's authority to alter the outcome of the 2020 election, refuting an anonymously sourced report in the New York Times claiming that Pence told Trump he didn't believe he had the power to do so.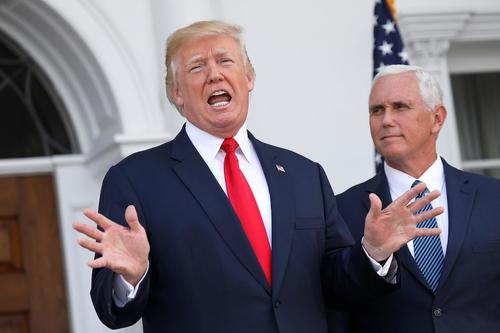 "The New York Times report regarding comments Vice President Pence supposedly made to me today is fake news. He never said that. The Vice President and I are in total agreement that the Vice President has the power to act."
Trump continued, claiming that the November election was "corrupt in contested states, and in particular it was not in accordance with the Constitution in that they made large scale changes to election rules and regulations as dictated by local judges and politicians, not by state legislators. This means it was illegal."
The president then laid out several options Pence has under the constitution; "He can decertify the results or send them back to the states for change and certification. He can also decertify the illegal and corrupt results and send them to the House of Representatives for one vote for one state tabulation."
Earlier in the day, Trump tweeted that Pence "has the power to reject fraudulently chosen electors."
The Vice President has the power to reject fraudulently chosen electors.

— Donald J. Trump (@realDonaldTrump) January 5, 2021