---
Trump Sues E. Jean Carroll For Defamation, False Statements After Jury Orders Him To Pay $5 Million
Authored by Katabella Roberts via The Epoch Times,
Former President Donald Trump has filed a counterclaim against author E. Jean Carroll, accusing her of defamation and making "false statements" after she alleged he raped her in a dressing room at the Bergdorf Goodman department store in Manhattan in the mid-1990s.
Trump's counterclaim comes just a month after he was ordered to pay $5 million in damages when a jury found him liable for battery and defamation charges in his legal battle with Carroll.
The jury found that Trump did not rape Carroll, something the former president has himself repeatedly denied.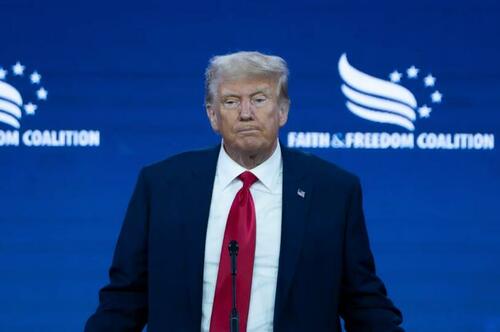 Filed with the Southern District of New York federal court on June 27, Trump's counterclaim (pdf) states that Carroll damaged his reputation by accusing him of raping her during an appearance on CNN on May 10, one day after a nine-member jury found that Carroll did not prove that Trump raped her but instead found that the businessman and 2024 presidential candidate sexually abused her.
The counterclaim states that during her interview with CNN, Carroll, a former Elle magazine advice columnist, was "specifically asked" about the jury unanimously finding Trump not liable for rape in the case.
"In response to that specific inquiry, Counterclaim Defendant disregarded the jury's finding that Counterclaimant did not rape her and replied: 'oh yes he did, oh yes he did,'" the counterclaim states.
Lawyers for Trump argue in the counterclaim that Carroll's comments on CNN were made "knowing each of them were false or with reckless disregard for their truth or falsity" and that they were made on television, social media, and multiple websites, "with the intention of broadcasting and circulating these defamatory statements among a significant portion of the public."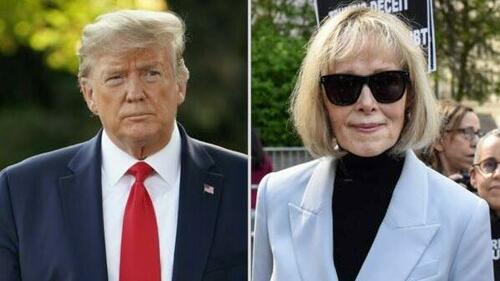 (L) President Donald Trump comes out of the Oval Office from the White House on Sept. 16, 2019. (R) E. Jean Carroll leaves following her trial at Manhattan Federal Court in New York on May 8, 2023. (Mandel Ngan, Stephanie Keith/Getty Images)
'Significant Harm' to Trump's Reputation
"Counterclaim Defendant made these false statements with actual malice and ill will with an intent to significantly and spitefully harm and attack Counterclaimant's reputation, as these false statements were clearly contrary to the jury verdict," Trump's lawyers wrote.
Owing to what Trump's lawyers say are Carroll's "repeated falsehoods and defamatory statements" made against Trump, the former president has suffered "significant harm to his reputation, which, in turn, has yielded an inordinate amount of damages sustained as a result," his attorneys wrote in the counterclaim.
The counterclaim asks the court to deny the damages awarded to Carroll in the civil case, that she retract her "defamatory" statements, and that Trump be awarded compensatory and punitive damages of an unspecified amount as well as legal fees and any further relief the court may deem "just and proper."
Carroll initially filed a lawsuit against Trump in 2019, accusing the then-president of defaming her when he denied having raped her in a dressing room at the Bergdorf Goodman department store in Manhattan in 1995 or 1996.
In response to her allegations, Trump declared that Carroll was "not my type."
"I'll say it with great respect: Number one, she's not my type. Number two, it never happened," Trump told The Hill in an interview at the White House at the time.
That lawsuit has been the subject of multiple appeals.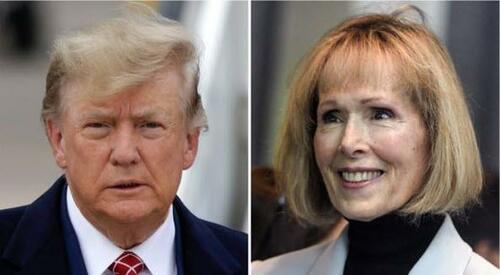 (L) Former President Donald Trump disembarks his plane at Aberdeen Airport in Aberdeen, Scotland, on May 1, 2023. (Jeff J Mitchell/Getty Images); (R) Magazine columnist E. Jean Carroll arrives for her civil trial against former President Donald Trump at Manhattan Federal Court in New York, on May 8, 2023. (Stephanie Keith/Getty Images)
Trump Ordered to Pay $5 Million in Damages
In November 2022, Carroll filed a second lawsuit accusing Trump of battery and defamation after the New York State Legislature passed a law known as the "Adult Survivor Act," which grants victims of certain sexual offenses a one-year window to file a civil lawsuit against alleged offenders.
The defamation charge was related to a statement Trump made on Truth Social in October 2022 in which he branded Carroll's allegations a "hoax and a lie" and again stated that she was not his "type."
He also stressed that he did not know Carroll and took aim at the fact that she was unsure as to when the alleged incident cited in her lawsuit took place.
It was for her second lawsuit that the jury last month awarded Carroll $5 million in damages, including $2 million in damages for sexual abuse and around $3 million for defamation.
Following the jury's verdict, Carroll told NBC News that she was "overwhelmed with joy and happiness and delight for the women in this country," adding that the lawsuit was "not about the money" but "about getting my name back."
However, Trump's legal team was last week granted permission to deposit $5.55 million with a federal court as security while the former president appeals the jury's verdict in the second of Carroll's lawsuits, meaning litigation will likely continue for some time.
Trump has also asked for a new trial, arguing that the damages he was requested to pay Carroll are "grossly excessive."
Loading...