---
After Returning To White House, Trump Implores Americans Not To Let COVID-19 "Dominate Your Life"
Update (2000ET): In a video that was apparently filmed on the residence landing shortly after Trump arrived, the president lauded the world class medical care he received at Walter Reed before imploring Americans - for the second time today - to not let the coronavirus "dominate" or "beat" you.
"Don't be afraid of it," Trump added. "Don't let it dominate your life."
October 5, 2020
The treatment Trump received made him feel better than he has in years. "I feel better than I've had in 20 years."
He closed by saying that the FDA is in the process of approving all of the treatments he received for the virus, before saying that vaccines would be approved 'momentarily".
Ironically, the NYT reported Monday evening that Trump Administration officials were trying to "block" a provision in the FDA's revised vaccine guidelines that would make it almost impossible for a vaccine to receive approval before Nov. 3.
* * *
Update (1950ET): While Trump's show of (personal) strength earned plaudits from his supporters, MSNBC, CNN seized the moment to once again compare Trump to a despot like North Korea's Kim Jong Un or Italian fascist progenitor Benito Mussolini.
During its live broadcast, MSNBC described Trump's display as his "Mussolini Moment".
CNN called it "something out of North Korea".
Dozens of other blue-checks are criticizing Trump for removing his mask while looking out at the assembled press (who weren't even anywhere near the residence).
But when they think nobody's watching, or the cameras stop rolling...
CNN reporters like Kaitlin Collins obsess over masks when the cameras are on, but when they think they're off, off comes their masks!pic.twitter.com/IpPSvgDqhc

— Trump War Room - Text TRUMP to 88022 (@TrumpWarRoom) October 5, 2020
...off goes their mask.
Congressman Jim Jordan distilled this sentiment in a tweet from earlier.
Does it seem like the Democrats and the mainstream press are upset that the President is recovering?

— Rep. Jim Jordan (@Jim_Jordan) October 5, 2020
* * *
Update (1920ET): The White House has released the footage of Trump exiting Marine One and returning to the White House Residence.
WATCH: Trump walks up the steps on the White House South Lawn, takes his mask off and salutes Marine One for a photo opportunity. pic.twitter.com/f6sF25KaIw

— Axios (@axios) October 5, 2020
It's unclear when Trump will make his next public appearance, but as his doctors said earlier, he has a well-stocked medical unit at the White House with nearly 30 full-time doctors, nurses etc.
Trump will receive his last dose of remdesivir on Tuesday. His doctors said he will also continue to take dexamethasone.
* * *
Update (1910ET): NBC and the other cable news stations just aired the official footage of Trump landing and walking up the White House steps.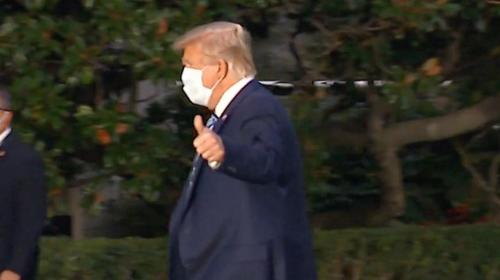 NBC's Lester Holt commented that Trump's decision to remove his mask was either a "show of strenght" or an "act of defiance".
On social media, Trump's decision to go mask-less elicited shrieks of indignation from Trump's critics.
The President returns to the White House, takes his mask off, salutes Marine One as it departs, and then walks into the White House without a mask. He is pretending he is over COVID-19 while continuing to ignore all CDC guidelines. Such arrogance and ignorance is breathtaking. https://t.co/AqfZw4k9N9

— Philip J. Crowley (@PJCrowley) October 5, 2020
We wonder what Trump thinks about the display?
* * *
Update (1900ET): Since news networks have been forced to keep their distance, the White House is expected to distribute footage of Trump leaving Marine One.
After landing on the South Lawn, Trump walked up the steps to the residence, in an unusual rout that was clearly planned for a photo op. After walking up the stairs unassisted, Trump took off his mask and stood in the middle of the landing, waving to the press corp.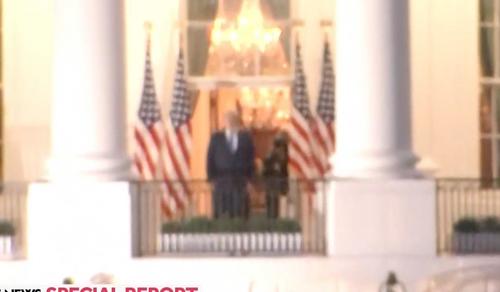 Trump saluted the pilot of Marine One as he flew away, before heading inside. Though he walked back out on the balcony shortly after.
* * *
Update (1855ET): Marine One just landed on the White House lawn, and the president is being escorted inside, roughly 72 hours after leaving on Friday afternoon.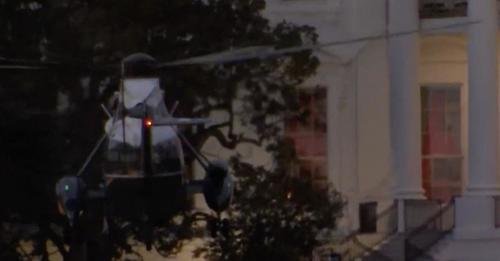 * * *
Update (1845ET): As Trump exited Walter Reed toward his motorcade, he flashed a thumbs up to the cameras. Though at times he leaned on the railing while walking down the steps, he was given a wide berth so the nation could see him walk on his own without any support.
Before boarding Marine One, he uttered a quick "thank you, everybody" before sitting down and taking off.
BREAKING: Pres. Trump gives a thumbs up as he leaves Walter Reed Medical Center, where he was admitted Friday after testing positive for COVID-19.

The president did not answer a shouted question about others in his orbit who have tested positive. https://t.co/DWSBofwQdM pic.twitter.com/gZfv8b5BkH

— ABC News (@ABC) October 5, 2020
The flight to the White House, which we discussed below, is only a ten-minute journey, meaning he will be landing at the White House just before sunset.
* * *
Update (1840ET): President Trump is making his grand exit from Walter Reed.
Watch Live:
As Trump headed toward the presidential chopper, journalists noted that he was surrounded mostly by aides, not medical personnel.
During the hour or so before he was discharged, Trump sent out a handful of Tweets quoting a New York Post article slamming Democrats over their reaction to Trump's illness, before pledging that he would be back on the campaign trail "soon".
"You see it in enthusiasm for the President outside Walter Reed Hospital. You see it in Registrations, from Florida to Pennsylvania & West Virginia, where Republicans are outstripping Democrats by 2 to 1. If the President bounces back onto the campaign trail, he will be an....

— Donald J. Trump (@realDonaldTrump) October 5, 2020
....invincible hero, who not only survived every dirty trick the Democrats threw at him, but the Chinese virus as well. He will show America we no longer have to be afraid." mdevine@nypost.com Thank you Miranda. Was over until the Plague came in from China. Will win anyway!

— Donald J. Trump (@realDonaldTrump) October 5, 2020
Will be back on the Campaign Trail soon!!! The Fake News only shows the Fake Polls.

— Donald J. Trump (@realDonaldTrump) October 5, 2020
As Marine One - the president's chopper - heads back toward the White House from Walter Reed, it will land on the south lawn before Trump heads inside.
Trump is expected to quarantine in the residence, though that could change in the coming days.
* * *
Update (1730ET): President Trump plans to walk out the front door of Walter Reed when he leaves in about an hour, according to Bloomberg's Jennifer Jacobs.
NEWS: Trump wants to make a dramatic exit from Walter Reed. He plans to walk out the golden front doors on camera, sources tell @SalehaMohsin and me. He's shooting a video inside the hospital first, and then will walk to car and then to Marine One. No plan to speak to press. pic.twitter.com/DqLY6MvyXZ

— Jennifer Jacobs (@JenniferJJacobs) October 5, 2020
Meanwhile, Trump is tweeting about today's market gains, perhaps to show that he really is back.
STOCK MARKET UP BIG, 466 Points! 28,149. Great News for America. Jobs, Jobs, Jobs!

— Donald J. Trump (@realDonaldTrump) October 5, 2020
Circling back to the White House, VP Pence said he spoke to Trump and he sounded better, before the White House confirmed that Trump will be staying in the residence when he returns (with First Lady Melania Trump).
After the NYT reported earlier that 2 housekeepers from the White House had been sickened, the CDC confirmed that it was detailing a squad of "disease detectives" to assist in the contact tracing efforts for the White House outbreak.
* * *
Update (1540ET): Alex Berenson, the former NYT reporter who has been one of the most vocal critics of masks, noted that Trump's comment about not allowing fear to "dominate your life" was "one of the smartest things he's ever said."
Maybe the smartest comment @realdonaldtrump has ever made. For too long we have let this virus - and the media's hysteria around it - dominate us. We need to take back our lives, our schools, and our whole world. https://t.co/gg02p3wgiM

— Alex Berenson (@AlexBerenson) October 5, 2020
* * *
Update (1515ET): Dr. Conley has confirmed that although President Trump isn't out of the woods yet, he has recovered enough to warrant his safe return back to the West Wing, as the president announced via tweet roughly 30 minutes ago.
Doctors said that Trump has maintained a full work schedule at Walter Reed. He will receive his fourth dose of remdesivir Monday evening, before taking the fifth and final dose on Tusday.
When pressed by a reporter about the safety risks to the Secret Service agents during Trump's ride outside Walter Reed Sunday evening, Dr. Conley said that the agents wore PPE, as they have in recent days, and that the trip took place over a "very short period of time".
Circling back to Trump's mental acuity, reporters asked whether there had been any fogginess as a result of the medication, or the virus, Dr. Conley assured reporters that "he's back" and that Trump has been a "great" patient.
Looking ahead, Dr. Conley said advanced diagnostic techniques will be used to detect when the last traces of 'live' virus have left the president. Dr. Conley said that people are most at risk of shedding the live virus during the first 5 days of infection, but usually by ten days the last traces have left.
Headlines are rolling in:
TRUMP MEDICAL TEAM SAYS TRUMP HAS MET OR EXCEEDED ALL DISCHARGE CRITERIA
TRUMP MAY NOT BE ENTIRELY OUT OF THE WOODS YET, DOCTOR SAYS
TRUMP WILL GET ANOTHER DOSE OF REMDESIVIR BEFORE GOING HOME
TRUMP'S CLINICAL STATUS SUPPORTS HIS GOING HOME, DOCTOR SAYS
TRUMP CONTINUES TAKING STEROID DEXAMETHASONE, DOCTORS SAY
TRUMP MEDICAL TEAM SAYS THERE IS NOTHING THAT IS BEING DONE AT WALTER REED THAT CAN'T BE DONE AT HOME FOR TRUMP
TRUMP MEDICAL TEAM SAYS WE REMAIN CAUTIOUSLY OPTIMISTIC AND ON GUARD
TRUMP MEDICAL TEAM SAYS TRUMP HAS NO NEUROLOGICAL SYMPTOMS
TRUMP MEDICAL TEAM SAYS TRUMP RECEIVED SUPPLEMENTAL OXYGEN TWICE
Fortunately, once he returns to the White House, Trump will have a staff of more than 2 dozen nurses, doctors and APRNs to provide "world class medical care 24/7". Aksed about when Trump last tested negative, Dr. Conely demurred, and also said he didn't have Trump's viral load data and earlier blamed HiPPA privacy laws for why he couldn't go into "too much depth".
* * *
Update (1455ET): Trump's doctors, led by Navy Commander Dr. Sean Conley, are expected to deliver a briefing on Trump's condition at 1500ET.
Watch live below:
* * *
Less than 30 minutes before his medical team is supposed to update the public on the president's condition, President Trump has just tweeted that he will be leaving Walter Reed at 1830ET.
I will be leaving the great Walter Reed Medical Center today at 6:30 P.M. Feeling really good! Don't be afraid of Covid. Don't let it dominate your life. We have developed, under the Trump Administration, some really great drugs & knowledge. I feel better than I did 20 years ago!

— Donald J. Trump (@realDonaldTrump) October 5, 2020
Just minutes earlier, Trump rebutted accusations from the mainstream press that he put secret service members lives 'at risk' by greeting his supporters in a presidential motorcade early Sunday evening.
It is reported that the Media is upset because I got into a secure vehicle to say thank you to the many fans and supporters who were standing outside of the hospital for many hours, and even days, to pay their respect to their President. If I didn't do it, Media would say RUDE!!!

— Donald J. Trump (@realDonaldTrump) October 5, 2020
But if Trump leaves Walter Reed tonight and doesn't return, his urging for Americans "not to fear COVID-19" will be remembered, as he personally has demonstrated that the virus is not a "death sentence", even for older Americans.
On CNBC, Tyler Mathisen suggested that one of the side effects of dexamethasone is a feeling of euphoria, meaning that Trump might be feeling better than his condition actually reflects. So, we now wait for Trump's doctors to speak, to see whether they will parrot the narrative.
Trump tweeted as the NYT was publishing a report claiming that at least two White House housekeepers have tested positive.