---
Trump Vows To Release Remaining JFK Assassination Files If Re-Elected
Authored by Steve Watson via Summit News,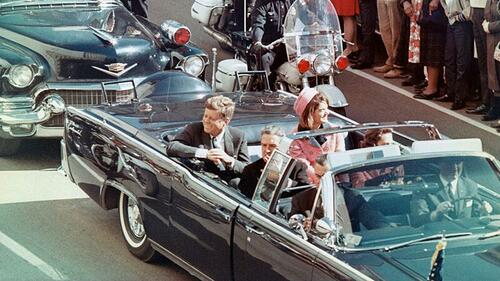 Donald Trump has promised to release all outstanding files on the assassination of John F. Kennedy should he be re-elected as President next year.
Trump made the announcement in a Monday interview with The Messenger, vowing that every single remaining file on the JFK assassination would be made public.
"I released a lot, as you know. And I will release everything else," Trump said.
It would mean that some 4300 files that are still redacted would become available.
In 2018, Trump delayed the full release of the remaining JFK documents until October 2021, with Joe Biden later postponing that until December 2022, citing the COVID-19 pandemic.
Biden did release more documents, but thousands still remain hidden.
Trump refused to be drawn on what is in the files, noting "Well, I don't want to comment on that. But I will tell you that I have released a lot. I will release the remaining portion very early in my term."
After a long pause, Trump admits Pompeo blocked release of JFK files

He's the deep state's con artist formerly known as "fat mike" pic.twitter.com/7z1DV25MN3

— Darren J. Beattie 🌐 (@DarrenJBeattie) March 16, 2023
During his first term, Trump reportedly told Judge Andrew Napolitano "If you saw what I saw [in the files] you wouldn't want to release it either," with an official statement noting "certain information should continue to be redacted because of identifiable national security, law enforcement, and foreign affairs concerns."
As we highlighted earlier this month, Democratic Presidential candidate Robert F. Kennedy Junior declared that he believes the CIA was "involved in the murder" of his uncle and has presided over a "60-year cover-up".
RFK JR.: CIA "Definitely Involved In The Murder" Of JFK
RFK Jr. doubled down on the assertion, adding that "There were multiple people involved… they were all working together in cahoots with the CIA."
Video: RFK Jr. Repeats Assertion That CIA Killed JFK
*  *  *
Brand new merch now available! Get it at https://www.pjwshop.com/
In the age of mass Silicon Valley censorship It is crucial that we stay in touch. We need you to sign up for our free newsletter here. Support our sponsor – Turbo Force – a supercharged boost of clean energy without the comedown.
Also, we urgently need your financial support here.
Loading...