---
Trump Warns Of "Potential Death And Destruction" If Manhattan DA Indicts
One week after former President Trump told his supporters to "PROTEST" and "TAKE OUR NATION BACK" ahead of a Tuesday indictment that hasn't happened (yet), Trump is now warning of 'potential death & destruction' over the reaction to 'such a false charge.'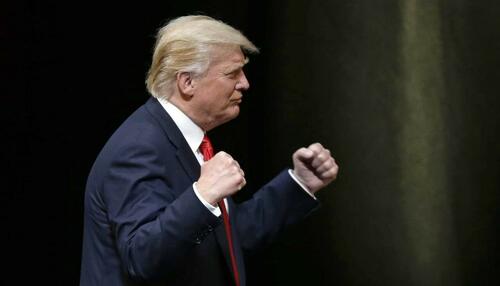 "What kind of person can charge another person, in this case a former President of the United States, who got more votes than any sitting President in history, and leading candidate (by far!) for the Republican Party nomination, with a Crime, when it is known by all that NO Crime has been committed, & also known that potential death & destruction in such a false charge could be catastrophic for our Country?" Trump wrote just after 1 a.m. on Friday.
"Why & who would do such a thing? Only a degenerate psychopath that truely hates the USA!" Trump continued.
Manhattan District Attorney is rumored to be on the verge of indicting Trump if a grand jury recommends it in the case of hush payments made to former porn star Stormy Daniels in 2016 to keep quiet about an alleged affair with Trump. Of note, the grand jury did not meet on Wednesday or Thursday, and any charges are not expected to be filed until next week at the earliest, The Hill reports.
Bragg's argument was seemingly undercut earlier this week, after a 2018 letter emerged in which former Trump lawyer Michael Cohen's attorney says Cohen himself paid Daniels [Stephanie Clifford] out of his own pocket, and was not reimbursed.
"In a private transaction in 2016, before the U.S. presidential election, Mr. Cohen used his own personal funds to facilitate a payment of $130,000 to Ms. Stephanie Clifford [Stormy Daniels]," reads the 2018 letter from Cohen attorney Stephen Ryan to the Federal Election Commission, which asserts that Trump was not involved in the hush payment to the former porn star.
🚨BREAKING: New Bombshell Document DESTROYS Manhattan DA's Case Against Trump

2018 Letter from Michael Cohen's lawyer to the FEC declares Cohen used his own personal funds to pay Stormy Daniels. Trump Camp. NOT party to transaction, did NOT reimburse Cohen for payment. It's OVER pic.twitter.com/QacsjSbZAz

— Benny Johnson (@bennyjohnson) March 22, 2023
In a response to House GOP investigators' questions over Bragg's 'weaponized' case against Trump, Bragg said that Trump gave a 'false expectation' that he would be arrested.
The GOP letter went on to shred the 'untested legal theory' underpinning Bragg's expected indictment, and calls out former Trump Attorney Michael Cohen, Bragg's star witness and a convicted perjurer, as having a "serious credibility problem." GOP investigators demanded all documents and communications related to the decision.
Bragg claims the GOP is overstepping their bounds, writing that "The letter's requests are an unlawful incursion into New York's sovereignty."
Trump will hold a rally this Saturday in Waco, Texas. 
Loading...