---
Biden Says He Will Debate Trump Again "If Scientists Say It Is Safe"
Update (1200ET): As we await the next statement from President Trump's medical team, there have been a few more updates late Monday morning.
First, Joe Biden said Monday that he would be willing to debate Donald Trump on Oct. 15 so long as health professionals declare it to be safe. The convenient qualifier should give the Biden camp an "out" - since Trump isn't really interested in debating anyway, according to Nancy Pelosi.
Biden on the next debate with Trump, currently set for the 15th: "If the scientists say that it's safe, the distances are safe, then I think that's fine. I'll do whatever the experts say is the appropriate thing to do." pic.twitter.com/89DAnAsrkC

— Jennifer Epstein (@jeneps) October 5, 2020
As we noted, the former VEEP tested negative again on Monday.
NC Sen. Thom Tillis, whose election rival was just hit with a sexting scandal, told the press that he's feeling good on Monday.
* * *
Update (1017ET): As Trump meets with his medical team, NBC News is reporting that Vice President Mike Pence has tested negative Monday morning.
At this point, enough time has passed for us to surmise that he wasn't infected during the Amy Coney Barrett nomination press conference.
* * *
Update (0835ET): National Security Advisor Robert O'Brien said the president has always been in control despite his illness and hospitalization.
"Our adversaries knew it, our friends knew it," O'Brien said on the Hugh Hewitt radio show. "China has a very serious health problem and they need to get it fixed immediately. They can't keep unleashing these plagues on the wold."
* * *
President Trump's condition has improved again overnight, according to White House Chief of Staff Mark Meadows.
In an interview with Fox News, Meadows said he expects Trump to depart the White House Monday afternoon, though the decision will be made later in the day.
"We're still optimistic that, based on his unbelievable progress," he will be released, Meadows said in an interview with Fox News, adding that "that decision won't be made until later today." Meadows said Trump's condition continued to improve over the night and "the doctors will have an evaluation sometime late morning." "Obviously this is an important day," he said. "The president continues to improve and is ready to get back to a normal work schedule."
As we noted earlier, in addition to optimism over a covid vaccine, optimism about the economic recovery, and optimism about a fiscal stimulus, we can now add another category of "optimism" cited by traders to justify overnight futures ramps (at least for the next few days): optimism Trump will be discharged from Howard Reed hospital any day now, perhaps as soon as today, and then stage a full recovery.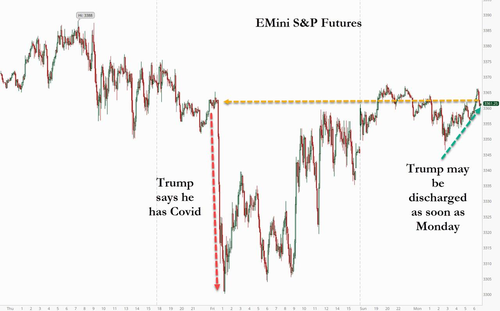 Of course, fears that the White House isn't giving the public 'the whole story' will create risks that an errant anonymously sourced report claiming Trump needed another round of supplemental oxygen could send stocks plunging.
Such a turnaround would be remarkably quick, especially for a patient with at least two comorbidities: Trump's age, and the fact that he's "slightly overweight", as Dr. Sean Conley said.
But National Security Advisor Robert C. O'Brien said in an interview with one of the Sunday shows that Trump was "in great shape and firmly in command of the country" while he is being treated from coronavirus.
In other news: Despite spending quite a bit of time with the president recently , Rudy Giuliani has tested negative for COVID-19.
"I don't have it. I mean, so far," Rudy Giuliani on Fox Business. No symptoms, tested again today. "It's a very strange disease." Says he was with Trump for 4 straight days, and with Chris Christie 3 days. "And Jared, thank God, Ivanka and I, umm, that's about it, didn't get it." pic.twitter.com/zdFUsXqEmU

— Jennifer Jacobs (@JenniferJJacobs) October 5, 2020
Meadows reportedly spoke with Trump Monday morning, and said that Trump will meet with his medical team shortly.