---
Tucker 2024? Growing Chorus Of Republicans Want Fox Host To Run For President
Republicans looking to carry President Trump's 'America First' momentum into the post-Trump era are excitedly eyeing Fox News host Tucker Carlson for a 2024 run.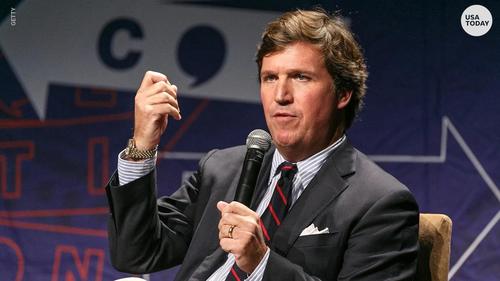 According to Politico, "Republican strategists, conservative commentators, and former Trump campaign and administration officials are buzzing about Carlson as the next-generation leader of Donald Trump's movement — with many believing he would be an immediate frontrunner in a Republican primary."
Sixteen prominent Republicans interviewed by POLITICO said there's an emerging consensus in the GOP that the 51-year-old Carlson would be formidable if he were to run. Some strategists aligned with other potential candidates are convinced he will enter the race and detect the outlines of a stump speech in Carlson's recent Fox monologues. Others, particularly those who know him well, are skeptical that he would leave his prime-time TV gig.
"Let me put it this way: If Biden wins and Tucker decided to run, he'd be the nominee," said former Trump aide Sam Nunberg - though Nunberg also doesn't think Carlson will run because he's "so disgusted with politicians."
Carlson commands the largest audience of any cable news host in history according to ratings released this week - while Carlson clips on Fox News' YouTube channel have racked up more than 60 million views, according to the report.
To put it simply, Tucker tells the truth and will call out bullshit on both sides of the aisle. He also frequently treads headfirst into subject matter like few, if any, of his media peers.
Tucker drops names , no fxcks given! pic.twitter.com/5HYcwyOt4f

— Tony (@Mrtdogg) July 3, 2020
On Monday, Carlson took Republican Senator Mike Braun to task, calling him out over Braun's reform of the Qualified Immunity Act - which would expose police officers to greater liability in civil lawsuits.
When Braun tried to argue that he needed to appease Sen. Chuck Schumer (D-NY), Carlson shot back: "Who controls the Senate? I thought Republicans controlled the Senate. So you're taking your cues from Chuck Schumer [and] saying, 'He might criticize me, therefore I have to pass a law that makes it easier to sue police'?"
Braun stammered his way through the rest of the interview as Carlson continued to land verbal jabs:
Fox News' Tucker Carlson confronts GOP Sen. Mike Braun on his proposed legislation to reform qualified immunity:pic.twitter.com/JjbHHdcSpK

— Alex Salvi (@alexsalvinews) June 30, 2020
What @TuckerCarlson exposed tonight is bigger than just Mike Braun

Tucker showed the Senate effectively has only one party

— Jack Posobiec 🇺🇸 (@JackPosobiec) June 30, 2020
Can Tucker convert his massive following into votes? 
"There is at the very least a significant faction within the Republican Party that [Carlson] has a huge stake in and arguably leadership over," said Rich Lowry, editor of the National Review and Politico columnist.
"If he has political ambitions, he has an opening. He has a following and a taste for controversy. He's smart, quick on his feet and personable. Political experience matters less than it once did."