---
Turkey Summons US Ambassador, Says Armenian Genocide Statement "Alienating" A NATO Ally
update: Turkey has responded to Biden's Armenian Genocide statement from early in the day by summoning US Ambassador David Satterfield to Ankara, according to state-run Anadolu news agency.
In addition to the swift condemnation from Turkey a mere minutes after the statement was out, Turkey's Foreign Ministry also asserted Biden's statement is "null and void in terms of international law" and that it "caused a wound that was difficult to repair."
We strongly reject and condemn @POTUS's unfounded statement on the events of 1915. Politicizing history is never a rational and moral act. It is a pity that the US has succumbed to an interest group at the expense of distorting historical facts and alienating a NATO ally.

— Ibrahim Kalin (@ikalin1) April 24, 2021
Turkey also said the Biden administration had "alienated" a NATO ally...
The US mis-statement has no historical and legal basis. Here is my short statement: pic.twitter.com/CukYLlLmbc

— Ibrahim Kalin (@ikalin1) April 24, 2021
Armenian-Americans in various US cities, especially Los Angeles, gathered to celebrate the US recognition of the historic genocide. Biden is the first US president to do so.
At Glendale's Verdugo Park this afternoon, a group of Armenian Americans gathered to mark the day of remembrance.

"The pain is in all of Armenians' hearts, and we'll never forget," said Samo Davtyan, who attended the event with his daughter. https://t.co/jzAjLJu2gF

— Los Angeles Times (@latimes) April 24, 2021
* * *
Turkey has predictably responded in a swift and fierce manner to Joe Biden's Saturday statement in recognition of the historic Armenian Genocide, becoming the first US President to do so: "Each year on this day, we remember the lives of all those who died in the Ottoman-era Armenian genocide and recommit ourselves to preventing such an atrocity from ever again occurring," Biden wrote on Armenian Genocide Remembrance Day.
"Today, as we mourn what was lost, let us also turn our eyes to the future - toward the world that we wish to build for our children. A world unstained by the daily evils of bigotry and intolerance, where human rights are respected, and where all people are able to pursue their lives in dignity and security," Biden continued. "Let us renew our shared resolve to prevent future atrocities from occurring anywhere in the world. And let us pursue healing and reconciliation for all the people of the world."
Minutes after the declaration was issued, Turkish Foreign Minister Mevlut Cavusoglu said that Turkey "entirely rejects" the US characterization of the event. Cavusoglu said it will only serve to "open a deep wound" in bilateral ties.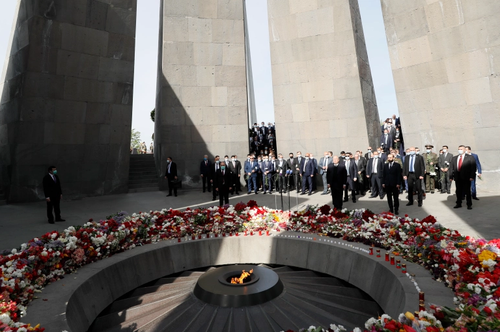 Turkey further called the US change in policy toward recognition of "genocide" a distortion of "historical facts": 
"This statement of the US, which distorts the historical facts, will never be accepted in the conscience of the Turkish people, and will open a deep wound that undermines our mutual trust and friendship," Turkey's foreign ministry said, adding it rejected and denounced the statement "in the strongest terms".
"We have nothing to learn from anybody on our own past. Political opportunism is the greatest betrayal to peace and justice," Cavusoglu said further. "We entirely reject this statement based solely on populism."
"Words cannot change or rewrite history."

We have nothing to learn from anybody on our own past. Political opportunism is the greatest betrayal to peace and justice.

We entirely reject this statement based solely on populism.#1915Events

— Mevlüt Çavuşoğlu (@MevlutCavusoglu) April 24, 2021
Another top Turkish official told the United States it should focus on its own ugly past instead of lecturing others. 
Turkey's official position has long been that wartime (connected with the events of WWI) deaths of Armenians were a few hundred thousand and that they weren't a targeted ethnic group, while historians have tended to recognize around a million or more deaths in the name of 'Turkification'.
A huge number of Greek and Assyrian Christians were also massacred or left to die in the middle of the northern Syrian desert.
It's official: President Biden has officially recognized the Armenian genocide.

"The American people honor all those Armenians who perished in the genocide that began 106 years ago today." https://t.co/QfWcFKD7Lv

— Christopher Miller (@ChristopherJM) April 24, 2021
Previously Presidents Barack Obama and Donald Trump carefully avoided using the term "genocide" when addressing historic atrocities in Asia Minor - so as not to offend the key NATO ally, particularly when the Pentagon relied so heavily on Turkish bases related to the war in Syria. 
It's also of note that Biden's Saturday statement referenced Constantinople as opposed to Turkey's modern name of Istanbul - which is also sure to be generally seen by the Turks as an offence (though still an accurate historical reference)...
"Beginning on April 24, 1915, with the arrest of Armenian intellectuals and community leaders in Constantinople by Ottoman authorities, one and a half million Armenians were deported, massacred, or marched to their deaths in a campaign of extermination," the White House statement said.