---
Twitter Files: Dr. Anthony Fauci "Lied Under Oath"
Today's long-awaited installment of the 'Twitter Files' is brought to us by journalist Paul Thacker, former lead investigator for Sen. Chuck Grassley, via The DisInformation Chronicle (emphasis ours),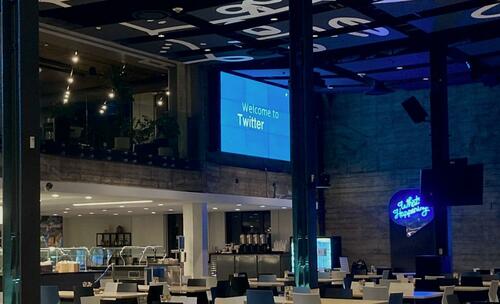 04/21/2023: This article has been updated to note that Johnson & Johnson was a Twitter 'client' while the company was censoring vaccine 'misinformation.'
1) Twitter Files #FauciPharmaFiles

Last December, @elonmusk sent out his viral tweet about Fauci.

Fauci went on Fox News and said he had "no clue what [Elon] was talking about." pic.twitter.com/L0RIZVRsEO

— Paul D. Thacker (@thackerpd) April 20, 2023
"A lot of people are spouting out a lot of things about me and Twitter," Fauci told Fox News. "I've never had a Twitter account. I don't intend on having a Twitter account, and I've had nothing to do with Twitter. So I don't know what they're talking about when they say that."
Fauci made similar claims during an almost 7-hour deposition. While under oath, the then-medical advisor to President Biden denied using Twitter or even paying attention to social media.
"I don't do social media."

"Since I don't have a Twitter account, I don't see tweets."

"I'm so dissociated from social media … I've never gotten involved in any of that."

"The social media and Twitter, I told you, I don't have a Twitter account. I don't tweet. I don't do Facebook. I don't do anything."
Not true according to a new Twitter File uncovered during a visit to Twitter's San Francisco HQ that shows Anthony Fauci…taking over the White House's Twitter account. "Dr. Anthony Fauci did an account takeover for @WHCOVIDResponse," reads a Twitter internal COVID-19 monthly update.
4) But in an internal Twitter report in March 2021, the company revealed "Dr. Anthony Fauci did an account takeover for @WHOCOVIDResponse."
This runs contrary to Fauci's public statements and sworn deposition given on Nov 23, 2022. pic.twitter.com/SbeKnNOJRx

— Paul D. Thacker (@thackerpd) April 20, 2023
Twitter's monthly update also documented work they did with Johnson and Johnson on "messaging strategy" to help market the pharma company's COVID-19 vaccine—action that happened only months after Twitter began removing and labeling tweets that they deemed vaccine "misinformation." By the summer of 2021, Johnson and Johnson began a full court press, marketing multiple pharma products on Twitter.
In a separate Twitter File, a senior Twitter attorney, who interfaced with the FBI on enforcement and removal of "disinformation," praised Fauci to Twitter's lawyers as America's "leading trusted voice" on COVID-19.
A peek behind the paywall...
The Louisiana and Missouri attorney generals sued the federal government in May 2022 claiming agencies were colluding with social media companies to "censor and suppress free speech—including truthful information—related to COVID-19, election integrity and other topics under the guise of combating 'misinformation.'" After a fierce legal battle, Louisiana and Missouri were allowed to depose Anthony Fauci under oath, during which he constantly claimed he could not recall information.
The Biden administration has sought to keep the legal proceedings secret. Emails show that when a reporter contacted Fauci to ask why he could not recall key details about his handling of the pandemic during his deposition, Fauci emailed NIH colleagues, "So much for confidentiality." The states released Fauci's deposition last December, noting that Fauci said "I don't recall" 174 times, including when asked about emails that he sent, interviews that he gave, and important documents he was shown.
Reading the deposition, I found Fauci denying, on multiple occasions, any interaction with social media. Here's just one example.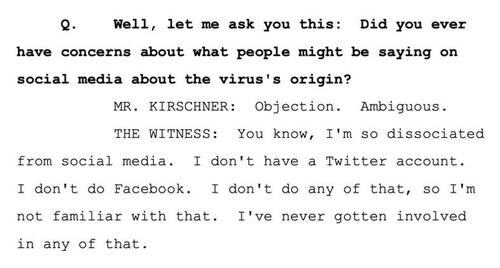 Again, not true—according to Twitter's internal March 2021 COVID-19 program update. "Dr. Anthony Fauci did an account takeover for @WHCOVIDResponse."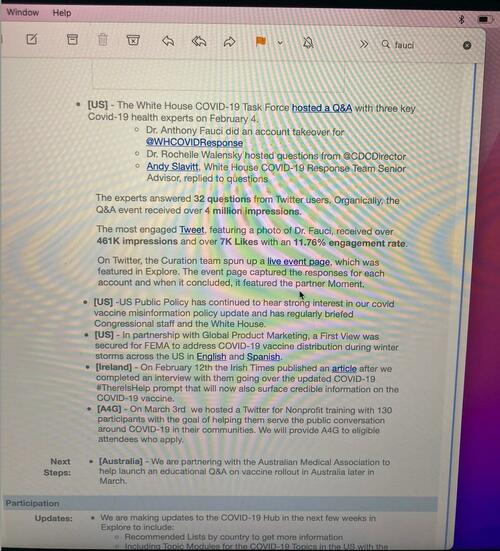 I then searched the White House's COVID Response twitter and confirmed that Fauci had taken over the account.

Surprise. Fauci took over the account again that April.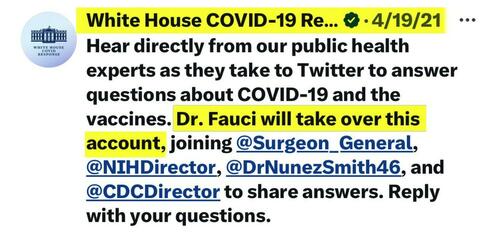 "He's involved even if he doesn't write the tweets," said Martin Kulldorff, a professor of medicine on leave from Harvard, and one several scientists involved in suing the federal government for censorship. "To me that's explosive, and it seems he lied under oath."
To read the rest, including: Twitter's Fauci Fan Club, Vaccine "messaging strategy" and Fabulist Fauci, Subscribers to The DisInformation Chronicle can read here...
Update:
16) I had to make a slight change to article, noting that J&J was a Twitter *client* while Twitter was simultaneously calling balls & strikes on vaccine "misinformation."

A subtle yet important distinction. https://t.co/UnslBANmH1 pic.twitter.com/QX219OpVE9

— Paul D. Thacker (@thackerpd) April 21, 2023
Loading...