---
TWITTER FILES: WHO Stealth-Edited Vaccine Info To Help Twitter Censor Tucker Carlson
Authored by Paul Thacker, former lead investigator for Sen. Chuck Grassley, via The DisInformation Chronicle (emphasis ours),
In a revisit to his famed critique of the media "Manufacturing Consent," MIT's Noam Chomsky explained in a 2018 interview that money and elites shape and censor the news, ensuring journalistic complicity in protecting corporations and those in power.
"The myth is that the media are independent, adversarial, courageous, struggling against power," Chomsky said. "That's actually true of some. There are often very fine reporters, correspondents. In fact, the media does a fine job, but within a framework that determines what to discuss, not to discuss."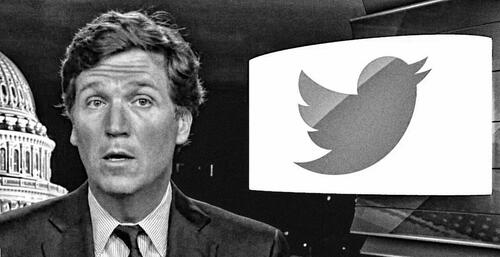 Much of this framework was exposed in a blistering account by a Columbia Journalism Review investigation that documented years of faulty reporting and journalistic failures in coverage of Trump by media outlets including the New York Times and Washington Post—many times in articles that later won journalism prizes. One of the few Americans to challenge the official framework of acceptable narratives was a controversial and polarizing Fox News TV talking head, hated by the mainstream reporters for daring to throw darts at liberal pieties.
Nonetheless, the majority of reporters have shrugged aside their colleagues' reporting fiascoes and the damage done to their own reputations, and continue to blame most failures in journalism on one person: Tucker Carlson.
1. Why did Twitter censor Tucker Carlson? Better yet, who helped Twitter do that? #TuckerTwitterFiles pic.twitter.com/b5WGinZA4V

— Paul D. Thacker (@thackerpd) April 27, 2023
So it was not surprising that reporters began a week-long celebration this Monday when Fox fired Tucker. But years before Fox canned him, Twitter Files show that the bird company sought to clip Tucker's wings when he reported that the World Health Organization (WHO) did not recommend that children get the COVID-19 vaccine.
When Tucker's June 2021 report on the WHO's vaccine recommendations hit Twitter, the WHO stealth edited their COVID vaccine page to remove language Tucker cited in his op-ed. The following day, Twitter officials began discussing Tucker's essay and how to limit its impact without calling attention to Tucker and creating "political risks" for Twitter by directly censoring Fox News.
"Given that this article's narrative is related to 'big tech censorship', I want to be mindful that taking action at the URL level could lead to this particular article gaining more traction rather than mitigating the harm," emailed one Twitter executive.
4. Twitter then punished Tucker Carlson for this op-ed.
Tucker actually cited the World Health Organisation's own website which stated that the WHO was NOT recommending children get the COVID vax. pic.twitter.com/BKnMnyqbPV

— Paul D. Thacker (@thackerpd) April 27, 2023
Back and forth emails find Twitter officials scrambling to control vaccine information and limit damage to the WHO. According to a previously reported Twitter File, Twitter began helping their client Johnson and Johnson market the pharma company's COVID vaccine in early 2021 while simultaneously removing tweets for what they called vaccine "misinformation." In the end, Twitter apparently chose to ignore Tucker's op-ed itself and annotate tweets for "vaccine misinformation" if the tweet were to "explicitly advance the claims in the op-ed itself."
The Twitter employee who first brought attention to Tucker's op-ed was policy communications specialist, Elizabeth Busby. Busby joined Twitter in 2020 after leaving the Senate, where she was deputy national press secretary to Senate Majority Leader Chuck Schumer, a frequent critic of Tucker Carlson. Busby's work history includes a stint at SKDKnickerbocker, a PR and lobby shop closely aligned with the Democratic party. Busby now leads "trust and safety communications" at Twitter.
A peek behind the paywall...
Shortly after countries began authorizing COVID vaccines, the WHO published an evaluation of vaccine safety and efficacy on April 8, 2021. The guidance evaluated four vaccines: AstraZenca/Oxford, Johnson and Johnson, Moderna, and Pfizer/BionTech. At the time, the WHO advised people to take whichever vaccine was available, stating that the COVID-19 vaccines were safe and effective for most people 18 years and older.
For children, the WHO advised against COVID vaccines:
Children should not be vaccinated for the moment.

There is not yet enough evidence on the use of vaccines against COVID-19 in children to make recommendations for children to be vaccinated against COVID-19. Children and adolescents tend to have milder disease compared to adults. However, children should continue to have the recommended childhood vaccines.
Months later, on June 23, 2021, Tucker Carlson wrote an essay claiming that key pieces of pandemic medical advice from the WHO have been proven false and cost lives, and that Big Tech has been complicit in promoting this misinformation.
Bureaucrats at the WHO published new vaccine guidance. Here's what it says: children should not take the coronavirus vaccine. Why? The drugs are too dangerous. There's not nearly enough data to understand the long-term effects or to show that the benefits are worth the risk that they bring. This is terrible news, of course, for the pharmaceutical industry. Big Pharma has been planning to test the vaccine on six-month-olds.
While some of the language in Tucker's piece could be viewed as inflammatory—the WHO did not say the vaccines were "dangerous"—independent experts were also advising that children not receive the COVID vaccines, as rare but serious adverse events were not studied.
Writing in the Hill, Harvard's Martin Kulldorff and Stanford's Jay Bhattacharya explained that same month in June 2021:
For younger adults and children, it is a different story, as their mortality risk is extremely low. Even a slight risk of a serious vaccine adverse reaction could tip the benefit-risk calculation, making the vaccine more harmful than beneficial. We have already observed rare problems with blood clots (J&J vaccine) and myocarditis (inflammation of the heart muscle, Pfizer and Moderna) in younger people, and additional equally serious issues might still be found.
On the same day that Tucker's op-ed hit social media, the WHO stealth edited their webpage that evaluated COVID vaccines. Here's a link to the version dated June 22, 2021—the day before Tucker's essay—that advises against vaccinating

When Tucker's article began circulating on June 23, 2021, the WHO silently replaced that text with the following.

In other instances where the WHO has updated their vaccine guidance, they note this change with a date at the top of the webpage. But no update exists for changes the WHO made the day of Tucker's essay.
The day after the WHO stealth edited their vaccine guidance, Twitter officials began discussing Tucker's essay, which was brought to their attention by Twitter comms specialist Elizabeth Busby, the former deputy national press secretary to Senate Majority Leader Chuck Schumer.
In her email alerting Twitter's team, Busby notes, "Given Tucker's visibility, we anticipate there may be some press interest regardless of the enforcement outcome."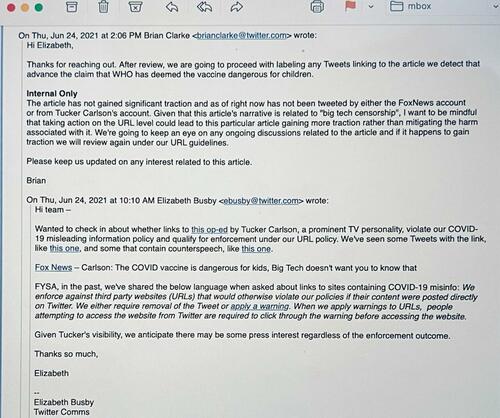 To read the rest Subscribers to The DisInformation Chronicle can read here...
Loading...