---
Twitter Suspends US Border Chief For Touting Anti-Crime Southern Wall
One day after Twitter CEO Jack Dorsey admitted that the company needs 'more accountability' over its selective political bias, the social media giant suspended US Customs and Border Protection (CBP) Commissioner Mark Morgan for a post touting the southern border wall for helping the country 'stop gang members, murderers, sexual predators, and drugs from entering our country."
Morgan's account was locked on Wednesday afternoon for violating Twitter's "hateful conduct" rules, according to The Federalist.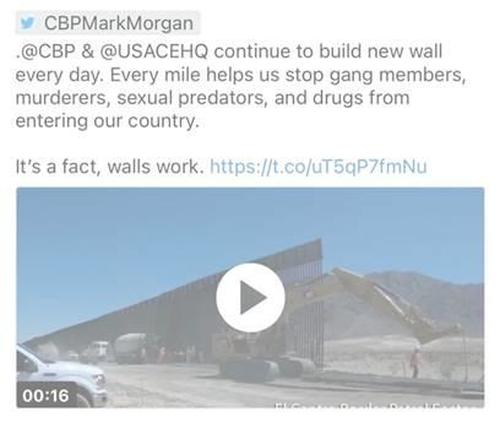 "You may not promote violence against, threaten, or harass other people on the basis of race, ethnicity, national origin, sexual orientation, gender, gender identity, religious affiliation, age, disability, or serious disease," wrote Twitter in an email explaining the suspension. And as the Federalist notes "the commissioner did not threaten anyone based on race, national origin, or anything else"
"If you look at the tweet in question again," Morgan told The Federalist, "every mile helps us stop gang members, murderers, and pedophiles from entering our country. It's just a fact."
This is not just twitter's fault. It's on us. For 4 years, journalists, members of Congress, academics have demanded social media companies protect us from bad speech. Well, it's gone too far. Disagree with the CBP tweet? Great. Engage, dispute and debunk it. Don't censor it. https://t.co/5bdFWGzsfj

— Eli Lake (@EliLake) October 29, 2020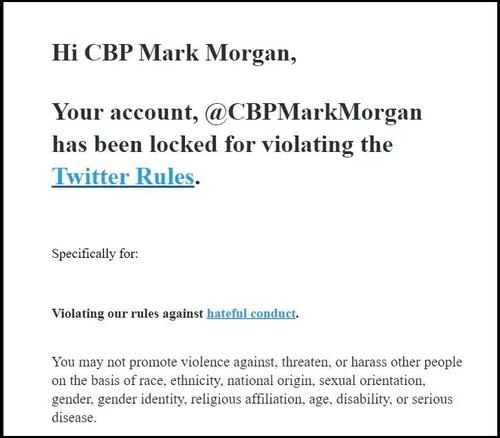 Twitter Bans:

-U.S. Border Patrol Chief from tweeting about the southern border.

-The New York Post from tweeting about Hunter Biden.

Twitter Allows:

-Iran's Ayatollah to threaten American citizens.

-Malaysia's Prime Minister to encourage terrorism.

— Rep. Jim Jordan (@Jim_Jordan) October 29, 2020
The Federalist also notes that Morgan has been allowed to freely post similar tweets touting CBP's accomplishments, writing that it's "not clear what has recently changed in Twitter's algorithm or policing that resulted in this post's shutdown of his account when other similar posts went unblocked."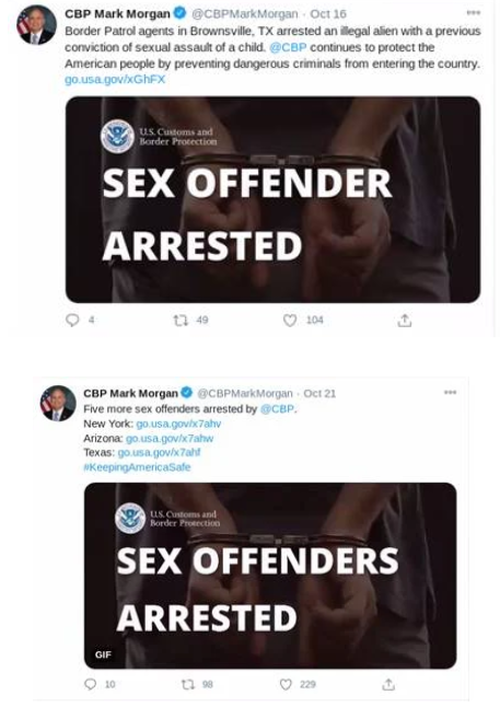 "