---
Two Insurance Companies Stop Providing Coverage For Hyundai And Kia Car Models
Authored by Naveen Athrappully via The Epoch Times (emphasis ours),
Top insurers State Farm and Progressive are refusing to provide insurance coverage for certain models made by South Korean car firms Kia and Hyundai, with reports claiming that the vehicles are easier to steal due to a lack of proper anti-theft technology like electronic immobilizers.
"State Farm has temporarily stopped writing new business in some states for certain model years and trim levels of Hyundai and Kia vehicles because theft losses for these vehicles have increased dramatically," the insurer said in a statement to CNN. "This is a serious problem impacting our customers and the entire auto insurance industry."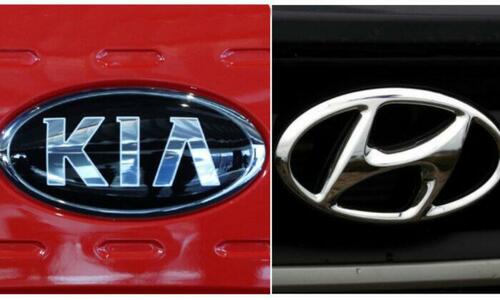 Meanwhile, Progressive claimed that certain car models of the brands have seen theft rates more than triple in the past year. "In some markets, these vehicles are almost 20 times more likely to be stolen than other vehicles," the insurance company said in a statement to the outlet.
Due to the "explosive increase" in theft of these cars, Progressive finds it "extremely challenging" to offer insurance to such vehicles. As such, the company has raised insurance rates and restricted the sale of insurance policies in some regions for certain Hyundai and Kia models.
To individuals of these cars who have already taken a policy at the company, Progressive is continuing to provide insurance. Neither firm has revealed which states or cities have been affected by their policy decisions.
The Epoch Times has reached out to State Farm and Progressive for comment.
Hyundai, Kia Theft
According to an analysis of 2021 insurance claims by the Highway Loss Data Institute (HLDI), a few models of Hyundai and Kia were found to be the top targets. Among 2015–19 model-year vehicles, the chances of theft claims were twice as common when compared to other manufacturers, HLDI found.
"Car theft spiked during the pandemic," said HLDI senior vice president Matt Moore, according to a Sept. 22nd post by the nonprofit Insurance Institute for Highway Safety (IIHS). "These numbers tell us that some vehicles may be targeted because they're fast or worth a lot of money and others because they're easy to steal."
"Our earlier studies show that vehicle theft losses plunged after immobilizers were introduced … Unfortunately, Hyundai and Kia have lagged behind other automakers in making them standard equipment."
Electronic immobilizers prevent criminals from easily breaking in and bypassing a car's ignition. In 2015, immobilizers were found to be a standard feature among 96 percent of car manufacturers, except for Hyundai and Kia. Among the two brands, only 26 percent of the models were found to have immobilizers.
Wisconsin was one of the worst affected states when it came to the theft of Hyundai and Kia vehicles. In 2021, the amount paid on theft claims per insured vehicle year jumped to over 30 times compared to 2019, according to IIHS.
Insured vehicle year refers to one vehicle insured for a period of one year, two vehicles insured for a period of six months, and so on.
Lawsuits, Company Responses
Both Hyundai and Kia are battling multiple lawsuits for the security failure of their models. Last week, Seattle city attorney Ann Davison filed a lawsuit against the manufacturers at a federal court for failing to install "anti-theft technology" in some of their vehicles, according to a news release on Jan. 25.
"Kia and Hyundai chose to cut corners and cut costs at the expense of their customers and the public. As a result, our police force has had to tackle a huge rise in vehicle theft and related problems with already stretched resources," said Davison, according to the release.
"Now Seattle taxpayers must shoulder the burden of the increase in theft … Kia and Hyundai need to take responsibility for the public safety hazard that they created."
In September, MLG Attorneys at Law filed a national class-action lawsuit against Hyundai and Kia, alleging that cars manufactured between 2011 and 2021 by the firms came without an "engine immobilizer," according to a press release on Sept. 21, 2022.
Read more here...
Loading...