---
UK's Truss Pushed Into "Humiliating" U-Turn, Scraps Tax Cuts For Top Earners To "Restore Credibility"
UK Prime Minister Liz Truss was pushed into what the FT called a "humiliating" U-turn forced by growing discontent from members of her own Conservative Party, when she ditched her plan to slash taxes for the highest earners just over a week after announcing her shocking "mini-budget"  which set off an avalanche of selling in the sterling and gilts and nearly wiped out the UK pension system.
Chancellor of the Exchequer Kwasi Kwarteng tweeted, "I'm announcing we are not proceeding with the abolition of the 45p tax rate. We get it, and we have listened."  He added that "It is clear that the abolition of the 45p tax rate has become a distraction from our overriding mission to tackle the challenges facing our country."
We get it, and we have listened. pic.twitter.com/lOfwHTUo76

— Kwasi Kwarteng (@KwasiKwarteng) October 3, 2022
The pound moved higher on Monday, rising as much as 1%, before giving up some of those gains. Last week, the pound plunged to a record low against the dollar after Kwarteng announced the debt-funded £45bn tax cuts on Sept. 23.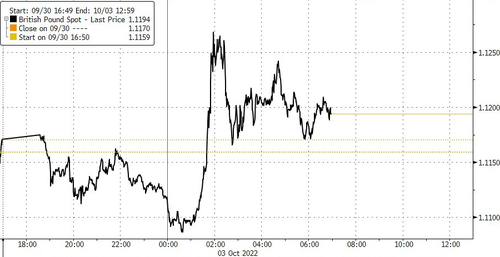 UK government debt also rose in price following Truss' backtracking on tax cut plans. The 10-year gilt yield is around 4.02% after hitting a high of 4.6% last week, which forced the Bank of England to purchase £65 billion of long-term debt to rescue the currency from a death spiral. 
The announcement of the unfunded tax cut for the wealthy at the same time when millions of lower-income Brits have been thrown into energy poverty and inflation rates run at multi-decade highs was bad optics. We noted Sunday that Truss faced mounting pressure to abandon the tax cuts as she threw Kwarteng under the bus, blaming him for the planned tax cut, saying "it was a decision the Chancellor made" rather than one debated by the entire Cabinet. It was also widely unpopular among many MPs. 
The Conservative Party has seen a plunge in polls; inversely, Labour Party received a boost since the proposed tax cuts were announced.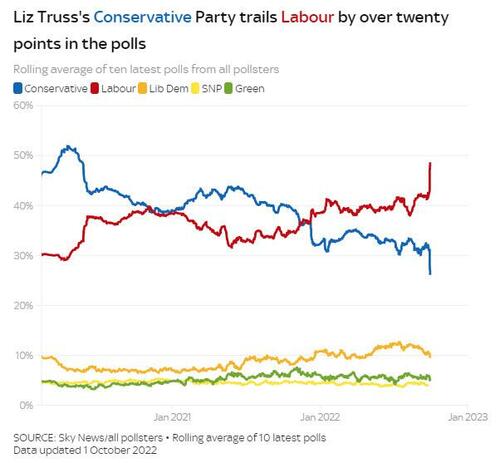 According to Financial Times, Truss and Kwarteng held emergency talks in Birmingham over the weekend, citing government insiders. Truss faced a rebellion from Tory MPs who would've struck down the proposed tax cut during a vote. 
"The politics of this were just awful and I am amazed the idea has lasted as long as it did," one senior minister said. 
One Tory MP representing a working-class seat described the proposed tax cuts for the rich as "deranged" while benefits and public services were planned to be cut. 
Kwarteng told BBC Breakfast on Monday:
"What was clear talking to lots of people up and down the country, talking to MPs, talking to voters, talking to constituents, was that the 45p rate was becoming a distraction on what was a very strong plan."
The reversal might not be enough to restore credibility with markets. Here's what big bank analysts said about the U-turn (list courtesy of Bloomberg):
 UBS Global Wealth Management 
"The UK remains a source of market volatility," said Paul Donovan, chief economist at UBS Global Wealth Management.

"The Prime Minister has suggested the more controversial policies were the Chancellor's idea. So far, free markets have given a negative verdict whenever the Prime Minister or Chancellor has spoken."

"The UK situation raises two investor considerations. Will the policy proposals actually pass Parliament? Normally a finance bill is considered a vote of confidence, but specific parts of the policy proposals are widely and strongly opposed. If the policies do pass Parliament, how long will they last? An election is due in 2024; if markets price a change of government (and policy), that may put a floor under asset prices."
Nomura Holdings 
"The top rate of tax U-turn is only a symbolic gesture as it's roughly just £2 billion," said Jordan Rochester, a currency strategist at Nomura Holdings.

"It's a sign that they will listen to markets and politics perhaps but it doesn't reverse the big pledges."
Mizuho Bank 
"In terms of the amount of money, it's still fairly small and won't change the Office for Budget Responsbility's assessment, which I am fairly sure will be damning," said Colin Asher, senior economist at Mizuho in London.

"What changes most is the optics of it -- supporting bankers over nurses especially after Covid is a bad look and enough of (Kwarteng's) Tory colleagues will have been prepared to vote against it." 

"Remember the BOE is still supporting the gilt market so yields won't be reflecting the full consequences of recent events, including the retention of the 45% tax band. There is still nervousness over what happens in two weeks time when we revert to the status quo. Today's move on tax rates doesn't change a huge amount and in short term bias remains for weaker sterling."
Hargreaves Lansdown
 "The Prime Minister was hoping to carve out a reputation as the new Iron Lady, instead she will be seen as highly malleable," said Susannah Streeter, senior investment and markets analyst at Hargreaves Lansdown.

 "She has been manipulated into this U-turn after senior Conservatives yesterday were coming out in open revolt at the Treasury's decision to scrap the 45p tax band for the wealthy while refusing to rule out cuts to welfare for the poorest." 

"Admitting to a communication mistake rather than a serious policy mishap didn't cut it. Now this embarrassing climb down, taking unfunded tax cuts off the table, which Chancellor Kwasi Kwarteng has called a distraction, will help reassure the markets a little that the more reckless nature of this new administration can be reined in by the Conservative party."
MFS Investment Management
"The policy reversal clearly indicates there is some scope for shifts in the details but the overall fiscal approach seemingly remains in place," said Peter Goves, fixed income research analyst at MFS Investment Management.

"The market may infer that the package might not be as rigid as first thought but equally it also highlights that support for the measures wasn't convincingly broad enough for it to be voted through Parliament."

"The key point is the unfunded nature of the fiscal impulse. This is what concerns the market because it impacts sovereign debt metrics, has implications for inflation and monetary policy amid a growth slow down. The BOE's return has brought some welcome market stability but gilt yields remain relatively high and are still searching for further clarity on the details of the package."
ING Group 
"Cable has today returned to levels seen just before Chancellor Kwasi Kwarteng delivered the infamous 'fiscal event' and it would now be hard to argue that cable should be trading much higher than that," said Chris Turner, a foreign-exchange strategist at ING.

"But this does alleviate the risk of cable trading to parity in that it shows Downing Street will show greater respect to financial markets when considering policy options."
Rabobank
"The current government, and Truss and her chancellor are viewed as being naive at best in terms of reading markets, and it's going to very difficult if not potentially impossible to win back that credibility," said Jane Foley, currency strategist at Rabobank.

"There are potential signs that her tenure as party leader could be extremely short because it's almost a no-win situation for her."
Loading...