---
UK Doctor Sacked Over Trans Pronoun Dispute Did Not Risk Safety Patient, Regulator Rules
Authored by Patricia Devlin via The Epoch Times (emphasis ours),
The General Medical Council (GMC) has said that a doctor's refusal to use trans pronouns does not put the safety of patients at risk.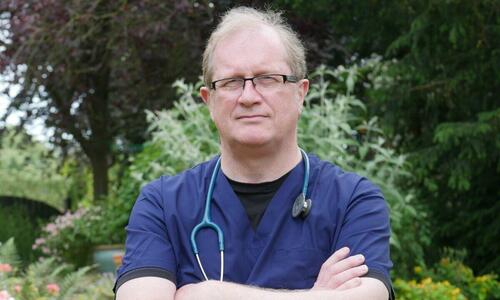 In a letter to Dr. David Mackereth this week, the independent regulator also stated that although his views are "considered contentious" his fitness to practise is not impaired.
Mackereth—from Dudley, West Midlands—self-referred himself to the GMC after losing his disability assessor job in a pronoun row with the Department for Work and Pensions (DWP).
The 60-year-old had been undergoing DWP training to work as a disability assessor in Birmingham when he indicated to managers he would not refer to transgender patients by their preferred pronouns owing to his religious beliefs.
He later left the post before taking an employment tribunal against the DWP (pdf) for breaching his right to freedom of thought, conscience, and religion.
The tribunal heard that the doctor told a colleague he would refuse to refer to "any 6ft-tall bearded man" as "madam."
Mackereth lost the case and subsequent appeal, with a panel ruling his biblical view of what it is to be male and female was "incompatible with human dignity."
It also ruled that the DWP had not breached the Equality Act.
The doctor took the decision to refer himself to the medical regulator, and after being cleared as fit to practice, says he now intends to take his case to the European Court of Human Rights (ECHR).
No Regulatory Action
In the letter to Mackereth, the GMC said it had "carefully assessed" the doctor's case including the decisions of the employment tribunal and subsequent appeals.
"In doing so we don't believe this is an issue requiring further GMC action being taken with a view to removing or restricting your registration," the regulator stated.
"Although your views might be considered contentious, we haven't seen evidence to suggest that patient safety is at risk from the information provided nor that your fitness to practise is impaired."
The GMC said it was clear Mackereth held a "strong view" on the subject "deeply rooted" in his religion.
The letter added: "Doctors are of course entitled to their views and this in itself wouldn't be an issue requiring any regulatory action to be taken by the GMC.
"This would only become an issue for us should there be information to indicate that these views impact patient safety and or care."
The GMC went on to state that there is no information to suggest the doctor had been approached by a patient for advice on this subject.
It was also noted that he had never encountered a transgender patient in an emergency setting or "that if a patient was, that they would be given inappropriate treatment or advice."
"In our view, it would not be proportionate to consider what might happen in a hypothetical situation such as if you were to be approached by a transgender patient for instance and we could not open an investigation on this basis."
It also dismissed a suggestion from the tribunal that the doctor's views might contravene GMC guidance, stating "again there is no evidence to indicate that you have provided inappropriate advice or care to patients based on your views."
The Christian Legal Centre, which is representing the 60-year-old, said it is thought to be the first time a professional regulator has considered the issue of misgendering and "ruled in favour of one of their members."
Read more here...
Loading...